6 of the Most Interesting Greens in the UK
---
Article by Will Trinkwon
---
They're an often-overlooked aspect of a good golf course, but crucial to your experience and score: the greens. As every golfer well knows, a bad green and the likely consequent series of bad putts can wreck even the best of rounds. But for all their difficulties, greens can also just be plain interesting. From greens pocked with flowerbeds, to ones with more tiers than a wedding cake, Will Trinkwon explores six of the most intriguing and devilish greens in the UK.
1 – Little Aston's Putting Green
In the heart of Birmingham, there lurks a truly unique putting test. Little Aston Golf Club has long had a reputation as one of the premium tracks in the West Midlands, a spectacular parkland/heathland offering which was the brain child of Harry Vardon and Harry Colt. Few people, however, know about its unusual practice putting green. The green comprises a kind of crazy golf layout, where the holes are separated by a variety of beautiful flowerbeds. The holes themselves are wonderfully varied, ranging from sloping uphillers to treacherous downhill sliders. Every summer the members play a special putting competition on the green – I believe it's matchplay but I could be wrong. It's a true master of the flat-stick who gets round in even twos!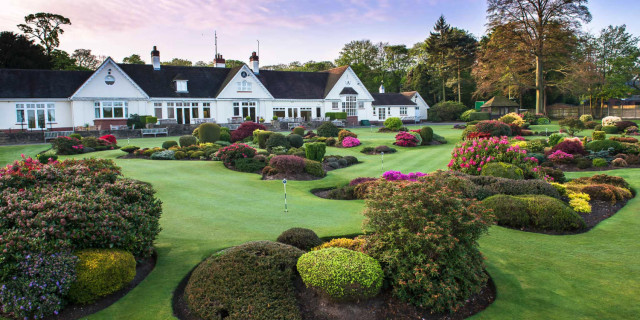 Image Credit: Andy Hiseman - Magic Hour Media
2 – Royal Porthcawl's 4th Hole Green
Moody skies above the tricky par three 4th hole today... It's perilous false front has claimed many a victim ?? #beware #links #golf pic.twitter.com/RxpZDy04uC

— Royal Porthcawl Golf Club (@Royal_Porthcawl) October 7, 2017
Royal Porthcawl is a Welsh gem, a classic links layout with enviable sea views throughout. For the purposes of this article, however, I'm interested in the course's greens, specifically, the green of the par 3 4th. At 215 yards, often into wind, the 4th is a brute of a hole. But for all the challenge of its length, perhaps the most significant difficulty of this hole is its green. Like many other greens on this list, this dance floor slopes viciously from front to back and if the pin is in the middle of its three steep tiers, get ready to three or even four putt. Miss the green above the hole in this position and it could literally be impossible to stop your putt rushing down to the bottom of all the terraces. Hands down the most difficult green on this list.
3 – Royal Worlington's 5th Hole Green
For only a 9-hole course, Royal Worlington has a lot to offer. A key part of the course's quirkiness is its pleasingly varied and challenging greens. The most perplexing of these is the par 3 5th's. Although comparatively short – it measures only 150 yards – the 5th hole is one of the most terrifying on the course. The green is insanely narrow – perhaps only 10-15 yards in width – and flanked by two very steep slopes (imagine an upturned helmet and you've got the idea!). Many a player has got caught in the swales and, trying to extricate himself, only succeeded in pitching up and over and down the other side. For an ostensibly easy par 3, the ease with which you can run up a card-wrecking number on this hole is staggering.
4 – Bramshaw Forest Course's 8th Hole Green
The Forest Course at Bramshaw is the oldest in Hampshire. What's more, its greens are some of the most intriguing and unique you'll ever find. The really wonderful thing about the forest course is that it is, quite literally, in a forest. This means that New Forest ponies, cows and even wild pigs are free to wander around the grounds. Indeed, the greens themselves are trimmed by local ponies, which regularly have to be negotiated during approach shots. My favourite green on the course for pure quirkiness is the 8th. What makes this green so interesting is that its set onto the side of a hill, which runs sharply away from you and down to a brook just a yard or so off the back. The result is that any tee shot carrying even a modicum of pace is guaranteed to find the water. Laying up short leaves a chip down the hilly green which might also end up wet.
5 – Manning's Heath's Waterfall Course 5th Hole Green
The 5th hole on Manning's Heath's Waterfall Course is something of a local legend among members. It's known as the 'Punch Bowl' and the green sits in exactly that. The green is encircled by steep banks, creating the signature punch bowl effect, and with out of bounds tight left and a bunker on the right, a bad shot here can be seriously costly. The green itself is fairly flat, but watch out for a few hidden slopes. A really lovely little hole, but a tough test nonetheless.
6 – St Andrews The Himalayas Putting Green
The final green on this list is perhaps the most infamous of them all: the Himalayas putting green at St Andrews. For just £3 you can get 18 holes on this miniature links. And it's £3 that I'd strongly advise you to spend. The course is set out on a massive putting green that resembles an elephant burial ground, such are the height and frequency of its massive mounds. The flags are changed every Wednesday, so a whole new course awaits you each week. There's also a 9-hole option, for beginners who are not yet confident enough to tackle the main track. A frustrating, but endlessly entertaining putting challenge.
---
50 Courses With Hardest Greens in the UK
---
What do you think? leave your comments below (Comments)
---
---
PLAY MORE PLAY BETTER - LATEST TUITION TIPS
---
Leave your comments below
comments powered by

Disqus