10 Golf Courses You Must Play in Sussex
By: Will Trinkwon | Mon 08 Jun 2020 |
Comments
---
What is the best course you have played in Sussex? Will Trinkwon picks out ten of his favourites.
---
Great mixture of tracks. Check. Excellent views. Check. Wonderful climate. Double check. Though often ranked second to nearby Surrey, Sussex is right up there among the best counties for playing golf, offering a variety of brilliant tests. Here is a selection of tracks, spanning heathland to parkland to links, which best showcase Sussex's underappreciated charm.
There are two courses at Goodwood. The Park is a respectable enough parkland track, but it's the Downs, which spans over the surrounding hills and is longer and more difficult, that is the best of the two. Few courses in England must be able to boast similar views. From the 7th hole, you clamber up onto the top of the Downs and can see all across the nearby city of Chichester and out over the Solent to the Isle of White (if the sky is clear). The layout is varied and challenging too.
This has a real claim to be the best course in the county. Heather is the main test and attraction here, although visitors can also expect to enjoy billiard-smooth greens, trim fairways and general high levels of maintenance, as well as a clever layout. Pro tip: pay attention on the par 3s. Mostly in the 180-230yd bracket, the short holes at West Sussex bear a surprisingly bite and a lapse in concentration, especially on the 220-odd-yard 5th hole, which asks you to fire over a large lake to a viciously sloped green, will see you drop shots scarily quickly.
Littlehampton is a study in sparseness, showing that you don't need a lot of definition to provide both a fine test and panoramic views, which in this case are dominated by large dunes, gorse and attractive links turf. The well-bunkered par 5s are the standout holes here. The 18th, a par 4 with a cleverly designed green, is also strong.
To a parkland test now. Ham Manor sits in the heart of Sussex, tucked away in a classy estate. Because of this, the club has a rather exclusive feel, which I like, and a well-moneyed membership means that condition is tip-top. For a parkland course, there's a pleasing amount of variety in terms of the holes. Contours play a surprisingly large role, with the standout perhaps being the par 4 3rd (though the layout may have changed since I last played). After teeing off over the edge of a hill you face a difficult downhill shot to a raised green protected by a brook short and out of bounds long.
Worthing is Ham Manor's rival, situated just a few miles down the road and just as classy and prestigious. Does it have the edge on Ham Manor? Perhaps. It has two courses versus the other club's one, comprising the longer and tougher Lower Course and the more gentle Upper (so named because of their places on the surrounding hills – the Lower is in a valley). Condition-wise, there's also very little to choose between them, although, again, Worthing is probably just a nose in front. The greens are some of the fastest and smoothest around.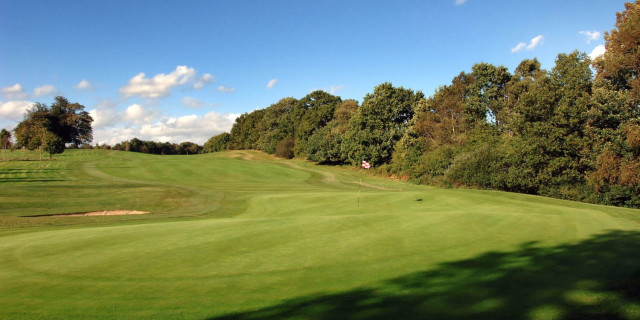 Want a course that marries tight drives with scenic views and a good mix of undulating holes and plenty of water features? Then Manning's Heath's Waterfall course could be for you. There are very few weak holes on this layout and many stunners. The 5th is commonly held up at the signature hole. It features a green nested in what locals refer to as the 'Devil's punchbowl', but the par 5 17th is great too and not forgetting the 11th. Gary Player supposedly called this his favourite hole in the world, and with good reason as it's a classic design.
Hilly. Very hilly. And windy. Very windy, too. Not really a whole lot more to say about this course, besides noting its all-round excellent condition and an abundance of long rough that it's all too easy to get snared in.
The Dyke is another downland course defined by its hills which offers a stern but fair test. My personal memories of this course are a bit hazy. I played it in a scratch match in 2013 and got bodied by an up-and-coming junior called Marco Penge (now swotting about on the EuroPro Tour) and was so busy focusing on limiting my loss to merely 'significant' (rather than 'humiliating') that I didn't really take in much of the track. An afternoon doubles match was much more civilised and enabled me to relish the course more. Good thing too. Lots of humps and hollows, holes up and down hills and a pleasingly links-like feel for a course that's inland combine to make this a very fine layout.
I know I've waxed lyrical about a lot of the tracks on this list, but with the exception of West Sussex, there is no course I would rather visit. What I like about Ashdown is that it has a very strong identity. Firstly, there are no bunkers. Then there's also a lot of variety between the holes, which are all visually beautiful because of a combination of sandy heathland turf and plenty of heather. Babbling brooks bisect quite a few of them, too, while plenty of undulations keep things interesting. The only thing that isn't quite up to scratch on this course is sometimes its condition – I remember the odd green being a bit ropey. But that's but a minor quibble against an otherwise excellent track.
Similar to Lewis, but perhaps a touch more sedated. Hills are the main feature, but sloping greens – you'd figure that, wouldn't you? – also make an appearance and turn what looks like a pretty benign course on paper into a real griller, especially when the wind gets up. A solid track to round up on.
---
Related Content: travel Sussex England Courses
What do you think? leave your comments below (Comments)
---
Leave your comments below
comments powered by

Disqus
More Golf Course & Travel Features
Plan your next golf break with Golfbreaks.com