Top 10 UK Courses to Play by Train
By: Joshua Carr | Fri 09 Sep 2016 |
Comments
---
Post by Golf Journalist Josh Carr
---
It can be hard to organise a golfing trip away as often flights abroad cost too much but driving to some of the top courses and playing golf the same day can be a bit too much of a strain for some. A lot of people do not consider the train as an option, yet there are several golfing destinations that are serviced by regular trains. This means you don't need to worry about a designated driver and every player can relax on the journey there, with the train stopping right outside the door of the golf club.
Here are 10 courses you should consider if planning a golf trip away by train. You'll notice how three Open Championship venues feature.
---
---
Royal Troon
Nearest Station: Troon
Distance: 0.9 miles
Royal Troon is the first Open Championship course to hit our list. The course is just 0.9 miles away from Troon train station, and is well worth the 15-minute walk to play this exceptional course. You get a real sense of history at Royal Troon as you walk the fairways of past Open Champions and attempt the stand out "Postage Stamp" hole.
On top of this, you can even play at Troon Municipal Golf Club, which is right outside Troon Station. Accommodation can often be hard to come by in Troon so it suggested you look for accommodation in Glasgow as it is only a 30-minute train journey from Troon and is serviced regularly.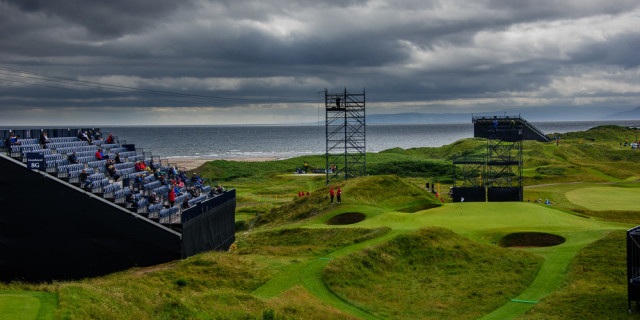 Kilmarnock (Barassie) Golf Club
Nearest Station: Barassie
Distance: 400ft
Although just 400ft from the golf course, this station amazingly isn't the closest on this list, but it handily can be played while you're in Troon as it is the next stop after Troon Station. This golf course has 27 holes complimented by first-rate facilities in the clubhouse and professional's shop, which makes it a great place to play for large groups, especially if you want to make your away trip into a two/three day event.
The Barassie Links is the Championship course at Barassie and even for the best of golfers, it can be a tough test of their golfing skills. It is a mix of nine holes from the original course and a new nine-holes that were built in 1997. The Hillhouse nine-hole course plays alongside the Barassie links and could act as the perfect final nine-holes before your train home.
Aberdovey Golf Club
Nearest Station: Aberdovey
Distance: 350ft
You literally come straight off one track onto another here, as the station is so close to the golf course. This course is a living testament to the unique characteristics links golf offers. Three legendary architects designed the course in Colt, Braid and Fowler and their 20th Century design still offers a stern test to this day.
The tight lies, rolling fairways, undulating approaches and fast greens require a tactical and creative approach in order to be successful. Thanks to its coastal setting, conditions frequently change such as the wind strength and direction to offer a different test every time you play. If you love your links golf, this is definitely a course to try.
Wimbledon Park
Nearest Station: Wimbledon Park
Distance: 0.3 miles
Located in the heart of SW19, Wimbledon Park Golf Club is an excellent 18-hole parkland course that is set around Wimbledon Park Lake and best of all, it is just a five minute walk from Wimbledon Park Station. The course calls for strategic golf due to its 65 newly designed and rebuilt bunkers, narrow tree-lined fairways and undulating greens.
As you walk down the 4th fairway at this course you will see great views of the famous Centre Court at the All England Lawn Tennis Club. This course is definitely worth a visit, especially as it is so easy to reach by tube. For those who live in London and may not have a car, this course is perfect for you as it is so close to the tube.
Silverdale Golf Club
Nearest Station: Silverdale
Distance: 230ft
You wont get any closer to a golf course from a train station than this. At just 230ft from door to door, if you really don't want to do much walking from the train to the course then this one is for you. The first thing you will notice at this golf club is the warm reception you receive from its staff and professional.
One thing you may be thinking as you walk through the car park and can only see one green is: "Where on earth are the other 17 holes?" Well that's the thing about Silverdale; it is an extremely quirky course that requires a huge amount of course management such as irons off the tee. A lot of the par-4s are drivable but any tee shot slightly off line will be as good as lost, especially on the back nine. A great course for those who don't want a long walk and enjoy quirky golf courses.
Gleneagles
Nearest Station: Gleneagles
Distance: 2.5 miles
This Ryder Cup venue is quite unique and offers something that none of the other courses on this list do. Gleneagles has its own station less than two minutes from the hotel and you can take advantage of the complimentary transfers if you let the hotel know what time you are arriving.
There are three 18-hole championship courses to choose from at Gleneagles, as well as a nine-hole par 3 course and a pitch and putt course for beginners. The three championship golf courses at Gleneagles combine natural beauty with a truly unforgettable golfing adventure and it is no wonder these courses are regarded as some of the best in the world. One of these courses is the PGA Centenary Course, designed by Jack Nicklaus, where they played the 2014 Ryder Cup. This is a great resort for those looking to make your golf trip last over a few days.
Ealing Golf Club
Nearest Station: Perivale
Distance: 0.4 miles
This is another course that is perfect for those who are trying to take up the game of golf in London but do not have vehicle for transport. Ealing Golf Club was laid out by James Braid then later re-designed by distinguished golf course architect Harry S. Colt in 1898 and his challenging parkland course still offers a stern test of golf today. The course features some of the best greens in London and when you add that to the narrow tree-lined fairways, you get a brilliant test of golf for all levels despite its lack of distance at 6,201 yards. Having said that, three of the five par 3's are over 200 yards and are by no means an easy par. A river comes into play on several holes, which adds to the overall challenge as well as the aesthetics of the course.
Course Manager Greg Evans is one of just 52 Master Greenkeepers worldwide and thanks to his comprehensive maintenance programme; the course is almost always in top condition. It is incredible that such a good course sits so close to a train station.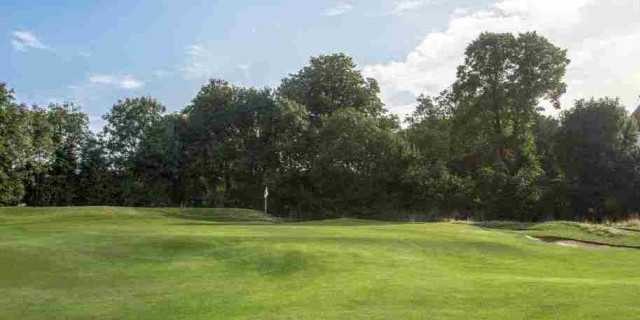 St Andrews
Nearest Station: Leuchars
Distance: 4.5 miles
Where better to go on a golf trip than to the home golf? That's right; St Andrews is handily accessible by train for those who want to play where it all began. There are so many courses to choose from in the town, but of course it will be the Old Course that everyone wants to play.
The Old Course has hosted numerous Open Championships and you can't help but stand back and appreciate the history of place when you're there. You will get the opportunity to play the famous "Road Hole" as well as the chance to walk over the Swilken Bridge, with all this just four miles from Leuchars train station.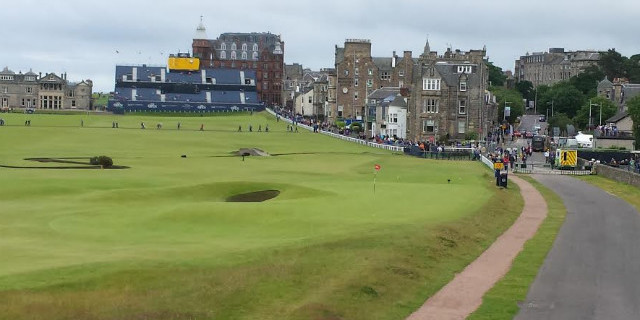 Formby Golf Club
Nearest Station: Freshfield
Distance: 0.2 miles
There are several top golf courses in the North West of England, but not many are accessible by train. However, this hidden gem in the heart of England's golf coast is just 0.2 miles from Freshfield station and offers a stellar test of links golf. The greats such as Colin Montgomerie and Peter Allis have all praised Formby Golf Links, as well as European Tour youngster Matteo Manassero.
This championship links course runs through mature sand dunes and pinewoods, with well-protected greens, undulating fairways and challenging tee shots combining to offer magnificent contrasts across the course. Prices during the summer start at £140 Monday to Friday, however if you book in advance, twilight golf costs £70 but is only available on Monday, Tuesday and Thursday. This is a truly fantastic links course that is up there with the best on England's golfing coast.
Carnoustie Golf Links
Nearest Station: Golf Street
Distance: 0.1 miles
With three courses to choose from and its close proximity to a train station, you'd be crazy not to consider Carnoustie Golf Links for your next golfing getaway. The most well known course here is The Championship Course as it has hosted seven Open Championships, one Ladies Open and two Senior Opens, with the Open Championship returning to Carnoustie in 2018.
The Burnside course, although overshadowed by its neighbour, also offers an exceptional test of golf. The course has a great variety of holes and even its own history to go with it, such as when Ben Hogan shot 70 to help him qualify for the 1953 Open Championship, which he subsequently won. The Buddon links is the newest of the three courses at Carnoustie and was originally designed by Peter Allis and Dave Thomas in 1979. A $1M investment in recent years, including two new holes, has brought the course up to a very testing par 68.
There is great variety on this list of courses you can play by train such as local quirky courses, to Open Championship venues, but one thing is for sure, you will have a great time no matter where you choose to play. Have we missed any courses out? Let us know your favourite courses to play by train in the comments.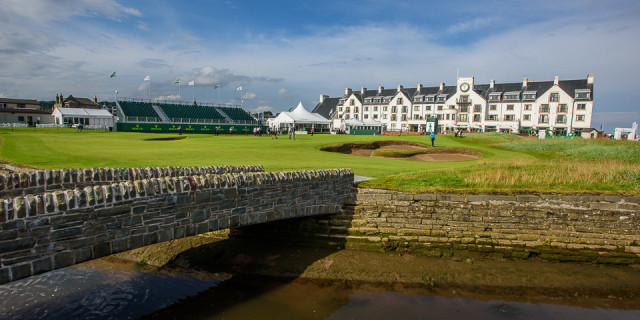 ---
---
---
Related Content: st andrews golf travel guide Courses Carnoustie 10 of the best
What do you think? leave your comments below (Comments)
---
Leave your comments below
comments powered by

Disqus
Plan Your Next Round
Ardglass Golf Club
County Down
from £22.00
Save 50%
Castlerock Golf Club
County Londonderry
Galgorm Castle Golf Club
County Antrim
from £13.00
Save 23%
More Golf Course & Travel Features
Plan your next golf break with Golfbreaks.com