---
It seems that some of the biggest strides (excuse the pun) in golf technology are being made in the golf shoe market. It is not exaggerating to say that there has been a revolution in the category over the past two years.
2012 saw the advent of the casual golf shoe making summer play much more comfortable in footwear considered to be much more like a 'trainer' than a golf shoe. 2013 has seen the second generation of these shoes hitting the market with the emphasis being on golf performance. A mixture of lightweight material technology to stabilise the foot as well as a shift to spikeless footwear has seen amateurs and pros flocking to use these new shoes.
Long gone are the days of the heavy all leather spiked shoes, now it is all about athletic performance. What has been gained in performance may have been lost in style, but not too many seem to be complaining. Here is an overview on what is available on the market for 2013:
adidas adizero and adizero sport
The adizero is the lightest shoe in the adidas range weighing only 10.6 ounces and boasts their thinnest sole ever.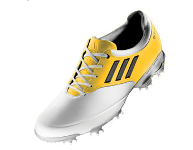 adidas say that they have revolutionised their golf shoes with the adizero and approached the shoe design from a zero weight starting point adding only essentials for performance. The shoe features leather 'Sprintframe' for a consistent ft and 'Sprintframe' for stability.
The adizero Sport is even lighter and weighs only 9.5 ounces. It has been built on the legendary performance of the adidas running shoe, the SUPERNOVA.
Both the adizero and adizero Sport are available in a series of colour combinations as well as in a Ladies range.
We would urge anyone in a golfshop who sees these shoes to pick them up and see just how light they are. Believe us it is quite a surprise!
Find out more about the adidas adizero - Click Here
Ecco Biom Zero
Ecco have long been heralded for making a fantastic range of golf shoes and many golfers swear by them due to the high level of fit and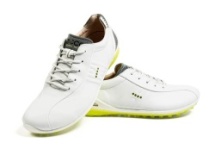 performance. Ecco may have be the first to have tapped into the casual golf shoe market. They recieved a high level of interest with the likes of Fred Couples using their shoe. Since then Ecco have launched an increasing number of models, most notably the Ecco Biom.
It is the Biom that is re-modeled to enter the performance shoe market under the name Ecco Biom Zero.
Offered in two colours, BIOM Zero weighs less than 10 ounces, making it the lightest golf shoe ECCO has produced. Built atop the patented Street outsole featuring the ECCO dynamic traction system (E-dts), its unique, direct-injected construction showcases unrivaled flexibility and an exceptionally low profile. These combine to provide full-length foot support and a Natural Motion experience that benefits the wearer.
Find out more about the Ecco Biom Zero - Click Here
FootJoy M Project
Following Footjoys entrance into the casual shoe market with the Contour Casuals in 2012, this year sees them up the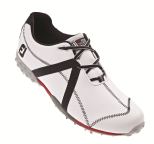 stakes with the brand new M:Project range of performance shoes. Footjoy have come a long way in a short period of time having not so long ago dropped the FootJoy Classic shoe from their range.
The M:Project is everything that the Classic is not. It has a 21st Century look and design and lightweight materials for performance and support.
The M:Project shoe is precision constructed from proprietary M:SPEC leather by Pittards of England for a thin-yet-strong specification, this cutting-edge shoe has been designed to deliver a full range of motion along with an incredibly supple and comfortable feel.
Find out more about the FootJoy M:Project - Click Here
Nike Lunar Control
Nike have long been know for making high performance sports shoes for markets such as running and basketball, so it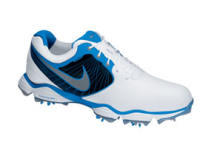 is no surprise that they make a series of excellent performance golf shoes. The flagship of these is the Lunar Control. The model has been around since 2010, but has continued to be updated by Nike.
Nike Golf say they have accelerated footwear innovation by taking lightweight performance to the next level. Delivering stability in a lightweight fashion, Lunar Control provides exceptional cushioning for walking the course and the Flywire stability for your swing. The Lunarlon foam midsole proves durable and highly responsive yet offers the underfoot comfort and ground feel players desire.
Tiger's Shoe - TW 13 Free Your Swing
Tiger is currently wearing a new Nike performance shoe called the Nike TW '13. Although not their premium performance shoe it obviously works for Tiger, so we would not dismiss it as an option when looking for a new performance shoe.
http://www.youtube.com/watch?v=v4wGVv-d0d8
---
---
PLAY MORE PLAY BETTER - LATEST TUITION TIPS
---