FootJoy M:PROJECT golf shoes
---
FootJoy Golf, continues to set themselves the highest standards in footwear innovation and nowhere is this more evident than in the iconic brand's most recent and hotly anticipated product launch. Entitled M:PROJEC, this lightweight, streamline performance golf shoe is the result of years of extensive research by Footjoy and is based around their philosophy that Minimum Construction delivers Maximum Feel throughout all phases of the golf swing.
The M:PROJECT is set for a worldwide launch in early 2013 and will be available in both cleated and spikeless versions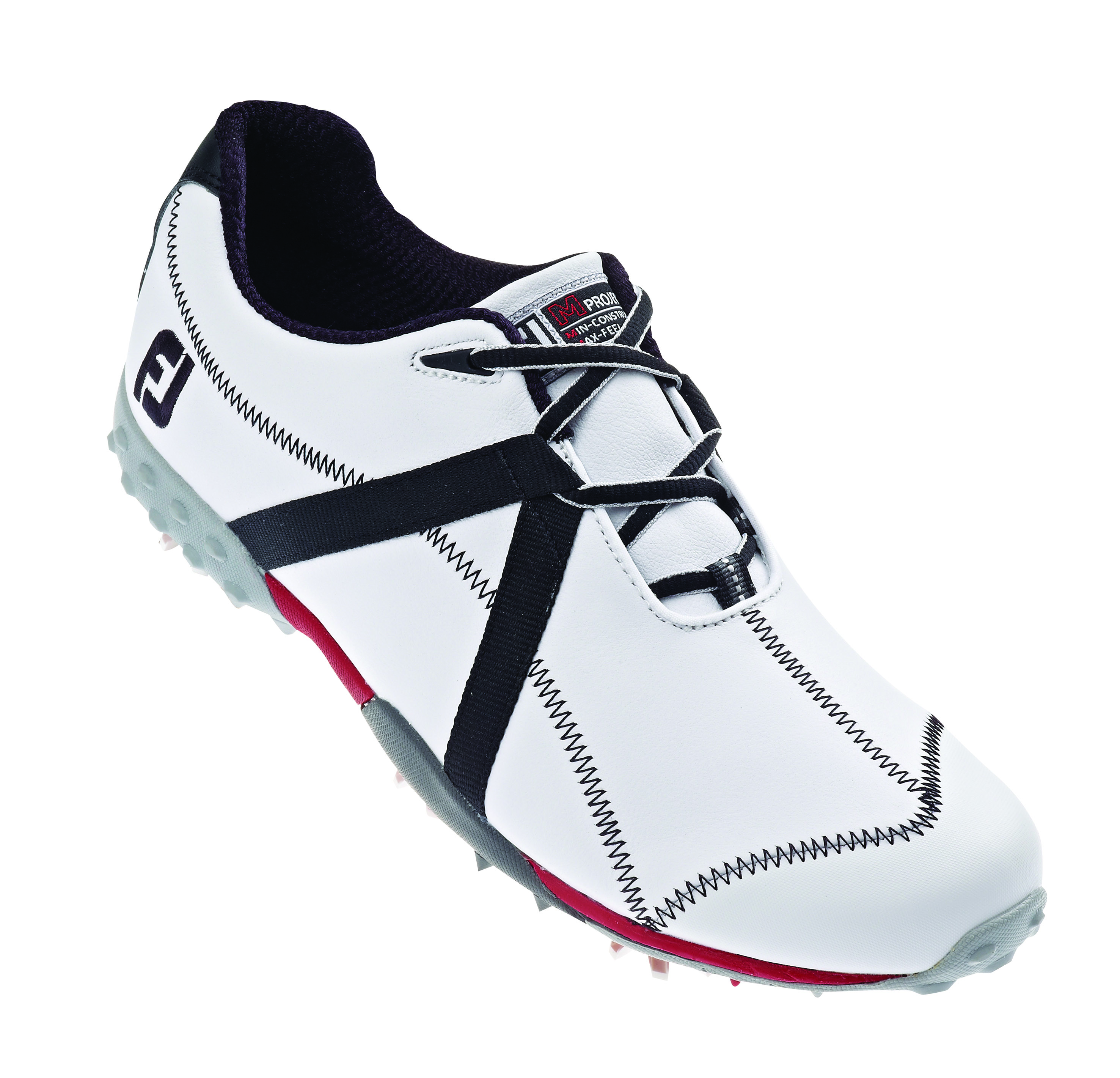 along with a variety of fresh and vibrant colour options to suit the tastes of the modern, dynamic golfer. M:PROJECT has already been worn in competition by a number of FJ brand ambassadors, including Hunter Mahan.
M:PROJECT specifications and technology
Precision constructed from proprietary M:SPEC leather by Pittards of England for a thin-yet-strong specification, this cutting-edge shoe has been designed to deliver a full range of motion along with an incredibly supple and comfortable feel. FootJoy have been able to get the golfer as close to the ground as possible whilst maintaining stability by using a whole host of new technologies; including an MP:627 last that allows for a generous forefoot shape so toes can easily spread and maintain grip, a ProTekt toe guard which provides additional abrasion resistance in key wear areas and an industry-first Laser Thin Duramax rubber compound that acts as a low-profile and a highly flexible conduit from ground to feet.
FootJoy designers have expertly rounded off M:PROJECT by using an exclusive new Stealth cleat by Softspikes® that when attached to the shoe using the innovative P.I.N.S. receptacle system delivers the ultimate in low-profile performance.
"M:PROJECT is an exciting new category for FootJoy and the result of years of in-depth testing and research to deliver an incredibly lightweight and athletic shoe that gives golfers maximum feel and flexibility when they step out onto the golf course," commented Russell Lawes, European Marketing Manager – FootJoy.
The M:PROJECT cleated version will be available in the following vibrant and striking colour options, White/Black; White/Lime; White/Orange, Black/Charcoal & White/Charcoal with BOA lacing option,
The M:PROJECT spikeless can be purchased in White/White; White/Navy; Charcoal/Black; White/Silver as well as a mesh version in Blue/Grey. Both models come with a 1 year waterproof guarantee. Sure to be a popular choice amongst golfers, this lightweight performance-infused golf shoe will be available in-store from March 2013.M:PROJECT carries three price points, Leather/Mesh
Footjoy M:PROJECT pricing:
spikeless £95, Leather Spiked £105 & Boa £115.
For more information on all FootJoy please visit www.FootJoy.co.uk
---
---
PLAY MORE PLAY BETTER - LATEST TUITION TIPS
---