Golfers Are Playing More Than Ever Before - But How Do You Compare
---
BOOM! You just cannot get enough of this wonderful game of ours just now. With storms having ravaged the length and breadth of the land recently, many golf courses have been closed for business but there will be no panic among club secretaries.
As life slowly got back to some sort of normality in 2021, Golfshake subscribers generally got out there and played more rounds of golf than they had previously. In our latest survey last year, 33% of you told us that you played more golf than normal last summer. Just 22% of you played fewer rounds, with 45% reporting that the number of rounds you had played was about the same as you had done in previous years.
But let's not pretend that all is rosy in the golf garden, because the boom has caused some unexpected pressures. There is some pretty clear evidence that many non-club members - or nomadic golfers - are struggling to find tee times. With membership increasing all over Great Britain, this should surprise nobody. However, difficulty in finding tee times has had a significant impact. While the club and non-club split for those playing more was very similar there was clear evidence that for non-club golfers there were still struggles accessing tee times. Just 17% of club golfers told us that they played less than normal, this rose to a worrying 32% among non-club members.
And you repeatedly told us last year that many golf clubs are putting their members first and making life more difficult for visitors than it had previously been.
There is clear evidence that the increase in working from home had a beneficial effect on the numbers of people playing more golf in 2021. We discovered that 41% of golfers in the 44-54 age group played more golf, with that figure rising to 44% for those aged under 44. Just 24% of over-65s told us they had played more than normal in the summer of 2021, increasing to 36% for those aged 54-65.
Playing Habits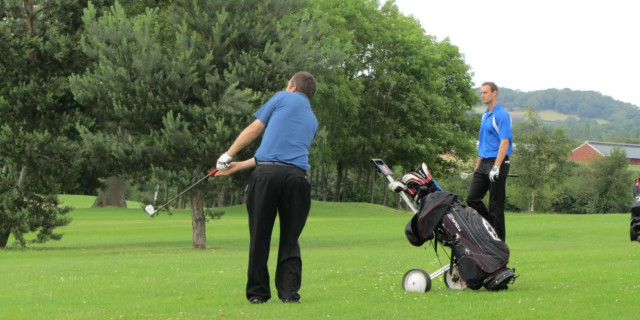 It is highly likely that those figures will change in 2022, particularly for those aged 54 and under. With the Government ending Covid restrictions and encouraging us to return to our places of work, we are likely to see far fewer people continuing to work from home, and that means they are probably going to have less time on their hands to play golf. Remember that working from home eliminated commuting time, which in turn allowed many of us to play golf when we probably wouldn't have done so.
Playing habits remained very similar when comparing the data for 2021 to previous surveys in 2017 and 2018, with the average golfer telling us that they played between one and 10 different courses per year. This may come as something of a surprise given the extra pressures on tee times.
At 73%, this figure was up slightly on previous surveys, where the data was around 71-72%, suggesting a slight decline in the number of courses played by visiting golfers but nothing significant. Variety is the spice of life and, significantly, just 4% of club golfers tell us that they only played their home club, with a tiny 1% of non-club golfers restricting their play to one venue - these figures are in line with the data we saw in 2017 and 2018.
Unsurprisingly, it appears as you get older you are more likely to stick with your home club, with 7% of over-65s reporting that they only play at their home club, compared with just 2% of golfers aged under 54. This is likely to be because as many people retire they have less disposable income and thus are less likely to be prepared to fork out for green fees at other courses.
Five Year Comparison
In 2016, 28% of club golfers and 3% of non-club golfers said that they played more than 100 rounds per year. A surprising finding from last year's survey was that these figures had fallen, albeit only by a small amount, with 26% of club golfers enjoying more than 100 rounds and 2% of non-club golfers doing the same thing. Generally speaking, green fees have increased, which could account for the fall in rounds played by non-members.
Back in 2016, 44% of club golfers stated that they played 10-50 rounds per year, with 26% stated they played 50-100 rounds. This figure in 2021 changed to 33% for those who played 10-50 rounds per year and increased to 44% for those playing between 50 and 100 rounds per year - further evidence that club golfers are playing more.
Six years ago, 75% of non-club golfers taking part in our survey told us that they played 10-50 rounds per year with 9% playing 50-100 rounds. Last year the figure for 10-50 rounds remained the same but those playing 50-100 rounds almost doubled, from 9% to 16% The increase largely coming from golfers who previously stated they played less than 10 rounds - this data provides some evidence for an increase in play but will also be reflective of the cohort completing the survey who are likely to be more active avid golfers.
Additionally, the increase in playing was further evident when we asked golfers to state how many times they played per month in both the peak (April-September) and off-peak (October-March) seasons. An impressive 92% of club golfers played at least every week in the peak season, up slightly from 85% in 2018, and 73% off-peak, which was up from 67% in 2018. For non-club golfers, the figure was 58% in 2021 during the peak season, compared to 53% in 2018, and 32% in the off-season compared to 27% in 2018. Unsurprisingly, older players are likely to play more, with 89% of over-65s stating they played at least once per week in the peak season and 71% in the off-peak. These are figures that may fall in 2022 as people return to work and feel additional financial pressures as inflation continues to rise.
It is difficult to know how things are going to pan out in 2022. KPMG's participation report highlights a desire among golfers to get out there and play more. And with all the publicity surrounding the 150th Open Championship at St Andrews in July, coupled with all the attendant publicity surrounding Saudi Arabia's intention to invest in the sport, interest in golf is only going to increase. On the face of it, it is good news for golf but there are doubts about the ability of our courses to cope with any further increase in demand.
Watch this space.
---
Related Content
10 Things Golf Clubs Must Do in 2022
Are Increased Golf Membership Fees Justified
When Should Golf Green Fees Stop Rising
---
What do you think? leave your comments below (Comments)
---
Tags: Memberships industry insider Green Fees Golf Clubs daily picks
---
comments powered by

Disqus