It's That Time of Year - What Changes at Your Golf Club
By: Golfshake Editor | Fri 05 Nov 2021 |
Comments
---
Now that the clocks have gone back, it's officially the winter golf season, a period of the year that certainly divides golfers between those who put away their clubs for months and the passionate diehards who cheerfully keep going and make the best of it.
We are certainly in the latter category, but if you are heading to your local course this winter, you do have to make allowances for things often being a little bit different from how they would be presented in summer.
Taking a look at some of the most common changes during the low season, we asked the Golfshake Ambassadors to provide an insight behind what they generally experience at their club.
Winter Greens & Temporary Tees
Perhaps the most disheartening aspect of winter for many golfers is finding that their course has moved to winter greens, closing the regular surfaces and instead placing the flag on a tightly cut piece of fairway.
Speaking to Golfshake in 2017, BIGGA (British and International Golf Greenkeepers Association) explained to us why it can be a necessary evil to shut down the standard greens throughout winter.
"It's all about long term planning, and the less stress grass is put under during the winter, the better shape it will be in come spring and summer.
"When grass freezes, the water within its cells expands, putting the cell membranes under incredible stress at a time when they are most delicate. Compaction underfoot causes bruising, whereby the barriers between these cells break, killing the plant from the inside.
"Then, when the grass defrosts, the green will turn a nasty shade of brown as the dead grass wastes away and could even result in areas being completely devoid of turf by the time spring comes around."
Likewise, a similar policy can be adopted for tees, giving the regular teeing areas an opportunity to recuperate ahead of the peak season
Matt Holbrook, a member at Stowmarket Golf Club in Suffolk, commented: "We do move to mats (these are nice mats, not those horrible firm ones) on all but one of our par 3s - the only one where we don't use a mat is our 249 yard par 3 as the majority of players will use a 3-wood or driver anyway so it doesn't get too much divot damage."
Similarly, Mel Davies, who is based at Churchill & Blakedown Golf Club, said: "From what I've seen at my club, winter mats are in play so far on par 3s only. Winter rules are also in place, other than that there no other changes."
Golfshake Ambassador Richard Moore has already witnessed temporary changes to the tees, reporting: "Incredibly at the Abbey Hotel Golf Club, the winter has made the greenkeepers move the yellow tees to the white - no doubt to help them repair the damage from the busy summer."
Fairway Mats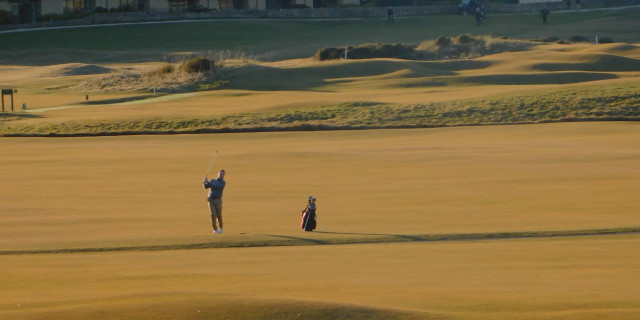 Often, you will see golfers at this time of year carrying small pieces of artificial turf, as many courses want to protect their fairways by requesting that members and visitors hit full shots from a mat, rather than from the short grass.
Golfshake Editor, Kieran Clark described what the routine is at the Home of Golf. "Fortunately in St Andrews, our links courses remain on full greens and tees all winter, but there are other key changes. Fairway mats are deployed on the Old Course from the beginning of November to the end of March, with the other layouts requiring them from December.
"However, what you soon realise, certainly in my case, is that if you don't hit that many fairways, you can go for lengthy periods without having to place your ball on one of them!
"While it's a minor inconvenience, the excellent, year-round condition of these magnificent courses is the reward, a quality that is hugely impressive considering the busy traffic of golfers who play on them every day."
Traffic Management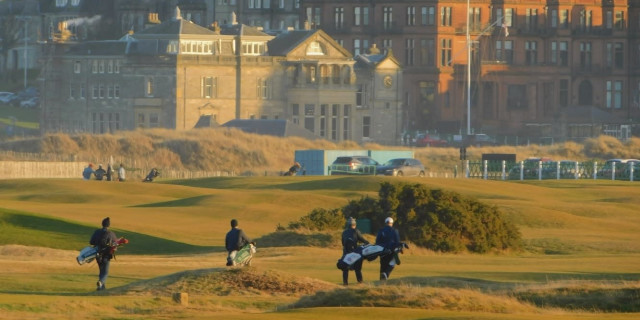 Considering that many golfers use push and pull trolleys, some courses rope areas off around greens and tees, protecting the turf that can often be made vulnerable by the cold and heavy rainfall.
Adam Matthews, the Course Manager at Moor Allerton Golf Club in Leeds, explained to us a couple of years ago why this can be required.
"Greenkeepers will often direct golfers away from certain areas of the course that may have become waterlogged or unfit for play. This can be done by roping/fencing off areas or simply painting lines on the turf. It's really important these are followed not only to protect the golf course but also sometimes for the safety of the golfer."
Kieran added: "On the Old Course, looking ahead to the 150th Open in 2022, certain areas of the rough have been roped off. Golfers can still play from these lies, but they shouldn't take their bags or trolleys inside those marked segments. I'm sure we'll discover why in July!"
Winter Maintenence Projects
Looking ahead to the next season, winter is often the time when clubs undertake maintenence projects, whether it be the rebuilding of tees or the remodelling of bunkers, an effort that should ensure the work has been completed seamlessly before spring and summer.
Matt said: "Two of our par 4 holes are having some extensive tee box renovation - the 5th and 15th are playing off some winter mats too."
Kieran commented: "You always see tweaks made during winter at St Andrews. In recent years, the removal of gorse bushes has been notable across the links, replacing them with sandy areas, which is most apparent on the New Course. Things are constantly evolving here - and visitors will generally experience them each season when summer rolls around!"
---
Additionally, preferred lies are widespread as part of local winter rules, while at some clubs, hospitality services will be reduced, meaning fewer opportunities for a post-round bite to eat.
During winter, it's essential that we all support our venues and the greenkeepers who maintain them. The changes that are introduced throughout this period of the year are vital and help to deliver the best possible product during peak months.
But that doesn't mean we can't still enjoy and make the most of our winter golf!
---
Related Content
How to Save Your Golf Course This Winter
The Highs And Lows of Winter Golf
Reasons to Keep Playing Golf This Winter
The Items You Need For Winter Golf
Are You Ready For Winter Golf - Tips To Keep Playing
How to Get Ready for Winter Golf
7 Reasons Why Winter Golf is Great
---
What do you think? leave your comments below (Comments)
---
Tags: winter golf winter GOLFERS daily picks
---
PLAY MORE PLAY BETTER - LATEST TUITION TIPS
---
Leave your comments below
comments powered by

Disqus