There Is More To Golf Than Just Being A Golf Club Member
By: Golfshake Editor | Fri 02 Apr 2021 |
Comments
---
This past year has seen an extraordinary surge in demand for golf club memberships, leading to a considerable number of venues restoring waiting lists and entry fees, something that was unthinkable little over 12 months ago. However, despite that, a significant proportion of golfers continue to remain unattached.
And there is nothing wrong with that.
Categorising these players is a challenging pursuit; for some they are nomadic, unattached, independent or non-club, several terms are thrown about; but perhaps they should simply be viewed as being golfers, just like anyone else. A recently published article - Don't Call Me A Nomad - got us thinking about a key question; is golf as a whole overly focused on trying to create more club members?
Firstly, studying the data from our recent Winter Golf Survey that was completed by just under 3,000 avid golfers, 68% of whom reported to being members of golf clubs with 32% stating they were not a member of a golf club. Segmenting the data further identified that 70% of those playing more than 10 years were a member of a golf club compared to 63% of those playing less than 10 years.
Intriguingly, 47% of those who stated that they weren't currently a golf club member have previously been a member of a club, which was broken down further:
57% of golfers playing more than 10 years had been members previously
50% of the over 45s had been a member previously
38% of the under 45s had been a member previously
16% of golfers playing less than 10 years had been members previously
What explains this? As was analysed in greater detail on Golfshake, 51% of golfers have reported taking a break from the game. But as we have previously explored, a lot of people simply prefer a non-club existence, having the ability to roam about, playing multiple courses, enjoying maximum flexibility without committing to paying the annual membership fee.
Indeed, alternatives to traditional memberships have arisen, notably PlayMoreGolf and Ready Golf, but newer ventures are beginning to appear too, including FlexyGolf in the Republic of Ireland.
There's no doubt that a major factor in the 2020 resurgence of memberships was golfers keen to make securing tee times easier at a time of unprecedented demand, but there are prominent areas where a traditional membership stands alone and remains uniquely attractive.
Membership is more than just golf, it is about being part of a club, an institution, a sense of belonging, feeling part of something, which can be manifested through teams and competitive play. The social advantage of club membership is obvious, an important allure as evidenced on Golfshake, with clubs facilitating the ability to connect with others, a regular circle of friends or family. There is much to be said for that.
The club member and non-club member often have different sensibilities, but they are both golfers, just as passionate, and rather than tirelessly working to turn one into another, the game may be better served looking at how to best embrace both.
Such an approach is historically embedded within a cathedral of the game, St Andrews Links, where residents, students and the wider community have the chance to pay a subscription fee to access the seven revered courses, but without the trappings of a club membership, effectively running as a municipal facility under a Trust. But for those who also want the benefits that being a member can bring, local golf clubs can be joined as a separate addition.
The club members and those who are unattached exist under the same umbrella, they each have season tickets to play the courses, something replicated by other luminous Scottish destinations like Carnoustie Golf Links and Monifieth Golf Links. Strikingly unique these arrangements may be, but there could be lessons for other parts of the country, a template for the future, particularly in city landscapes that boast a high density of golf courses.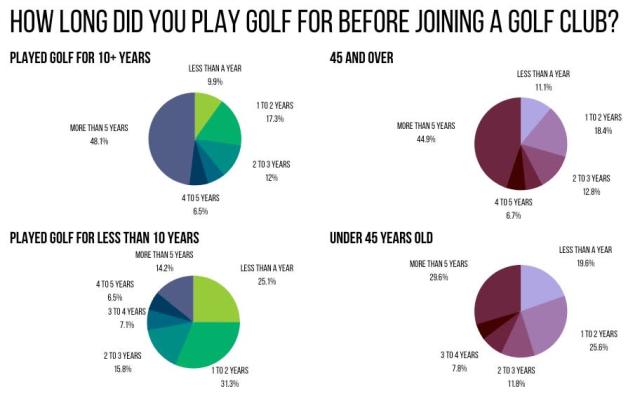 Looking back at the survey, what seems apparent is that golfers are unlikely to join a club when they first take up the game and are generally prone to "age into" that status. 78% of respondents who were or had been members of golf clubs stated that they didn't join a golf club immediately, brokwn down as follows:
79% of golfers over 45 didn't join a golf club immediately
75% of golfers under 44 didn't join a golf club immediately
78% of golfers playing more than 10 years didn't join a golf club immediately
77% of golfers playing less than 10 years didn't join a golf club immediately
The survey also asked how long was it before they joined a golf club, which obviously will be slightly slanted for those relatively new to the game, but the data highlights that this isn't a simple decision, with 42% of golfers not joining a golf club for more than five years. Further analysis broke down the average timeframe for how long golfers took to become a member from when they first started playing golf:
12.5% - less than a year
19.7% - 1 to 2 years
12.6% - 2 to 3 years
6.4% - 3 to 4 years
6.5% - 4 to 5 years
42.2% - more than 5 years
The data was further analysed across golfers who had been playing more or less than 10 years and golfers aged under or over 45. Ignoring those golfers playing less than 10 years, the data would suggest that on average, for golfers who do not join a golf club immediately, 25-35% will take up to two years to join a golf club with 40-50% taking four or more years to join a golf club.
Club memberships will continue to be an integral part of the sport and to the wider financial health of individual venues, but as golf looks at its situation into the coming decades, the fact must also be embraced that for many, there is more to the game than just being a member.
Members, nomads, independent, unattached, whatever the label, ultimately, we're all golfers.
---
Related Content
What Does The Future Hold For Nomadic Golfers
The Need To Save Municipal Golf Courses And Importance Of Driving Ranges
Popular Alternatives to Traditional Golf Club Memberships
---
What do you think? leave your comments below (Comments)
---
Tags: Memberships industry insider Green Fees Golf Clubs daily picks
---
PLAY MORE PLAY BETTER - LATEST TUITION TIPS
---
Leave your comments below
comments powered by

Disqus