The Need To Save Municipal Golf Courses And Importance Of Driving Ranges
By: Golfshake Editor | Fri 19 Mar 2021 |
Comments
---
Pathways into golf have long been varied, there is no definitive correct and certain route into the game, but those roads need to be widened as the sport looks to thrive throughout the coming decades.
Reflecting on the past and what that could mean going forward, the latest Golfshake Survey - How Did You Get Into Golf? - has uncovered a fascinating pattern, highlighting that the venues where new players are first introduced to the game is potentially changing.
Municipal, public golf courses have often been a gateway into the sport, offering an affordable and relaxed setting for newcomers, but their status is being challenged by widespread budget cuts and closures, the latest facing the likes of Allestree Park in Derby and Stockwood Park in Luton.
Why Municipal Golf Courses Are Essential
But why is it essential that venues like these are saved? When we asked where golfers had first experienced the game on a course, for those who have played for more than a decade, 46.1% stated that they first tested themselves on an 18-hole municipal/pay & play layout.
Intriguingly, that percentage declined among newer golfers, dropping to 38.9% for those playing less than 10 years, albeit still a significant proportion, while in the smaller sample of golfers who have just started playing in the last two years, only 29% had first accessed a municipal course.
Analysing this further, with regards to more traditional golf clubs, 27.9% of those playing for longer had first experienced golf at one of these venues, contrasted with 23.9% for those playing less than 10 years. This figure slightly rose to 25.3% for the golfers who started playing in the last two years.
Public golf courses have perhaps lost a small degree of their allure in recent times, but they remain a vital pathway.
And it would be remiss to ignore the benefits of shorter, nine-hole, par 3 courses, with 21.4% of the more established players stating this was their first experience, rising to 31.1% for golfers playing less than 10 years and rising even further to 36.% for the limited group of golfers who only started playing within the last two years.
As time progresses, golfers are increasingly finding shorter forms of the game more attractive, especially at the start of their journey.
Growing Stature of Driving Ranges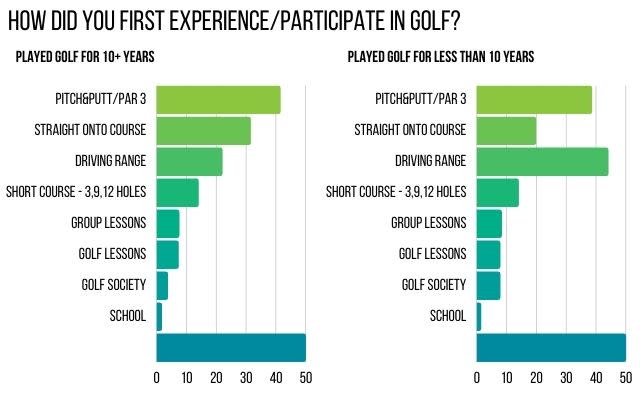 When comparing new golfers to those more established players, there is a clear difference, as the newcomers are less likely to immediately hit the course when they first start playing.
31.5% of those playing golf more than 10 years stated their first experience was going straight to the golf course compared to 19.8% of golfers who have started playing in the last 10 years.
Driving ranges now form a big part of the introduction into golf, up from 22% to 44.1% for those golfers who stated they started playing in the last decade.
As we studied in the feature article What Makes Driving Ranges Essential last year, this trend is set to continue, with these facilities becoming an even more prominent window into the game.
The opportunity to hit some balls in a non-pressured environment, where there are no stakes involved, an experience that can be enjoyed with others, is something that golf must embrace as we look to further engage with the wider public.
Driving ranges could soon be what municipal courses were to previous generations.
Golfers Have Their Say
Respondents to the survey were keen to share their stories, describing how they first got into golf, whether it be through caddying at a young age or simply by visiting a local field and hitting balls.
"All of this happened in one afternoon. First in the garden my Dad wanted to see if I could make contact with a tee. Then we went to a driving range. After that we went into the 9 hole par 3 course and I made par on the first hole."

"Always enjoyed watching golf and decided to have a go whilst on my 40th birthday cruise. They held free competitions every day as well as being able to book 30 minute slots in the simulator."

"As a teenager, I went to a local pitch and putt with friends maybe 10 times in total (one or two times each summer hols). As an adult in my late 30s I joined a local 9 hole golf club for about five years (I really started because the local ALDI store was selling clubs, a full set of clubs, at under £100 and until then I thought the game was out of my price range.) Initially I played in the summer and started going to a few social golf weekends two or three times a year, but this had to stop for a few years, due to work commitments. I restarted golf again joining a full club about five years later and have now been a member for about five years."

"As kids we played golf around our neighbourhood with plastic golf balls and we did a lot of chipping with friends and my Dad in the back garden. I grew up in Minnesota, I moved to Glasgow in 1990 and brought my golf with me."

"Dad had given me a 7, 9 iron, showed me the grip which I had to work on and told to go play and practice over the green. I could play tennis and cricket so the swing came along pretty quick and I enjoy it to this day, from a 9 year old watching Trevino and Seve..."

"I saw a junk shop with giant tour bag full of clubs, selected half a dozen (including a driver of course), a bag and 50p worth of some rather scruffy balls. I spent some time in a field behind my house trying to hit balls with little success. Undaunted I went to a local course and paid a green fee and set out on my own. Luckily, a couple asked if I would like to join them. After two or three holes we agreed that it would be best for them to carry on alone and leave me to my own devices, I "played" all 18 holes having an estimated 200 plus shots, returning to the clubhouse in twilight (actually darkness). I now play society golf against teams from some fine clubs from the home counties."

"I still have the score card. I shot 147, a good score in snooker but not on the course, I used it to inspire me to get better, always aimed to beat my last score, then broke 100 then aimed for 90 and so on."

"I was fed up as hubby disappeared to golf. He took me to our local course. I hit a ball and it flew down the fairway. I was hooked. That was it."

"My Grandfather took me to the "Forest Putting Greens" in Nottingham when I was 7 or 8. Had watched golf on TV so took a full swing at the ball, follow-through caught my grandfather on the cheek! First serious start with golf was as a sports option at Derby College of ART & Technology, now Derby Uni. One afternoon a week at the local Muni' course (Allestree Park - which is sadly about to close)."

"Myself and a few mates decided to do a golf charity event for Macmillan, four rounds in two days and I've been hooked ever since, always watched golf and would carry my father's bag when I was younger but never played until now."

"Whilst going caddying I acquired a golf club and used to go to the park to hit some shots. Later making three holes in each corner of the park and playing with my brother with just the one club between us, which we used for every shot."
Conclusion
The pathways into golf are certainly diverse, but this is a changing world, where less organised, shorter forms of the game are proving to be popular, something highlighted by the rising influence of driving ranges. Affordability is key too, which is why our public venues remain so vitally important when supported correctly and with care.
Everyone has a story, but ultimately, the most important thing is getting a club in the hands of someone, wherever that may be, a municipal course, a private club, a range or mini-golf facility. They all have a place - and they all need to be promoted and protected.
---
Related Content
How Golfers First Experience And Get Into Golf
---
What do you think? leave your comments below (Comments)
---
Tags: industry insider daily picks
---
PLAY MORE PLAY BETTER - LATEST TUITION TIPS
---
Leave your comments below
comments powered by

Disqus