How Golfers First Experience And Get Into Golf
By: Golfshake Editor | Fri 05 Mar 2021 |
Comments
---
Golfers have a meaningful relationship with the game, it's an essential part of their lives, and everyone has their own story about how they first became acquainted with it.
Learning more about these personal tales, we wanted to discover your earliest memories, how you first experienced the sport, and what (and perhaps who) drove you to participate in the first place.
Surveying 2,800 members of the Golfshake Community throughout the winter of 2020/21, an avid audience that was made of 68% club golfers and 32% non-club members, you told us about How You Got Into Golf.
70% of those respondents to the survey had played for more than 10 years, with 30% having first started playing within the past decade.
We first asked - How old were you when you first experienced/participated in golf?
And from the golfers responding to our survey, there was quite a clear distinction that those who had played for more than 10 years were more likely to have experienced golf from a younger age, with almost 50% having first sampled golf under the age of 15, highlighting the importance of reaching younger demographics.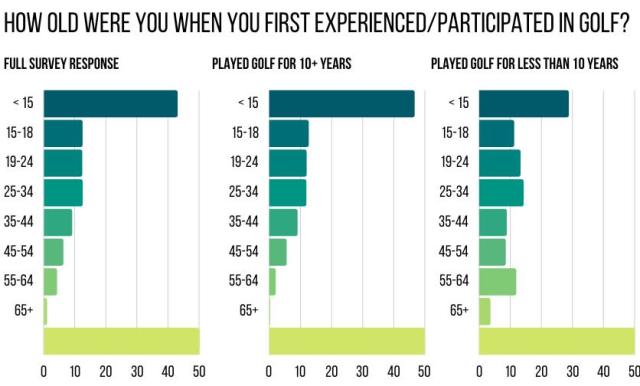 We then asked - Who first introduced you to golf?
It's clear that golf is often a family affair, with many golfers being introduced to the sport by parents, siblings or grandparents. But for golfers who have played for under a decade, there was a greater shift to them being connected to golf through a friend or work colleague.
When it comes to first memories of the game, it's striking that watching golf on TV, specifically on 'Free To Air' television was a significant factor, reflecting the days when the Open Championship and Masters (among other tournaments) were broadcast on the BBC.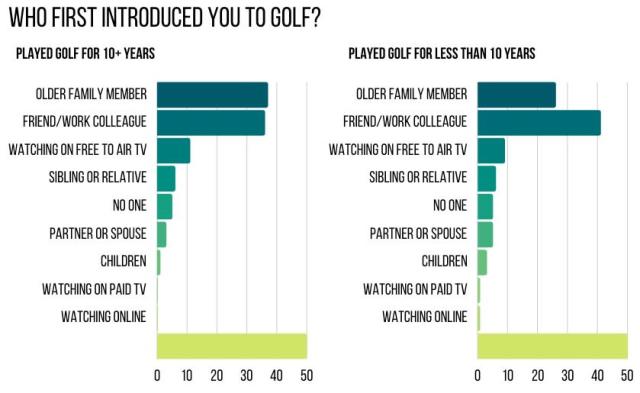 However, when broken down further, and representing the shift towards subscription channels, most notably the vast coverage on Sky Sports, golfers who had played less than 10 years were four times more likely to have had their first memory related to golf on paid TV and eight times more likely to have had their first experience from watching golf online, compared to those more experienced golfers.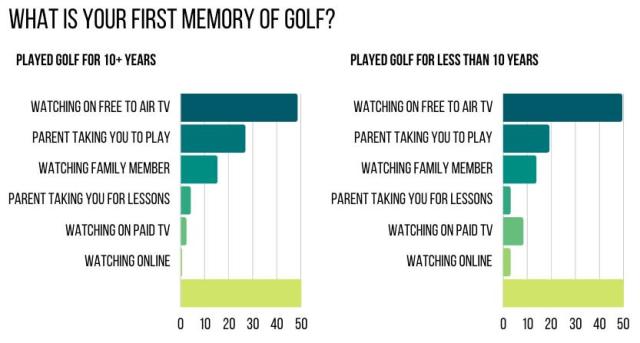 Breaking it down by age, there are differences between those under 45 and those golfers who are older. 51.3% of the 45+ age group stated that watching on free to air TV was their first memory of golf compared to only 38.5% of the under 45s.
On the flip side, with regards to parents introducing you to the game, 39.5% of the under 45s stated that 'parents taking you to play' was their first memory, contrasting with 21.3% for the over 45s.
Finally, the under 45s were three times more likely to have their first experiences of golf through either paid TV or watching online.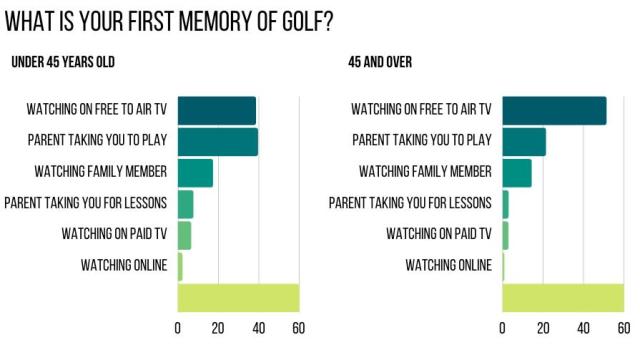 Additionally, golfers also had an option to leave a comment in the survey, sharing their experiences, many of which you may find resonate with your own memories.
Watching Golf On TV
There is no doubting the importance of being inspired by heroic figures on television, something that was repeatedly captured by the following comments:
"I saw Tiger Woods on TV hit the magical shot at the 16th hole during the 2005 Masters. A year later, I was playing pitch and putt, lost my temper, and hit a golf ball quite far and was hooked."
"My dad took me as a junior, but my first real memory is Tiger Woods holing the putt on 12 at the 97 Masters."
"Watching Jack Nicklaus win a golf tournament in the 1960s."
"Watching the Open with my father on television."
"Watching US Open and Masters on free to air TV was particularly important because it was on live at very convenient times... in the evening after school or doing other stuff on weekends."
"Watching the Open on BBC with Peter Alliss."
"After watching Around With the late Peter Alliss, a friend and myself decided to give it go, just to see how "easy" this game of golf was. We gained access to a 7 iron and a few golf balls and headed off to a local football field and took it in turns to see how many shots it would take to score a goal. Starting in one goal mouth and zig-zagging across the field we had hours of fun trying to hit that one shot straight and some distance. Both being very competitive we returned as often as we could each trying our hardest to beat the other's score. The rest is history and still to this day, now both in our 60s, we both play golf as often as possible and both still as competitive."
"Tony Jacklin winning Open."
"As a youngster in my early teens, I remember watching the great players such as Palmer, Player and Nicklaus and enjoyed watching the great strokes that they could make. I watched Nicklaus playing in the Walker Cup so when he became the greatest player we've ever seen (with the possible exception of Tiger Woods!) I found it very inspiring."
"Watching golf on TV as a 'young, keen on sports' person, made me want to try it out. Always tried to play a bit during my various holidays. But then retirement meant I could take it up regularly. Joining a club, having a few lessons and then being fully involved with the club's senior section."
"Myself and two siblings were arguing what to watch on TV (only three channels), my parents stopped the argument by switching to BBC2 with Henry Longhurst commentating on a weekly golf challenge of the 'The Big Three' (Nicklaus, Palmer and Player). The argument stopped and we watched in awe."
"Nick Faldo in the late 1980s early 90s winning the Masters."
Trying Another Sport
Golf isn't always the first sport that someone plays, but it can become an appealing option, as these golfers have described:
"Decided to play as a form of exercise as I have always enjoyed sports."
"Playing football and game called off, needed something to pass the time and two players had clubs so we shared clubs at golf course. Got half set clubs for myself and four of us started playing, that was 62 years ago."
"Being a keen cricketer I also wanted to do additional sports, I was asked If I would like to play golf or squash, and being in an office all week golf was the natural choice to take for enjoying fresh air and also lots of variable locations and weather adding a new slant to each round of golf."
"Played a lot of tennis before golf and was 'sniffy' about golf saying I would run round a tennis court while I could. One lesson and a visit to a range and I was hooked!"
Importance of Parents, Relatives or Close Friends
Golf is a game of companionship, and family is such a rich part of that, especially for those who started playing when young.
"Father and uncle played regularly when I was a kid. I got sucked in through them."
"My grandad gave me a club and balls to hit in the football field, I was hooked from the first hit!"
"My first boyfriend played, but I had horses at the time and thought this would be something I would like to come back to, and I did when I turned 55 and the kids had gone, and I had time and now I'm addicted."
"I remember my dad cutting me clubs down and regripping them as a proper young lad, maybe 8 or 9 years old but I never took to it. Played footy for a lot of years and picked up some injuries and then I met my wife who has a golfing family. My knee held out with what golf required and I fell in love with the sport. It is truly the game of life."
"Both parents played so when we were old enough I and my younger siblings were introduced to golf."
"Joined group lessons at a local driving range with my wife after watching the Open on BBC."
"My father's brother was an avid golfer who passed his passion to his wife, daughter and nephew (me)."
"I was introduced to golf at my best friend's stag party."
Work Colleagues or Related to Work
As people get older, so many activities are related to work, and that has been a regular pathway for golfers into the game.
"Never watched or played before I gave it a go with some work colleagues on a company trip."
"During the 70s and 80s, golf was an accepted/popular way of conducting business."
"Work colleague kept telling me what a great game it was and talked me into going to driving range and then on to course. Played three holes (well hacked my way through three holes)! HOOKED from then on."
"All my work colleagues played, I didn't, but I tagged along, soon I wanted to take it up. I was lucky enough to have friends who had patience!"
"Having a colleague who wanted to start playing golf so I joined him."
"We used to work shifts and would play every third Monday when we were due to start the night shift. We would pick a different course each time."
"Corporate day with work."
"Was never interested in golf until I was forced to try it at work, on a training week based at La Manga."
"I used to visit a driving range occasionally with a colleague on the way home from work."
Other Reasons
However, while there are several obvious patterns, there are some golfers for whom being introduced to the sport was a unique experience!
"Used to caddie at Woodhall Spa to earn my pocket money. Walked 4+ miles there, tried to get two rounds in per day, then walked 4+ miles home. Spent half of my money on new plimpsoles."
"Started to caddie for next door neighbour each Sunday Medal when I was around 9."
"In my teens, I went caddying at a local course to earn pocket money."
"Went to a wedding reception at a golf range and all the guests had a free pass to hit golf balls on the range."
"I got a 7 iron for Christmas when I was twelve. My friend had one club and we set up a little course in the town park hitting to the trees. I got a few more clubs when I was about 15. Our town started a little 9 hole course with sand greens. I would put my clubs in a potato sack since I didn't have a bag and carry a few balls in my pocket. They didn't charge anything yet to play."
"A small group,of ladies whose men all played golf got together and formed a group. Only one of whom had played. That was over 20 years ago and we still have our group, going on holidays together, a weekend away and an outing once a month."
"I think there was a bag of clubs at my gran's house but nobody in the family played. I got therm them out and hit them but I can't remember what inspired it, it must have been the telly or because it was similar to cricket - hit a ball really hard. I had played crazy golf at seaside venues as a youngster - which I loved - so it was a natural thing I suppose."
"I hated golf with a passion until I was given golf lessons for my 30th birthday present from my wife. Best present I have ever received."
"Carnoustie ran a course to get more women playing golf."
"I went to the pro shop at the Royal Eastbourne and as I was looking, some old Colonel type character came out of the club and said 'what do you want lad?' So I said 'I am trying to go to the pro shop and buy some second hand clubs' and he said 'wait there boy.' A few minutes later he came back with a dozen or so old clubs and gave them to me for free, that was 60 years ago but will always stay with me, so I have done the same to our juniors."
So, there you have it, the earliest memories of golfers and what first got them into the sport. Let us know your own story - and look out for more insights to be found in upcoming features!
---
Related Content
What Makes New Golfers Different
How to Get More Juniors Playing Golf
Main Reasons Why Golfers Join Golf Clubs
---
What do you think? leave your comments below (Comments)
---
Tags: industry insider golfshake daily picks
---
PLAY MORE PLAY BETTER - LATEST TUITION TIPS
---
Leave your comments below
comments powered by

Disqus