Delving into the Slow Play Debate
---
Article by Sports Journalist Joe Hughes
---
Slow play has been a frequent problem in golf for several years and in recent weeks the issue has reared its ugly head once more. Since JB Holmes played 'that' shot in his final round at Torrey Pines in January, everyone and their dog has shared a view around what could and should be done about slow play. Some are more genuine than others but if you delve a little deeper than just what is posted on social media, there are questions that need to be answered.

Why is it happening? How could we avoid it? And what affect could this have on golf participation in general?

Before we get to answering the why's, the how's and the what's, I'll bring you up to date with a couple of the main controversies that have hit the golfing headlines since the beginning of 2018. Firstly, there's 'that' shot which was referred to earlier on. Holmes was playing alongside Alex Noren in the final pairing on the Sunday at the Farmers Insurance Open and had found the right side of the 18th hole. The American was in contention to pick up the title, but with Jason Day having already completed his round and finished on 10-under par, Holmes needed to make an eagle three to force a play-off.

In this situation, it is understandable that world number 90 wanted to give himself the best chance of doing so and therefore was not going to be rushed into deciding which shot he was going to hit. It seemed obvious to most of us watching the action that he would go for the green and hope to get down on his next shot. However, after more than four minutes of deliberating, Holmes chose to simply lay up and play onto the green with his third shot. Supposedly, the time limit for a player to play a shot is 40 seconds, although the absence of a tour official allowed Holmes to take more than six times that amount. Noren, who would have won the tournament outright with a birdie was anxiously waiting on the other side of the hole and eventually didn't quite get his shot right which lead to him making a par and heading into an epic play-off with Day. The Australian eventually got the better of the Swede and took home the trophy, with many calling out the Holmes debacle as the defining factor.
Shot Clock is a Start but Slow Play Has to be Tackled Properly

In addition to this, there was the well-publicized criticism of Webb Simpson at the Honda Classic. The former U.S. Open champion was playing alongside last year's Race to Dubai winner, Tommy Fleetwood when he was said to have been taking a little too much time playing several holes on the back nine. Sky Sports' Wayne Riley was out on the course following the group and was incensed by his lack of speed. The Australian described Simpson as "selfish" and it was observed that Simpson took more than double the allowed time to take one of his shots. It was around this point of the round where Fleetwood rather fell out of contention from a position where he was seemingly in with a very good chance. Again, many have cited Simpson's slow play as a main factor in Fleetwood's poor end to the round.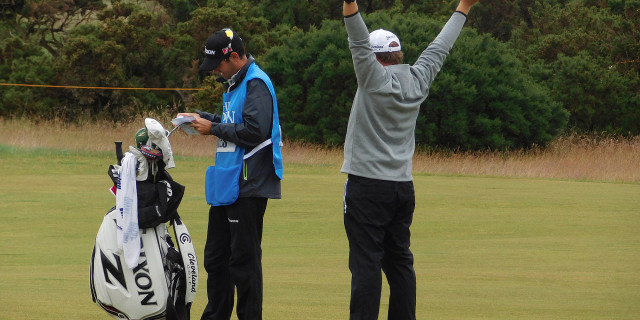 Now: let's firstly look over why this is happening. There are no written rules to state how long a round of golf must take, nor one that states that if it is not completed by a certain point then it will be concluded immediately. Therefore, a lot lies with golfers themselves to play their round in what is perceived as a reasonable time. Over many years, the norm for a round of golf has been established and this duration is somewhere between three and four hours. There are few rules and recommendations that even slightly hint at being related to slow play. One is that you must hit each shot within 40 seconds of it being your turn to play and the other being that you must always play to keep up with the group that is ahead of you. So, in a world that everybody adheres to these recommendations and those that don't are severely punished then there would be no problem. However, this is not the case. Focusing particularly on the professional game here, some rounds are taking around six hours to complete, which is way above the amount of time that they should take. There isn't one sole reason for this but there is perhaps one that stands out more than others.
Jack Nicklaus Links Slow Play with Golf Ball and Distance

This is that there is a lack of enforcement when it comes to the 40 second rule. On the professional tours, there are numerous officials based around the courses but somehow, we still don't see them doing enough to speed players up. There has been a lot of talk from players old and young about how they know who the slow players are on tour as they've been able to get away with playing that way so many times. The reason that these golfers have been able to establish these views is because when playing in competitions, the officials have been far too lenient and too slow to act when a group is off the pace. The lack of punishment further enhances this as the pros know that apart from the occasional quiet word in the ear, there isn't going to be a consequence for them taking more time than they should over their round.

The next question around avoiding slow play, has perhaps seen the most interaction from golfing fans, players and experts alike. Many Tweets that have been posted contain some sort of 'solution' albeit some of them have been rather tongue in cheek. Despite this, there have been many serious and quite frankly realistic suggestions offered up by the golfing public.
One player who has been vocal on Twitter about the issue is Paul Lawrie. Lawrie tweeted "Naming and shaming isn't going to make golf quicker, though we need a system which is affordable and makes players hit shots in the time their allowed and if they don't it must be a penalty shot every time" (@PaulLawriegolf). Personally, I believe that Lawrie could be on the right lines when it comes to solving the problem. These players are all competing for money and points on their respective tours and whether it be FedEx Cup points, Race to Dubai points or simply just those that count towards the order of merit, this is what they are all after. To pick up the most points, they must finish on the lowest score they can and it's not rocket science that penalty shots don't exactly help that cause. Therefore, I believe that penalty shots would be the strongest option when looking for solutions but perhaps not in the way that Lawrie suggests. One way the governing bodies could hand out this punishment system could be to use a warning system. For example, the player is warned the first time to speed-up and if they then fail to do so, or fall below the requirements again then penalty shots could be given out for every further breach. Alternatively, fining players, preventing them from entering certain tournaments or docking points from their tally could also be useful options.
Golfshake Podcast - Slow Play Discussion

Last but certainly not least comes the issue of how slow-play could affect golf participation at all levels. According to stats from Statista, a large research company, 1.13 million adults were playing golf month after month in England. This may seem like a large number, but it is in fact down 27% since 2007 when the figure was 1.54 million. I would not suggest that slow play is the biggest or only reason for the decline when there are more severe issues such as the prices of equipment and memberships. However, I would argue that this problem does undoubtedly play a part. If you sat down as a new viewer to watch a professional tournament on television and you needed to sit there for six hours just to watch the whole round of one group, it's hardly the most thrilling introduction, no matter how good the golf is. The professional tours should inspire people to get out onto their local courses and give it a go, but if the impression is given that you virtually need a whole day just to play 18 holes then that simply won't work.

Overall, slow play is still a very big issue in the sport and if we are being realistic then it must be accepted that the governing bodies of all the professional tours need to come down hard on those players making the game longer than it needs to be. Only time will tell if this is acted upon by those in charge but as a golf enthusiast, is sure hope so.
---

Be part of the action with a selection of unique golf tournament experiences, from playing in a pro-am with the stars to watching the action at golf's most illustrious events. Whether it's the Masters or The Open, The Ryder Cup or WM Phoenix Open, build your own bespoke package with the experts at Golfbreaks.com.
---
What do you think? leave your comments below (Comments)
---
---
comments powered by

Disqus