Beau Desert Golf Club Feature Review
By: Richard Moore | Tue 29 Oct 2019 |
Comments
---
Review by Richard Moore, October 2019
---
Beau Desert is a beautiful heathland course situated near Cannock in South Staffordshire, Highly Recommended on Golfshake, about 20-30 minutes north up the A5 from The Belfry. Beautifully manicured and set amongst rolling hills and forests with deer roaming around. We all remarked it was in our top three courses of all time!
It reminded me of Sherwood Forest with all the fern/bracken around; of North Hants and Formby Ladies with all the heather, and of Forest Pines (the only other place I have seen bunkers bordered by heather bushes). Stunning to look out and thankful not to be in it!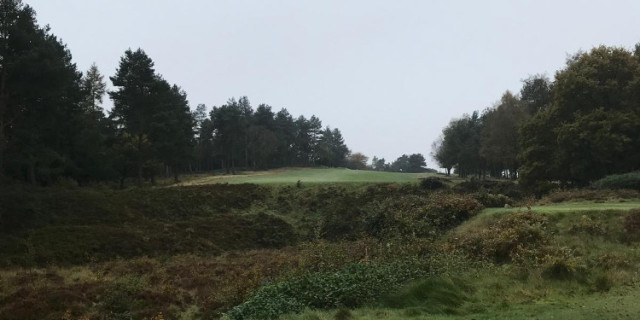 Pre-Round Thoughts
Entering the grounds reminded me of a Worcestershire course called Bewdley Pines, which is also nice but leagues apart. The pro-shop welcome was very friendly and jovial and gave us directions to the clubhouse, full of history and has a first-floor bar which offers spectacular views of the huge 18th green, and behind it a taste of what's to come with a view of the first tee.
It's well worth a coffee up there before you play. I did not get a chance to use the practice area which is a short few minutes' walk away. No range as such visible, but there is an extensive practice area with flags at different distances near the 18th tee.
The clubhouse has been extended and looks mighty impressive from the 1st tee. You just know you are in for an experience!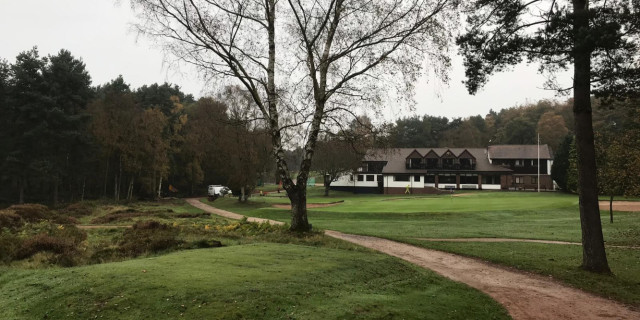 Front 9 Overview
The best half of the course for views! The 1st is a nice uphill short par 4 but you'd never think it was a pushover with such a rough gorge to carry on the tee shot. Not long but enough to focus your mind.
The greens are really fast! Overall the first four greens a quite kind if you miss but once you get to the 5th, you see what's in store with violent steep run offs at the back, so if you miss or run out you have extremely hard chips to get back on the dancefloor. Beware on the 5th and 6th as you don't see anything from the fairway.
The views from the 5th tee are incredible, with a lovely downhill dogleg left before you climb back up to the green. A brilliant hole which we all messed up! The par 3 7th is a sight to behold and we all got our cameras out for that one. Don't miss left like I did or you have the trickiest bunker shot ever. The 9th is a great looking hole. Very driveable for some.
In terms of highlights, the downhill then uphill 5th is a wonderful hole (no surprise it is SI1). The downhill 6th and par 3 7th is the best stretch of the course.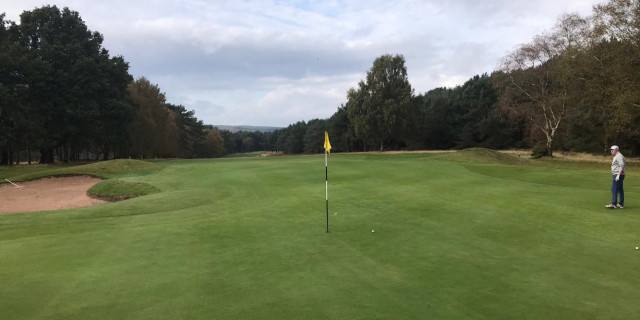 Back 9 Overview
Although the amazing views are on the front nine, the back nine gives so much to think about. The steep run offs from the built-up greens continue - some with heather all round so if you miss you have an unplayable shot. (beware the back of the 14th).
The first par 5 comes in on the 15th and like the 17th has rough across the fairway making you plan your drive carefully - great fun indeed.
The short par 3s at the 10th and 16th are no pushovers. Don't think a GIR is job done until you see the severity of the greens!
The par 5 18th is a super last hole with lots to negotiate (a sloping fairway down to the rough on the left). A lot of flora to negotiate in the fairway before reaching the huge 18th green with enormous slopes in it.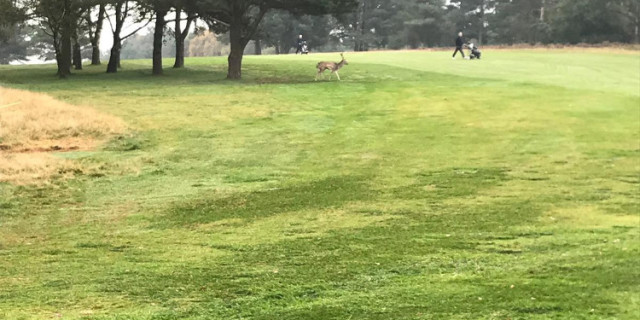 Post-Round Thoughts
All four of us are planning our return. £45 with a county card is amazing. I would go there anytime. We'd had a lot of rain. My home course was closed so I was ready with Hedgehog wheels on my trolley. Didn't need them it was so well drained I could have worn spikeless shoes!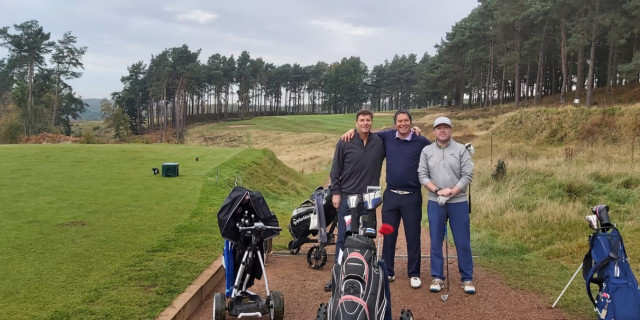 Verdict
They keep this course so well. No big societies allowed. It is a peaceful paradise and all the members we passed were so friendly. This is in my top three courses with Royal Porthcawl and Saunton East.
Overall Rating - 10
Course (Conditions) - 10
Course (Hole Variety/Layout) - 10
Course (Green Condition) - 10
Course (Challenge/Difficulty) - 9
Club Facilities & 19th/Clubhouse - 10
Practice Facilities - 9
Friendliness/Hospitality - 10
Pace of Play - 10
Value for Money - 10
---
Related Content: travel review England Courses
What do you think? leave your comments below (Comments)
---
Leave your comments below
comments powered by

Disqus
Plan Your Next Round
Lea Marston Golf
West Midlands
Lilleshall Hall Golf Club
Shropshire
from £19.00
Save 29%
Darnford Moors Golf Club
Staffordshire
from £10.00
Save 19%
More Golf Course & Travel Features
Plan your next golf break with Golfbreaks.com
Travel Deals Newsletter
Save up to 50% on golf breaks!
Join Today »