Custom Fitting - The Titleist Way
---
Titleist has long been known as a company that innovates and is one of the market leaders when it comes to understanding consumer needs. So it is no surprise that it takes the subject of custom fitting incredibly seriously and is leading the way in consumer custom fitting.
I recently spent some time at one of Titleist's National Fitting Centres at St Ives, Cambridgeshire to talk with Leigh Davies, European Marketing Manager – Titleist Golf Clubs about how the company approaches custom fitting.
OD: How does Titleist go about custom fitting for its customers?
LD: At Titleist, we strongly recommend custom fitting for all golfers but do recognise that there are customer preferences for different levels of fitting. We operate a pyramid approach to custom fitting, which encompasses three tiers. The first tier fit comes through a Titleist SureFit partner. These are generally PGA professionals who we equip with our SureFit systems and offer ball flight capable fits at their own facilities. In the absence of a launch monitor we firmly believe that it's essential for a fitter to be able to see ball flight when conducting a fit.
As we move up a level we have our Advanced Fitting Centres. These are Titleist retail partners who specialise in custom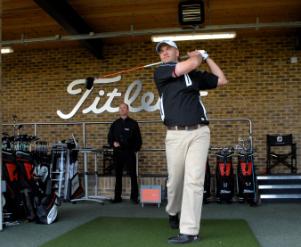 fitting and place a larger emphasis on custom fitting within their business model. We have a number of these throughout Europe and 16 in the UK. Our Advanced Fitting Centres have a larger number of shafts and head options to allow them to give a broader fitting experience. Also within the second tier of our pyramid are a team of Titleist Fitting Representatives out on the road who provide Titleist Fitting Days at our partner venues. These are not the traditional demo days, but pre-booked appointments where a customer receives a personal fitting consultation from one of our highly trained representatives, all with the aid of a Trackman Launch Monitor.
The third tier of fit is found at our National Fitting Centres. We have four centres operating at present, one in each of the home nations; St Ives (England), Celtic Manor (Wales), Kings Acre Golf Club in Edinburgh (Scotland) and Carton House (Ireland). These fitting centres are staffed by experienced Titleist Fitting Technicians and offer our highest level of custom fitting experience by utilising a full range of heads and shafts and state-of-the-art Trackman Launch Monitors.
OD: What short game fitting do you offer and what plans do you have for this?
LD: Short game fitting is something we currently offer at both Titleist Fitting Days and National Fitting Centres. The key part of any wedge fitting is to make sure the gaps in-between yardages are correct, consistent and minimise 'trouble' yardages. You don't want large yardage gaps in your wedge game and with the large range of loft options in the Vokey range we can work with players to make sure they have a shot for every yardage.
OD: The gaps that people have in their yardages is interesting, do you as a result advise players on set makeup?
LD: We will always take into account a player's preferred set-up, but it is clear that maximising short game performance is critically important to playing better golf. We won't dictate that you 'must' carry four wedges, but you may ultimately have some longer irons within your set that do a similar job to each other and can be replaced with a single hybrid. This may then allow you to fill a yardage gap at the other end of the set with an additional wedge, thus providing better yardage gapping and short game versatility. In addition to selecting the appropriate lofts there are also different grinds and bounces that can be more or less suited to an individual player's game. This is where the product knowledge of an experienced fitter is invaluable in helping customers select the right combination of Vokey wedges that will maximise their short game performance.
OD: One of things that we hear often at Golfshake is that the equipment that the pros play on tour is not the same as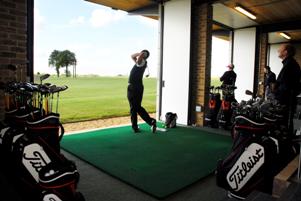 equipment your average amateur plays. Is that true?
LD: No, the equipment on tour is generally the same as that which you see at retail. A big part of our brand strategy is to validate the performance of our clubs on tour before bringing them to market. You may see prototype shafts, a different cosmetic finish or the occasional 'tour prototype' which is never brought to market; but what our Titleist Brand Ambassadors use on tour is essentially what your readers can buy at their pro shop. For instance, the heads of the 913 drivers, which are now available at retail, are identical to those being used by the world's best across the worldwide professional tours. One difference you might see is with our Vokey wedges. We have a raw finish on our tour wedges which allows them to be custom ground to a tour player's preference. A plated finish, like you see at retail with the Tour Chrome or Black Nickel models, would not allow this same flexibility and make it much harder to cater for the needs of the players. Whilst we can't have Bob (Vokey) custom grind a wedge for each consumer it's important to note that the current range of SM4 wedges feature a variety of grinds that have come directly from his work on the tour. Take the M-grind for example, which takes its name from being Vokey's 'most favourite' tour grind. It's also interesting to note that our in-line Oil Can finish is essentially the same un-plated, raw option that the guys use out on tour. The only difference is the addition of the Oil Can treatment which gives the product some additional protection from corrosion.
OD: Do you have any plans for putter fitting?
LD: At present there are no plans to introduce a Scotty Cameron Putter Fitting initiative per se. Whilst players will undoubtedly benefit from a properly fitted putter the reality is that it's simply not an easy thing to do. Cameron's philosophy is that putter fitting needs to be offered using a full range of putters, a camera studio and an expert fitter with a wealth of knowledge about putting technique, putter design and putter fitting. There are currently only a few places in the world with the required setup and only a handful of people that could offer the appropriate level of service. With that said, we do plan to start looking more at putter selection, which will provide the customer with a better understanding of how different head designs and lengths suit different strokes. Going forward we are hoping to run some putter selection events that will give consumers the opportunity to try the entire Cameron range and gain an understanding as to how you select the right putter.
OD: If a Golfshake reader wants to get fitted by Titleist how would he or she go about that?
LD: Any consumer who would like to be fitted can go to a Titleist SureFit partner and either go through a fitting process with them, or alternatively be booked into one of the National Fitting Centres by that partner. Our belief is that ideally everyone should be custom fitted; if that was the case we would be very happy as we'd see more golfers playing their best and shooting lower scores.
While I was at St Ives I also took the opportunity to spend some time on the range being fitted for the new Titleist 913 Driver - Click Here
If you would like more information on Custom fitting at Titleist please visit - www.titleist.co.uk
---

Be part of the action with a selection of unique golf tournament experiences, from playing in a pro-am with the stars to watching the action at golf's most illustrious events. Whether it's the Masters or The Open, The Ryder Cup or WM Phoenix Open, build your own bespoke package with the experts at Golfbreaks.com.
---
Tags: custom fitting custom fit
---
PLAY MORE PLAY BETTER - LATEST TUITION TIPS
---