Titleist 913 Custom Fit - Feature
---
The launch of the new Titleist 913 driver is just a few weeks away. As part of the Golfshake team I was lucky enough to be invited by Titleist to spend a morning at the Titleist National Fitting Centre in St Ives Cambridgeshire to be fitted for the hugely anticipated new driver which a certain young Irishman named Rory had been bombing past everyone all summer!
I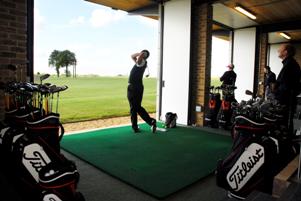 t is clear that Titleist have spared no expense with the facility at St Ives which is only a couple of years old. A friendly and welcoming reception area greets you and as you make your way through a door to the right you are met by four large fitting bays. The fitting facility has clearly been carefully thought through to provide customers and tour players with a top class experience.
My fitter for the day was Paul Thompson. I was keen to get my hands on the new driver, but first up was a coffee and an informal chat about where my game was at and what I thought the current strengths and weaknesses of my driving were. This helped Paul understand what sort of shot I was comfortable hitting and where I felt my destructive shots were going. Importantly this information gave Paul a base point from which to start my fitting.
After warming up, I started hitting my current driver in order to provide a standard for Paul to compare any new drivers against. While the various charateristics of a driver are important, Paul explained that the ball can also make a difference. When conducting a driver fitting, Titleist will also identify the correct ball for you to use. Mine was the Titleist Pro V1x.
Titleist fitters are highly trained to understand your shot shape by eye, but they also employ some of the most advanced fitting technology in order to give a customer the most comprehensive fitting experience possible. This technology comes in the form of a Trackman unit. Trackman is highly rated and you may have seen this sort of technology used on the TV when the broadcaster follows the flight of a players ball usually via a yellow line. The trackman records multiple stats including ball spin, ball speed, clubhead speed, and swing path.
Once I had hit ten or so shots with my own driver we had a look at the Trackman results. Paul explained that in order to create the best flight we needed to match an optimum launch angle and ball spin, both with some tolerance. My current driver was not bad. The launch was good, but the ball spin was too high and I was losing distance as a result.
Next up it was time to choose a driver head, there are two, the 913 D2 and D3. In the past the D2 and D3 had significant differences in performance, but for the first time Titleist have brought these much closer together and so you are mainly choosing a head shape. I chose the deeper. more traditional looking D3.
Over the next 45 minutes I went through 8 different shafts and Paul also made some tweaks to the lie of the head (the 913 is Titleist's most versatile head to date). With each driver configuration Paul marked the grouping on the Trackman screen so I could easily see which driver combination was performing. Our aim was to retain my launch angle, but reduce spin and in turn create a longer, straighter and more consistent flight.
In the end we narrowed it down to two shaft options - The Diamana Kai' li 70 and the Graffaloy Pro Launch Red 60 It had already become clear that a 8.5* D3 head was the best option for my swing.
I then hit a final batch of balls to decide between the 2 shaft options and see which set-up was working the best. After another 20 minutes the pieces of the puzzle finaly fitted into place. Th conclusion was that a combination of 913 D3 with 8.5* of loft, standard lie and Diamana Kai' li 70 shaft would perform best for me.
The whole experience at Titleist was excellent, from the friendly service and huge knowledge provided by my fitter through to the technology used and the huge range of shafts and heads on offer. It is hard to believe that a trip to the fitting centre would not find you an few extra yards and little more accuracy. Best of all I found a driver that suited my game and I will hopefully be hitting a few more fairways in 2013!
Find out more about the new Titleist 913 Driver - Click Here
If you would like to find out more about being fitted at Titleist - Click Here

---
Tags: custom fitting custom fit
---
PLAY MORE PLAY BETTER - LATEST TUITION TIPS
---