7 Training Aids That Every Golfer Should Try
By: Golfshake Editor | Mon 29 May 2023 |
Comments
---
Training aids are not a new introduction to the sport; who doesn't remember trying to hole a putt on the front room carpet to a 'hole' of some description! However, over time, they have certainly evolved from sticking your mother's favourite China cup teacup on the floor of the living room …
We're not going to do a deep-dive into specific brands, but want to showcase some of the most effective types of training aids on the market today. We're also going to stick to those within the realms of affordability … after all, we're hoping you might actually put some of these to use in the near future!
Weighted Clubs & Speed Trainers
We've all done the drill on the first tee. Grab a couple of irons and swing them together. It can help to loosen you up, and also build in a smooth tempo. However, what about if you want to just rip it? In that case, the work needs to start long before you reach the tee box. Weighted clubs and speed trainers employ the same 'overtraining' philosophy that swinging a couple of clubs does; albeit in a more technologically advanced fashion. The idea is to build up your speed with the practice clubs away from the golf course, so that when you're stood with driver in hand, swinging it feels easy!
There are various brands that operate in this space, with many having additional gadgets and gismos too - ultimately helping you to track your progress or keep a record of your scores. But if you're struggling for some distance, we'd strongly recommend giving one of them a go. If you needed any further inspiration, Matt Fitzpatrick attributes much of his major-winning success to the increase in distance he built up over recent years after using speed training drills!
Non-Cylindrical Golf Balls & Putting Rulers
From the long to the short. Getting the ball into the hole should be a relatively straightforward endeavour, particularly on straight putts. However, if you're not able to start the ball on-line, you're putting yourself at a massive disadvantage.
Being able to roll a ball end-over-end should be achievable for every golfer on the planet, but it can take a little work. The best two ways we've found of doing this are non-cylindrical golf balls, such as the 'Breaking Ball' recently brought to market by the guys at Me And My Golf, or the old school putting ruler. Both of these are relatively self-explanatory - either aiming to get the uneven ball to roll without wobbling, or a traditional ball to roll the length of the ruler without falling off - but this could potentially be the most effective long term practice you're ever likely to do.
A Hands-Forward Approach
Another hallmark of good golfers is the ability to constantly strike ball then turf. It can be a swing fault that many amateurs struggle with; flicking at the ball and catching it thin, or indeed hitting so far into the earth behind the ball that it barely moves.
One of the most oft-used training aids on the ranges at professional events is a specially made golf club with a curved shaft which can only be struck with the hands in the correct position at impact. The most popular kind are known as the 'DST Compressor' and we've seen them in wedge length, as well as as 8-irons. We can strongly testify to the effectiveness of creating this feeling into the ball, although it can take a couple of tries to get the correct feeling initially.
Tempo Trainers & Whippy Clubs
There's various different ways of working on your tempo. Back in the day, the method for many of us basically involved saying "seve-riano-balle-steros" throughout the swing to keep some sort of rhythm! Nowadays, (thankfully) there's a few more high-tech ways of working on this aspect of your game.
Many will have seen a tangerine-coloured ball on the top of an overly whippy shaft in the bags of many of the world's best players (unsurprisingly called 'The Orange Whip'). This has been a super effective way of working on tempo for a food few years, building a feeling of load in the swing, and preventing golfers from 'snatching' at the swing from the top. If this is something that you particularly struggle with, we reckon it is one of the best (and easiest) investments you can make in your own game.
If you're having a tough time with your short game tempo, perhaps getting a little twitchy, the same idea has been rolled out to practice wedges (notably with the GForce Wedge Trainer), with an incredibly bendy shaft that forces you to swing through the ball smoothly. We love this training aid as it actually puts club on ball too, so you're able to practice this on the chipping green whilst still having the enjoyment of aiming for a hole.
Putting Mats
Now these have developed somewhat! Gone are the days of bumpy ridges, caused by the poor way they were packaged. Putting mats now come in all shapes and sizes, with some even offering the ability to change speed and break! We won't drill down too far into mats here, as you'll all be familiar. However, we will stress that if you are going to employ one into your practice regime that you at least find a flat spot to pop that mat down onto … otherwise you could be bedding in a 10-degree pull, caused by your mat being placed on a left-to-right slope!
Portable Launch Monitors
Another newer addition to the golf training world is the portable launch monitor. Whilst TrackMan and the like have been around for almost two decades at this point, it's only recently that the technology behind these launch monitors has been made affordable to the majority of us. Smaller launch monitors have been created that can be taken to the range or the course (or even set up inside your garage!), and allow for instant feedback on things such as your distances, club path, spin rates, and angle of attack.
We see these as something that will only go on to be more prominent within the sport, and have been hugely impressed by the accuracy of even the most affordable launch monitors. That said, if you are somebody that really wants to delve into the minutia of the golf swing, we'd still advice doing this alongside a local pro who may be able to help you better interpret what each parameter means (and what impact it's ultimately having on your shots).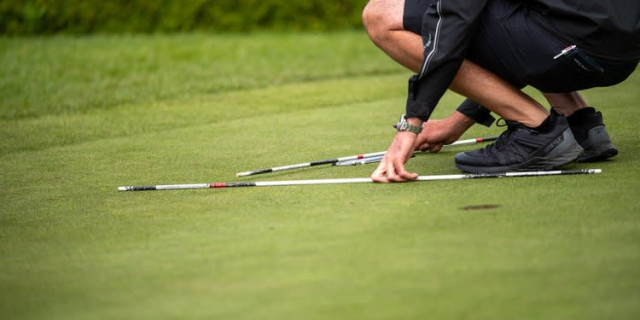 (Image Credit: Kevin Diss Photography)
Alignment Sticks
Last but certainly not least. The old faithful! We wrote a whole article on alignment sticks last year, praising the many virtues they possess. However, in a nutshell, we think they're essential for helping to work on target and swing path, and are one of the best investments you can make - all for around the cost of a sleeve of golf balls!
---
Related Content
Performance Goals That Every Golfer Should Have
How to Become a Better Golfer in 2023
Advice For Golfers Who Are New to Competitive Golf
How to Make Your Time at The Driving Range More Interesting
How Does Someone Become a Proper Golfer
The Secret to Lowering Your Golf Handicap This Year
---
What do you think? leave your comments below (Comments)
---
Tags: training aids GOLFERS Golf daily picks
---
comments powered by

Disqus