How to Improve Your Scores in The Monthly Medal
By: Golfshake Editor | Fri 10 Jun 2022 |
Comments
---
Let's be honest, as much as we're acutely aware that the majority of us won't be playing the sport for a living, we all want to get better. There's nothing worse than feeling as though you've plateaued, or worse, gone backwards. Whilst age or injury may contribute to higher scores, there are definitive, and proven ways to improve your scores. Be warned though, there's no silver bullet … as much as we often wish that there was!
Midweek Knocks
It's difficult to make significant improvement in your game if you're only playing once a week. It's no surprise that the juniors at your club make vast improvements during the summer, after playing for 30-days in a row! Whilst this might not be feasible for most of us, there are opportunities to bridge the gap between Saturday morning rounds. With the sun shining until 7pm between April-September, there's no excuse for not trying to get out for 9-holes or so in the evening. Along with keeping your game sharp, and allowing you to work on a few bits, it's likely that this will also help maximise your enjoyment of the sport as you wander around without the stresses that come with the weekly competition or 'friendly' fourball …
Concentrated On-Course Practice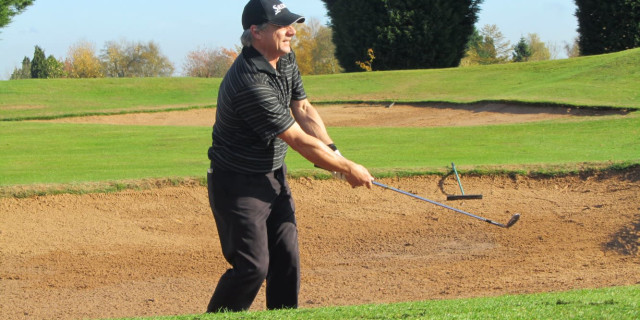 Whether you head up the club during the week, or spend some time on a weekend afternoon, few things are better for your game than putting dedicated work in on the course itself. Throw some balls down in regular nerve-inducing scenarios - behind a bunker, the long par-5 tee shot, the par-3 over water - and get used to hitting these shots with the knowledge that there are no consequences to hitting a bad shot. It should make things a lot easier the next time you're faced with the same thing in the monthly medal.
A Trip To The Range
However, if things are really going array, then it's probably worth forgoing a trip to the course in favour of one to the range. Ben Hogan famously talked about finding the secret to the sport in the dirt, and a good hour or so spent with a bucket of balls can often be hugely confidence-inspiring before you next head to the course. We'd recommend limiting your time at the range, preferring to work on your scoring on the course itself - but you need to be keeping the ball in play for that to worthwhile! Grind out the swing on the range for a while, until you at least know where the ball is likely to be heading, and then get back to the course to drill in your new swing in a live environment.
Some Statistical Analysis
One of the biggest developments over recent years has been the accessibility of statistics for the average golfer. There are a myriad of Apps and websites that can help you to track your stats, including the hugely popular Golfshake Score Tracker, helping to paint a picture of where your game is at. One of the most useful ways of analysing your game is through a methodology known as 'strokes gained'. First pioneered by Mark Brodie, this allows you to see where you're giving up shots compared to other players of a similar ability, thus giving you something to work on. Be aware though, you do need to build up your own data set to ensure the results are relevant to the overall shape of your game. Furthermore, you need to have some acceptance of what a player of your own ability should be doing from each spot. The world's best golfers only hole 50% of their 8ft putts - that means that you're allowed to miss a few every now and again!
Short Game, Short Game, Short Game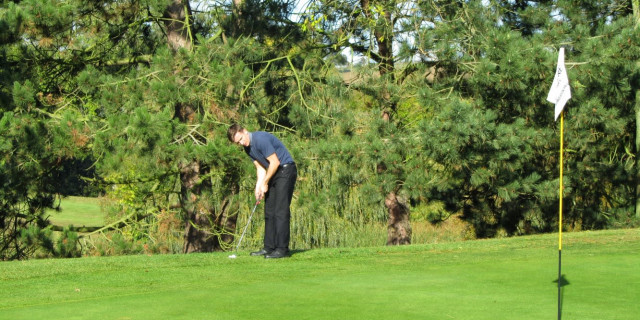 One of the most busted-myths from the greater introduction of statistics is that scratch golfers are making bundles of birdies each round. In actual fact, a player that shoots in the 70s will only make a birdie or two a round more than one that shoots in the 90s. The biggest differentiation between the two though is amount of bogeys and doubles the higher handicapper will shoot. Whilst some of these shots are missed off the tee, the vast majority can be saved around the greens. You'll notice it in your own games - that scratch player at your club always seems to get up and down and "holes everything". It's no coincidence why their handicap is as low as it is, and we bet that you'll also see them more than most on the practice green! There is quite literally no downside to spending time on your short game, and with the addition of ever-better training aids, you can even do this from the comfort of your own home!
A Better Temperament
Never follow one mistake with another. It's an easy mantra to repeat, but often much harder to do in practice. However, the majority of times that we do fall foul of this golden rule, it's because the red mist has descended! Take a breath, reassess and plan out your next shot. For those that can't help the sudden build-up of negative energy following a poor shot, why not follow Tiger Woods' 10-step rule. You can be as angry as you like once you've hit the shot, but after 10 steps forward it has to be gone, with a focus on the next shot, forgetting everything that has happened.
One of the best questions you can ask yourself over each shot is "what does a good shot look like" from each scenario. Not only will it give you a focus, it'll likely help you make better decisions on the course, and prevent you from making silly mistakes - in turn, helping to keep your cool. It's often thought of as a bit of a 'chicken & egg' situation. You play your best when you're happy, but you're also happy because you're playing your best. That said, we'd contend that it's much easier to try to control your happiness than it is the flight of a little white ball!
Take a Lesson, or Six
Really, this should be point #1. But research has continued to show that golfers don't seek dedicated outside counsel as much as they probably should. If you're serious about improvement, then there really is no better way than to invest in a series of lessons from a professional. The odd 'tweak-up' can help, but realistically, if you're looking for long-term improvement, you're going to have to have an honest look at some of your fundamentals. Whilst getting slightly better at chipping and putting might save a shot or three, a professional can help you make improvements that you might not have thought possible. Furthermore, there's no reason why these lessons can't be focussed on some of the other areas we've discussed. A good pro will look at your whole game, spending time on your short game and mental game, as well as your technical abilities.
A New Shiny Thing
And this one is last … for a reason! As tempting as it can be, buying the latest club is unlikely to be an immediate solve for poor scoring. However, there are occasions when it can be justified in the search for glory in the monthly medal. IIl-fitting products could be hampering your scores, or a swing change with your new coach might necessitate a different loft in your driver or flex in your irons. It might be that you want to add a higher-lofted wedge to help with your bunker play … or just one with grooves that aren't 30-years old! We'll let you come up with your own reason for buying that new club, and we certainly aren't saying that it won't help - but we'd recommend trying some of our other suggestions first!
---
Related Content
How To Make The Most Of Your Time At The Driving Range
10 Ways a Golf Coach Will Improve Your Game and Lower Your Handicap
---
What do you think? leave your comments below (Comments)
---
Tags: GOLFERS Golf daily picks
---
comments powered by

Disqus