How To Make The Most Of Your Time At The Driving Range
---
WE ALL feel that we should spend time at the driving range. And a recent Golfshake survey revealed that many of you are fans of the range, and look forward to doing so. But we are all guilty of heading down to the range, buying a bucket or two of balls and indulging in aimlessly pounding them into submission.
We all know that it is wrong. But often we still do it! Here, we look at some drills you might want to consider. They may help to improve your game and you may enjoy yourself even more. Let's face it, we all want get better at this most infuriating of games and hopefully these tips will make you focus about your next visit to the range which will ultimately benefit your game when you take it out on the course.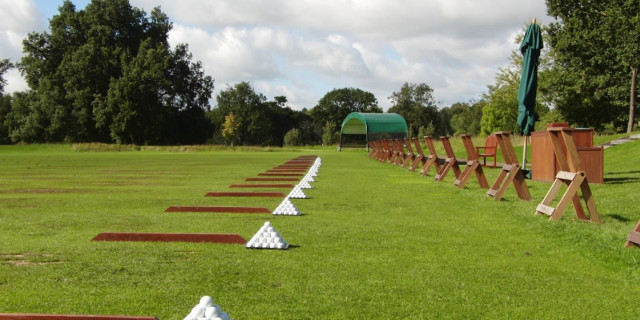 Warm up
It is a fact that most of us walk straight to the first tee without first loosening up. It stands to reason that we should warm up beforehand, and all the more so if you are planning to hit lots of golf balls. Stretch your hamstrings, quads, back, arms and neck before you hit a ball. It will enhance your feel and performance from the start of your range session. It can also prevent muscle injury.
Take your time
Take your time hitting balls and make sure your set up and alignment is correct before each shot. Use alignment sticks if you have them or clubs if you don't. Impact tape will tell you if you are consistently hitting the sweet spot. If you see lots of toe or heel marks you may be standing too far or too close from the ball.
Have a purpose
After you have struck say 30 balls try hitting different clubs after each shot. This will help you work on distance control. Pick a different target or flag and work on direction control. Why not imagine you are on the course playing a hole, such as your favourite par five - driver, fairway wood and short iron to the green. It gives your practice a purpose.
Don't start with your driver
We all love pounding the big dog, but begin your range session with some short pitch shots; half swings with a wedge of some description. This will help build feel and help create a smooth tempo for your range sessions.
Aim at a target
It may sound obvious, but lots of us hit balls without a specific target in mind, something we would never do at the course. If you don't give yourself a specific target, how do you know if you are aiming correctly. Pick a spot, check your alignment and you will quickly see your typical ball flight. Alter your ball position to see if it changes your ball flight.
Put it into practice
The range is the perfect place to go after a golf lesson. What your pro has taught you might well feel alien but stick with it. Get those good new habits ingrained into your swing. You will see the benefits. And don't listen to the 18-handicapper in the next bay!
Get the basics right
This is perhaps the most important thing of all. Your swing may be perfect but you need to check the basics because everything flows from there. Stay on top of your grip, alignment, posture and ball position, and this will make your shots far more effective. Put a couple of clubs down for your alignment and ball position and check your grip after every few shots.
Break things up
Don't hit 100 balls to the same target with the same club. Change your target or club, at the very least, every 10 balls. This will help you to analyse that batch of shots and will remind you to check your basics several times over the course of your practice. Keep count of how many you strike well and hit the target, and then try to beat that with your next batch of balls. This will also tell you which are the clubs you perform best with.
Challenge yourself
Have a purpose to your range sessions. There are all sorts of things that you can do. Pick two points to hit between to simulate a fairway. Depending on your standard, try shaping shots - hit, say, five from left to right, five from right to left and five dead straight. Start with a lob wedge, and hit one shot with each club in your bag, trying to hit the target with all of them. If you miss, go back to the lob wedge and start again.
Improve your weaknesses
We all have areas of our game that can be improved. What better place than the driving range to work on them? Spend time on the weakest parts of your game. For example, If you have trouble with 80-90-yard shots to the green, spend at least 15 minutes hitting this length until you get the feel right. The hit shots with other clubs and return to the 80-90-yard shot.
Work on your short game
If tour professionals spend most of their time working on their short game why don't we? It will save you plenty of shots when you get out on the golf course. Many short game shots are about feel and there is simply no substitute for practice. Don't forget to get on the practice green, where there are all sorts of drills that can be used. It is all about repetition. Drop 10 balls two feet from hole. When you have holed them all, move to three feet. If you miss one, start all over again. Drop three golf balls 30 feet from the hole - your target here is to avoid three-putting. And if you do take three putts, start again. This is a great way of perfecting your feel on lag putts.
Don't go alone
Having somebody with you at the range will make the whole experience more enjoyable. Challenge each other to competitions and help each other with basics such as alignment, grip etc.
Use the range to develop a pre-shot routine
If you don't have one, then you should start building a pre-shot routine and what better place to do so than at the range? Find a process you can repeat, from how you walk into your shot and take your stance, to the lead-up to your swing. You will be surprised how much more comfortable you will feel on the course if your pre-shot routine is consistent, comfortable and well drilled.
---
Related Content
What Makes Driving Ranges Essential
Steve Astle's Effective Practice Tuition Series
---
What do you think? leave your comments below (Comments)
---
Tags: Golf Courses Driving Ranges daily picks
---
comments powered by

Disqus