10 Things That All Golfers Need to Do
---
The sport of golf is completely different from other offerings. Unlike football fans who will never get the chance of playing at Wembley, golfers can experience the joys of St Andrews if fortunate enough through the ballot. Moreover, they can experience Open Championship venues such as Royal Birkdale, Royal St George's and Turnberry, but we won't see recreational footballers at Anfield and Old Trafford on a daily basis.
Golf is the most inclusive sport in the world when it comes to experiences that are available to both amateurs and professionals alike. Additionally, there are certain things that all golfers should experience throughout their career, and we have compiled a list of ten of the most pressing - have you ticked off any?
Get a Handicap
There's no better feeling than getting your first official handicap. The handicap system is fundamental for amateur golf and it allows golfers to compete at completely different abilities - there aren't many other sports that can boast this level of inclusivity. Furthermore, you have a benchmark of what you should be scoring each time you play golf. Of course, there will be moments when you surpass your expectations and occasions where you fall short, but obtaining an official handicap is the start of a very fun and challenging journey.
Become a Member of a Golf Club
When you become a member of a golf club for the first time, your golfing universe appears to expand exponentially. Long gone are the days of green fees as you are welcomed into a warm and passionate community of ardent golfers - just like yourself! There are medals and opens that are arranged and governed by the clubs themselves, but you also have roll ups that are typically organised by members of the club. You'll likely receive discounts on buggys and range balls, whilst the majority of clubs offer discounted green fees for friends of members. By joining a club, the game of golf becomes more accessible and profoundly boosts social interaction.
Play a Competition
After you and your pals congregate around the first tee, there will always be nerves associated with your first shot of the day. Everyone wants to pipe one straight down the middle of the fairway as we like to think that sets the tone for the round. However, when you're standing on the first tee in a competition, the nerves exemplify ten-fold. You'll be surprised with how much consideration you give each shot, because guess what? Every stroke really matters in competition! Golfers who play competitive golf will also gain insight into just how imperative a positive mindset is when out on the course.
Get Custom Fitted
It is always highly recommended that your first set of golf clubs come off the rack. Ultimately, you don't know how much you'll enjoy the game of golf - or how much free time you'll have to indulge in the activity. However, once you have been playing consistently and you're in the market for a new set of sticks, you should seriously consider a custom fitting. The fitting process ensures new golf clubs are fit specifically for your build, which will undoubtedly inspire confidence as you familiarise yourself with your new toys. When you play with clubs that were built specifically for you, you'll be surprised how much more confident you will be when golfing with them.
Go on a Golf Trip
The level of happiness that a golf trip brings cannot be underestimated. Whether you opt to journey abroad or stay within the British shores, you will have an absolute blast. There are hundreds of fantastic golfing locations scattered across the world just waiting to be experienced. Not only will you play magnificent golf courses, but you'll also have a fantastic time with friends, family or a partner. Golf trips can easily be converted into golf tours; research the area you're looking to visit and book courses in advance to avoid disappointment. If you're struggling for ideas, then Golfbreaks can offer trips all over the world.
Play a Top 100 Golf Course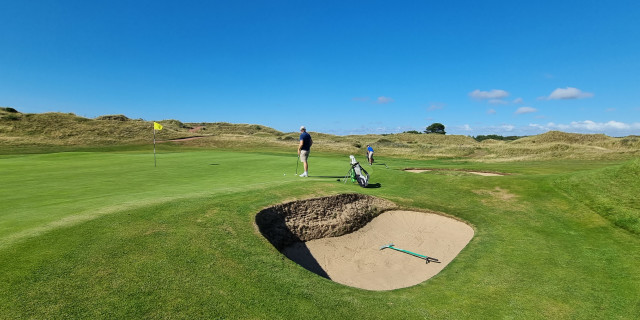 Have you ever approached a renowned golf course and a sense of importance rushes through your body? There is a collection of golf clubs that are so revered that you truly feel it when you step on their hallowed ground. They are designed to be once-in-a-lifetime experiences that deliver lifelong memories. Wherever you opt for, one thing is certain: you are about to embark on the day of your golfing career!
Attend a Professional Event
If you think the professionals are a different breed on television, wait until you see them strut their stuff live in the flesh - it is a completely overwhelming feeling! As you stand on the tee of a driving hole, you can hear the sharp fizz that a golf ball can only create from being struck perfectly. Attending a professional golf event is a wonderful experience and whether you decide to follow the leading pack or dot around the entire course, you are guaranteed a day of ultimate delight.
Sample Match Play
Recreational golf is typically scored in either Stableford or stroke play, it's usually one or the other. Occasionally, clubs will host match play tournaments, but the likelihood is that a lot of amateur golfers have never experienced the format of match play. Match play is vastly different to anything else you've ever played because you're not competing against the field - it's you versus your opponent! Your approach to the round and mid-game management will need to be decisive and you'll likely change your plan as the match deepens - it really is a completely different experience of golf!
Attend a Ryder Cup
Whilst you may think that attending a professional event and the Ryder Cup could qualify under the same category, the difference is monumental. The atmosphere typically produced by the roaring Ryder Cup crowd is a chilling feeling and not one that every golf fan will experience throughout their life. The entire week - from practice rounds to official competition - is a truly unique span that is only recaptured on a biennial basis, so make sure you attend the Ryder Cup at one stage in your life.
Ace a Hole
Unfortunately, no-one can guarantee the final thing on this list, but boy would we all like to proudly scream from the rooftops that we have had a hole-in-one during our career. The feeling of complete pleasure as your sweetly struck iron penetrates the air before landing softly and rolling into the cup is seldom defeated - or at least, that's what they say!
Whilst we must continue dreaming about that elusive hole-in-one, everything else on this list is easily achievable with a bit of effort. We also cannot understate the benefits of joining a golf club; your golf game and social interaction will improve drastically!
---
Related Content
9 Things to Do in Golf Before You Die
What's On Your Golf Bucket List
---
What do you think? leave your comments below (Comments)
---
Tags: GOLFERS Golf daily picks
---
comments powered by

Disqus