Why Does Everyone Seem to Dislike Greg Norman
---
Is Greg Norman the most hated man in professional golf?
You probably haven't heard of Jimmy Dunne, the widely respected and vastly connected Wall Street figure who is about to join the PGA Tour's policy board. He has been quietly working behind the scenes all year, trying to persuade players not to defect to LIV Golf. His new role gives him a bit more clout, and he is a man that PGA Tour commissioner Jay Monahan trusts implicitly.
Dunne also has something in common with Rory McIlroy. He is not a fan of Norman. This is what he had to say about the Australian last week: "I wouldn't want to work for Greg Norman. I like people who are absolutely credible, more worried about fact than sizzle, and are reliable. I am 100 percent supportive of the PGA Tour and behind it.
"If guys are asking me what they should do, I point to the money you can make on the PGA Tour, what it means to play in majors, playing on Ryder Cups and President Cups, playing in the FedEx events. Yeah, you can make a lot of money playing LIV Golf. But you can make a lot of money playing on the PGA Tour, and you can look back at what you've done with real satisfaction."
He describes his appointment to the policy board as a "war-time deal", which should leave you in no doubt that he is not interested in any kind of peace deal with LIV Golf. His view is the polar opposite of McIlroy, who has called for Norman to quit as LIV's commissioner to facilitate talks.
It was interesting to hear what Jon Rahm had to say on the subject. "I'm not going to lie and tell you I agree with everything the PGA Tour has done," Rahm said in Dubai last week. "It was a mistake and a wasted opportunity to not meet with LIV. Both sides missed the mark on that. And that is where a lot of the animosity started."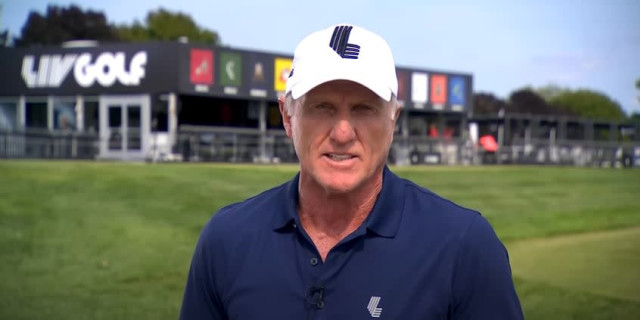 Like McIlroy, Rahm wants a solution, but he is yet another who points the finger at Norman. "I think Greg has had a vendetta against the PGA Tour for a long time," Rahm said. "And when you have an ulterior motive, it can cloud your judgment a little bit. Greg is a player, not a businessman, even if he has been successful in that area. To me, he has an ulterior motive beyond just creating a golf tour. He's had this vengeance for 30 years.
"His intentions might not be as pure as they could, which is a problem. So he might not be the best person for the job, even if he has done great things for the tour. I do believe that, for conversations to take place, Greg might need to be gone. Right now, it doesn't seem like he and Jay will want to be in the same room together.
"Even if they disagreed, it would have been good to talk. So to get a resolution we might need one or both of them gone. I hope not. Jay has done a great job for the PGA Tour."
Norman has been here before. It is easy to forget that way back in the 1990s, when he was still one of the best golfers in the world, the Australian was seeking support for a world golf tour. It didn't happen because the players were not interested - and also because there simply wasn't enough money to make it an attractive proposition.
It is interesting to note that rumours persist (despite outright denials) that the Saudis are planning to replace Norman with Mark King, the former chief executive at TaylorMade, and somebody who would be seen as a far less divisive character in those whole sorry saga. King is also somebody who is respected by the players.
So what chance is there of King and Dunne sitting down, knocking some heads together and finding a way out of this farcical situation? Don't hold your breath.
---

Be part of the action with a selection of unique golf tournament experiences, from playing in a pro-am with the stars to watching the action at golf's most illustrious events. Whether it's the Masters or The Open, The Ryder Cup or WM Phoenix Open, build your own bespoke package with the experts at Golfbreaks.com.
---
What do you think? leave your comments below (Comments)
---
Tags: PGA Tour LIV Golf FedEx Cup
---
comments powered by

Disqus