What is a St Andrews Links Ticket And How Do You Get One
---
The atmospheric town of St Andrews and its public golf courses stand as a glowing beacon that draw legions of visitors each year from across the planet who desire to walk in the footsteps of history and experience the ultimate golf destination.
Whether you're playing the legendary Old Course or any of the other layouts that are managed by the St Andrews Links Trust (including the fabulous New and visually spectacular Castle), memories will be created that will last a lifetime.
But for thousands of extremely fortunate golfers, they are more or less able to call the spiritual cradle of the game their very own Home of Golf, courtesy of possessing a Links Ticket.
Effectively the golfing equivalent of the Golden Ticket to Willy Wonka's Chocolate Factory, the Links Ticket (which is renewed annually) grants a golfer the right to play on any of the seven town courses throughout the year.
But what exactly is the Links Ticket - and how do you go about securing one for yourself? Well, there are several methods.
Residents of St Andrews
The easiest way to become a Links Ticketholder is by becoming a permanent resident of the ancient town of St Andrews, where the population has enjoyed a right to play golf on the links for centuries. Applicants must be able to prove that they live inside the town boundaries - something that can be verified by voting records, or letters from a doctor or lawyer.
A Resident Links Ticket is automatic and without any waiting list.
Cost? For a Full Seven-Day Ticket at all seven courses, for the 2022/23 season, the price was £340 - yes, just £340 for the chance to play the Old Course and the rest. Every. Single. Day.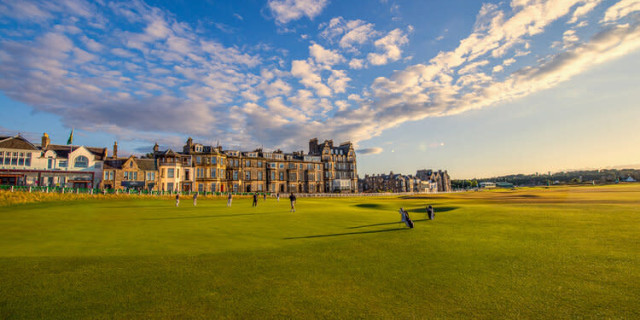 (Image Credit: Kevin Diss Photography)
Students of The University of St Andrews
Recently beating Oxford and Cambridge to sit atop The Times and Sunday Times Good University Guide, the University of St Andrews is a historic institution that dates back to 1413.
And, yes, in addition to the superb academic facilities and beaches along the coast, there is no doubt that the golf is a major appeal too for many students who can claim their own Links Ticket for the academic year.
Matriculation cards need to be shown at the time of purchase and official handicaps are necessary to be eligible for a Full Ticket, which covers the Old Course and Castle Course. Student golfers without handicaps will be able to claim a Restricted Ticket, excluding the Old and Castle, but offering access to play the New, Jubilee, Eden, Strathtyrum and Balgove.
Cost? Like the Resident Ticket, a Full Student Links Ticket costs £340 each year, with the Restricted at £170.
Residents of North East Fife
If you don't live in St Andrews and aren't a student, then you shouldn't despair, as residents of the North East Fife area can also secure a Links Ticket.
To claim one of these, golfers will need to be a member at one of the approved local clubs; St Andrews, New, St Rule, St Regulus or Leuchars Station, and live permanently within North East Fife.
There is a waiting list that can span a few years for this North East Fife Ticket, but members of those clubs can benefit from a Temporary Competition Ticket during that time - allowing them to play in medals, matches and competitive events.
Cost? A Full North East Fife Links Ticket costs £580 per year, with Restricted at £300. Membership of the respective golf club is a separate fee paid to that particular venue.
Golfers From Outside North East Fife
Finally, golfers who don't reside within this magical corner of Scotland's East Coast can still become part of the St Andrews Links family.
If you're a member of any of those recognised clubs, a Links Ticket (what they call Ordinary) can be claimed for £820 (Full) and £425 (Restricted). Like the North East Fife Ticket, a lengthy waiting list is in place for these Ordinary Tickets.
Additionally, there is an even more restricted category for those not covered above, known as the Open Links Ticket. These are balloted every few years when there is availability at a cost of £1,100 (Full) and £720 (Restricted).
Things to Note
Each of the Links Tickets also have the option for Five-Day (Monday to Friday) access, which are cheaper than the Full Links Ticket of each respective category. Also, students and residents of St Andrews (who don't have a Full Ticket) may play any of the courses for a significantly reduced green fee.
Links Ticketholders may also take on guests who can benefit from a reduced green fee - which shall no doubt make you highly popular!
Having in your possession a Links Ticket also offers major discounts on rounds at Kingsbarns and The Duke's.
So, if you want to play regularly on the famed St Andrews Links, those are your options to become a Links Ticketholder!
---
Related Content
A St Andrews Resident Perspective of The 150th Open
How to Play The Old Course at St Andrews
Tips For Planning a Golf Trip to St Andrews
What Golfers Love About St Andrews
---
What do you think? leave your comments below (Comments)
---
Tags: st andrews GOLFERS Golf daily picks
---
comments powered by

Disqus