Playing Golf With Paragolfer User Kris Aves
---
Article by Golfshake Ambassador Andy Picken
---
Those who say never meet your heroes have the wrong heroes!
I recently competed in a Team Police Golf Day held at the Forest of Arden in Birmingham. It was designed as a competition between a police representative side and sponsors of the Team Police concept.
Originating from the PSUK stable, Team Police seeks to support the police service by providing sporting and other wellbeing enterprises to aid and assist serving and retired police staff.
I am proud to have been asked to support the idea as an ambassador who is encouraging others to raise awareness of Prostate Cancer in order to save lives. No screening programme exists so men must be proactive to avoid being one of the 14,000 a year who die of the disease. 1 in 8 will be diagnosed with 1 in 4 affected if you are a man of colour.
Since my retirement from the police service, I write as a golf correspondent for Golfshake, hence the invitation to create this report.
Our golf event was a Ryder Cup style one with police taking on the sponsors for the spoils with an individual trophy also at stake. My teammate and playing partner for the day was a genuine hero of mine, Kris Aves.
Kris is now retired from the Metropolitan Police having been severely injured during the terrorist murders committed on Westminster Bridge in 2017.
As a result of the attack, Kris was paralysed from the chest down, but following months of intensive treatment at Stoke Mandeville he set himself three main goals.
Be the best Dad he could be.
Still follow his beloved Tottenham Hotspur FC.
Be able to play golf again.
Kris previously organised many golf events for fellow officers and friends and decided to use golf and his passion for the game as a means of helping his recovery.
Kris being Kris, he added in some extra challenges following his life changing events on the bridge. Supported by a wonderful charity called The Golf Trust based at The Shire London Golf Club, he began the slow and painful journey to complete his golfing goals.
He was supported by Mizuno through the unpublicised interventions of Sir Nick Faldo and was provided with a bespoke set of Mizuno golf clubs adapted for use with his Paragolfer machine.
This extraordinary machine allows Kris to be strapped into it and it becomes his legs and balance for all the golf shots he wishes to play.
Designed to be driven onto greens and tee boxes it allows him to play almost all conventional types of golf shot. His bag is slung to the side of the machine allowing him to access the equipment as it is needed.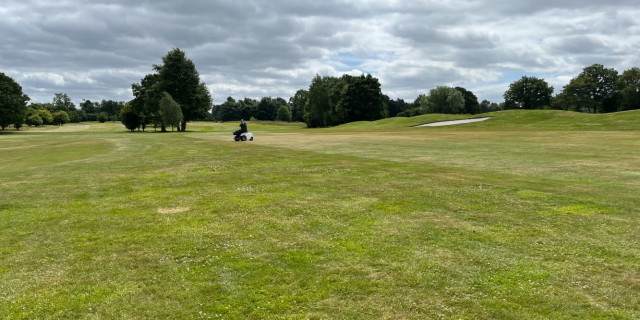 I was intrigued about the engineering in this incredible piece of kit and was happy to help load and unload it from the van he needs to use to get around.
Controlled by an incredibly sensitive joystick it travels with a smooth motion towards the ball. Once that is set, a separate mechanism lifts Kris into a standing position allowing him to perform a conventional shot and putt.
I supported him by teeing up the balls for drives but otherwise he is completely independent. The freedom and independence this provides was a joy to witness at first hand.
I genuinely forgot after a few shots that he would need any support marking balls on greens and the like. After a short period of time, you simply watch his golfing ability and purely struck shots without taking too much notice of the wonderful machine that has given him back the freedom to enable such a skill level.
Kris now has a fully accredited and active WHS Index and has been successful in playing international disabled golf, representing Europe in the recent Cairns Cup matches against other disabled golfers from the USA.
In our event, he was the consummate teammate. His score of 36 Stableford points on a course he had never seen before was a delight to watch and share. In fact, he scored the most points from our entire fourball. Our round was finished in less than four and a half hours, which for a corporate golf event was a decent and even pace.
Thanks to our playing partners, Peter Franklin and Ian Russell from SSC who were great company throughout the proceedings.
This was a magnificent sporting event followed by an equally eventful dinner when Kris was asked to speak about his experiences and how golf and sport supported him through his enforced change of circumstances.
The value of Police Sport and the importance of the sponsor support for these efforts was reinforced during a speech by Chris Hayward, Chief Constable of Lincolnshire and eager supporter of the Team Police concept.
The sooner the Police Covenant is brought into full operation the better as all serving and retired staff will gain from the camaraderie, support and health benefits that playing sport provides across all levels of the policing family.
They say that the game was the winner when winners make magnanimous speeches, but it genuinely was with new friendships and relationships forged through a day of golf.
Hoping for a return fixture next year.
The Golf Trust
I have reached out to The Golf Trust who were so supportive and helpful to Kris throughout his return to golf.
This registered charity has become the initial point of entry for anyone wishing to try to access the sport. They have four Paragolfer units available based at The Shire Golf Club just outside of London. These are the only units known to be currently in the UK. One is in private ownership but that is also used primarily at The Shire.
Cae Menai-Davis and Frank Harrington established The Golf Trust based at The Shire in 2012 to showcase how inclusive golf can be. As its success grew it obtained full charitable status in 2017 and since opening has supported over 500,000 people to get involved in the sport of golf.
Cae was a professional golfer playing the Asian Tour. Frank was running a community outreach golf programme supporting the male cancer charity ORCHID.
Golf is used to inspire and empower to lead happier and healthier lives. Encouraging engagement in a sport that provides so many challenges and yet involves our wonderful countryside has proved to be a real draw. They target hard to reach groups, devising programmes that are designed to adapt to the needs of that particular community.
The recognition that golf is a sport that can be actively enjoyed by four generations of the same family is a major component in the packages they offer.
Cae's relationship with Kris started before the terrorist incident as Kris was arranging a golf day for his police society to be played at The Shire. The event was planned for two weeks after the date of his attack.
There is a superbly supportive relationship between The Shire and Kris that has strengthened over the years and this had led to the provision of more equipment, but just as importantly the development of a network of coaches who are able to assess the needs of the disabled golfer. This network now stretches the whole of the UK with representatives now operating in the Caribbean and South Africa.
As part of The Shire's ongoing involvement in the support of the disabled golfer they are arranging the British Disabled Open for which around 80 golfers have already entered.
It is pitched at all levels of ability but a number of the professional disabled golfers are already signed up to compete at the elite playing level.
Several of these disabled golfers are now competing within the professional Tour events and have representation at the highest-level marketing companies.
Our sport should be shouting from the rooftops about its accessibility to ALL at every level.
For more information, please visit https://www.thegolftrust.com/.
---
What do you think? leave your comments below (Comments)
---
Tags: Disabled Golf
---
PLAY MORE PLAY BETTER - LATEST TUITION TIPS
---
Leave your comments below
comments powered by

Disqus