What It's Like to Play on The New Trilby Tour
---
Many golfers will already know about The Trilby Tour. At some point you would have seen the coverage on Sky Sports, you may have known someone that has played - or indeed caddied in it - and you may have even seen some of the old Trilby Tour bags for sale on a Facebook selling page.
But things are now very different. Allow me to explain.
The Trilby Tour as you may have known it, the bags, Trilby hats, caddie boiler suits and rogues gallery is no more - and from first hand experience it's now even better than it was before.
Darwin Escapes - parent company of courses at The Springs in Oxfordshire, Kilnwick Percy in Yorkshire and most famously Dundonald Links in Ayrshire - purchased The Trilby Tour in 2021 after the previous owners liquidated the company - with a view of making sure the new incarnation of the event would give the players and caddies an experience that is as close as possible to that of being a professional golfer. Changes to the events included making it a mixed tournament, proper caddie bibs with players names on them, no Trilby hats, fantastic prizes, and some excellent live scoring with a big leaderboard.
I went along to play in The Championship of Oxfordshire at The Springs Resort - Highly Recommended on Golfshake - and wanted to share my thoughts on what was an exceptionally well-run event.
Arrival & Check In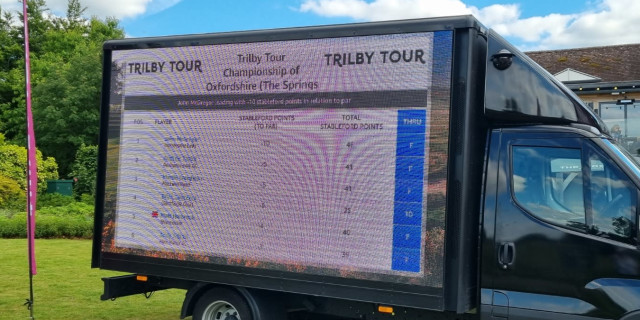 As I arrived, I was greeted at the desk by a member of the Trilby Tour team - easily recognisable from their lovely pink branded polos they were wearing. I received my scorecard, a welcome goodie bag (this included a sleeve of Titleist Pro V1 balls, some tees, a drink and a couple of snacks) and a Trilby Tour branded Glenmuir Polo and hat to wear for the day. I was also handed a caddie bib, hat and a couple of food vouchers for myself and my caddie - one for a breakfast bap before playing and one for our meal afterwards.
I had already downloaded the Golf Genius for live scoring in preparation for the event as per the email that was sent out with tee times, etc.
Once I had changed top and got the gear from the car, we went off to find our pre-round food and get a proper warm-up in the bank.
My attention was instantly brought to the big scoreboard on the van just sitting off the back of the 18th tee where I saw my name flick past. It also had music playing, giving the area around the clubhouse and 1st tee a real buzz.
Venue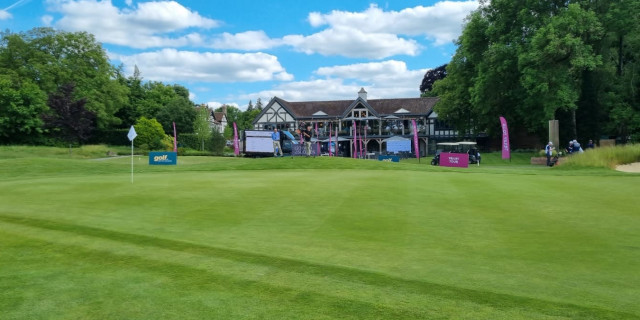 We went off for a practice. A short walk down to the driving range where players were waiting their turn to go through their process. This is probably the first real time I started to feel nerves. Watching the players hitting balls and the caddies behind in their bibs make sure clubs were kept clean during the warm-up - honestly, it looked like a range you'd see on a Wednesday at a tour event (just maybe with some indifferent looking swings).
Once I'd hit a few balls I made my way over to the chipping and putting green to get the stroke feeling good and to gain a feel for the pace and then made my way towards the 1st tee.
You can see a full review of the course here. But the course at The Springs was outstanding. Some thick rough in places, around the bunkers in particular, but the greens were fantastic and running very true and fast (not silly fast though!).
There is water in play on seven holes, with the varied length but not overly long. The set-up on the day was very fair and the course was looking and playing incredibly well.
Competition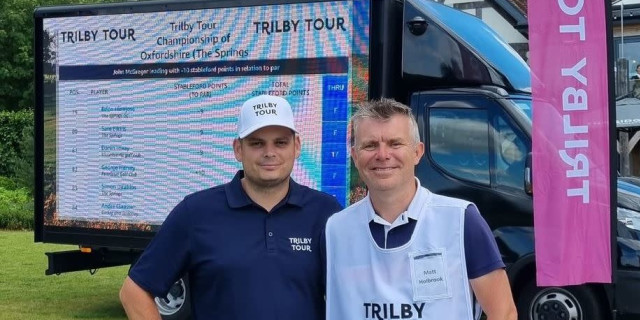 The event itself was stableford scoring off 95% handicap. There were 102 players in the filed - a mixture of men and women playing which was fantastic to see. There was a spot in the Grand Final to be played at Dundonald Links (host of the Trust Golf Women's Scottish Open) up for grabs for the top 10 men and top 5 women competitors, along with a host of prizes from Motocaddy, Duca Del Cosma and Glenmuir - all tour sponsors.
I met my playing partners on the 1st tee, which was surrounded by advertising hoardings. I was honest with them from the start saying that I was bad with names, but never did I need to try and remember so many with caddies in tow too.
We swapped cards and waited for our introduction from a representee from the club, who was stood behind his Trilby Tour branded lectern with microphone in hand – he reminded me of a non-Scottish Ivor Robson.
And then you hear it; "Representing Stowmarket Golf Club, Matt Holbrook..."
The only thing missing was a round of applause, but I was not too fussed as I managed to get my ball on the tee and got a good tee shot away on the first.
So annoyed with myself for not doffing my cap here to the crowds that never clapped

Massive opportunity missed. pic.twitter.com/TImAyeI9b3

— Matt Holbrook Golf (@MattHolbrook86) June 14, 2022
Play itself was a little slow in places, but I have played in slower monthly medals at my home club and with such a big event, with the TV cameras rolling I had kind of expected this, so made sure I kept the conversation going with my caddie to help fill the gaps.
Personally, I had a great day scoring wise. I had no idea until the end of what my actual score was - something which was premeditated. But I knew I was going ok when Josh Antmann (host of the Sky Sports Golf Podcast) came and introduced himself to me on the 13th tee and mentioned that he had seen my name on the leaderboard. It was quite cool being interviewed for TV - hopefully my bit makes the cut that is due to be shown in a few weeks.
I will not talk you through it shot for shot, but I shot +1 out and +1 back for +2 overall with a mixture of four birdies, four bogeys and a double. Playing off my 5.3 index receiving six shots this was enough for 40 points and I ended up finishing 4th - at this point I have to mention my caddie, Chris who just kept me calm throughout, but especially on the back 9 and it was so good having someone there to bounce my thought process off and made sure I wasn't doing anything silly.
From the 16th, the TV cameras started to show up adding a bit extra to the experience, but I just tried really hard to pretend they weren't there.
As I approached the 18th green, I did catch a glimpse of my name on the giant leaderboard - at the time in a tie for 4th place which made the up and down for bogey I made all the extra nerve-racking.
I also didn't want to be shy about mentioning the winning score of 46 points, which being honest, kind of makes you raise an eyebrow. However, in my experience with these types of events, there are always a handful of players that put in really good scores and the ultimate winner just had one of those days, which we've all had. It would be very easy to focus on that one chap who shot the round of his life, but actually, in a field of 102 players, only 15 shot on or under handicap - which to me feels pretty good.
Post Event
Back home after an epic day playing @TrilbyTour at @TheSpringsGC

Buzzing to share I shot +2 gross for 40 points to finish 4th out of a field of 102.

Caddy @ChrisjReeve was immense ????????

Some experience. Recommended it to anyone. pic.twitter.com/ZhRn6sW0Yp

— Matt Holbrook Golf (@MattHolbrook86) June 13, 2022
As soon as we finished and checked the scores the realisation had set in on what I had achieved and the sense of relief that I had managed to hole that 10ft putt for bogey on the last. We had a couple of photos by the leaderboard and went off to grab our food.
At this point I checked my phone and could see I had received a fair few messages, this is when I realised that friends and family had been looking at the live leaderboard and were following my progress. Such a great feeling if I'm being honest and knowing how much work I put into my golf, I was so proud that I had managed to produce some of my best golf on such a grand stage.
The food included, for players and caddies, was a great set menu and we picked a nice table overlooking the 18th green to sit and eat and try and come down over a delicious chicken burger and chips.
Round Up
Let's be honest, it's easy for me to say the experience of the entire day was class from start to finish when I've played well. But listening to some of the other players that hadn't played as well as they could, they still seemed to have a post event buzz - which I can agree with.
The whole day was exceptionally well-run as was the communication from the Trilby Tour team running up to the event. The idea of having amateurs feel like professionals for the day is very good and something I feel The Trilby Tour has absolutely nailed. The venues they have are fantastic and they are really onto a winner with bringing the Trilby Tour back bigger and better than it was before.
An experience I would recommend to any golfer.
For more information, please visit https://trilbytour.co.uk/.
---
What do you think? leave your comments below (Comments)
---
Tags: GOLFERS Golf daily picks
---
PLAY MORE PLAY BETTER - LATEST TUITION TIPS
---
Leave your comments below
comments powered by

Disqus