Golf Industry Looks to the Future Despite Shutdown
---
AS WE wait for news from the Government about when courses in England, Wales, and Northern Ireland are likely to be allowed to open again, nomadic golfers will be considering their options.
One thing is certain. When we get the go-ahead to play again there will be a stampede because all golfers are desperate to get out there and start hitting balls again.
Much of the UK has been knee-deep in snow and ice this winter. And those that have escaped the white stuff have sat indoors watching the rain tip down. It means that most of us would not have been playing golf anyway.
It is beginning to look like we might be able to get back out there to play sometime in March, although it could be as late as May before we are given the go-ahead to resume playing.
By then, the snow and ice will be a distant memory. Spring will be in the air; the days will be longer and the temperature will be warmer. Hopefully.
When we came out of the first lockdown in 2020 the weather was glorious, and that clearly played a part in the stampede that followed. And many of us were deeply impressed by the condition of our courses when we went back to play.
While we have been locked up, golf courses have had a unique opportunity to recover, which means that most of them are likely to be in superb condition when they are able to open their doors once more. Sopping wet courses have not been subjected to golfers ploughing through the mud. Greenkeepers have not had to prepare winter greens or tees, which means that the permanent surfaces have not been used for weeks.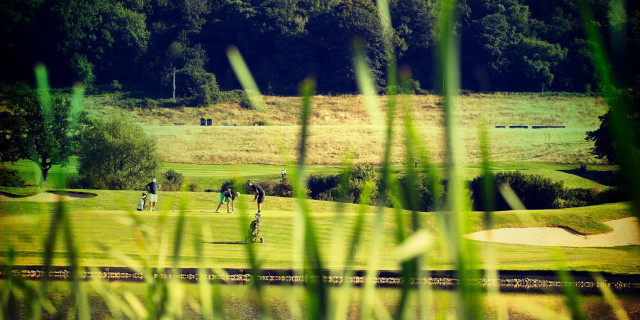 It is highly probable that we will only be able to play in two-balls initially. And clubhouses are likely to remain closed for the foreseeable future.
The extreme weather we have experienced has also caused problems for some courses - issues that would have caused them to be closed anyway.
Ramsey Golf Club is typical. Richard Coles, the club chairman, recently posted the following on the club's website:
"A roadmap will be published in late February setting out how the country will exit these restrictions and as soon as there is any definite news, I will write again with details of when the club house and course will re-open. As with the previous lockdowns we will aim to re-open the course to members only initially and then extend access to guests and then visitors dependant on the uptake of tee times by members.
"I am sure that members will also be very aware of the flooding the course has continued to suffer on the back of the severe flooding just before Christmas when the ground's building was breached, causing extensive damage to equipment and machinery. Neil and his team have been working hard restoring the pathways, which were damaged as well as progressing the clear-up around the course and we are making good progress with the insurance claim but I feel that I need to warn members that a lot of our machinery needs extensive repairs and/or replacement and this will take time and could have some impact once the course re-opens but every effort will be taken to minimise this."
When we emerge from lockdown a number of courses that looked like they might be closing down for good will be able to reopen their doors.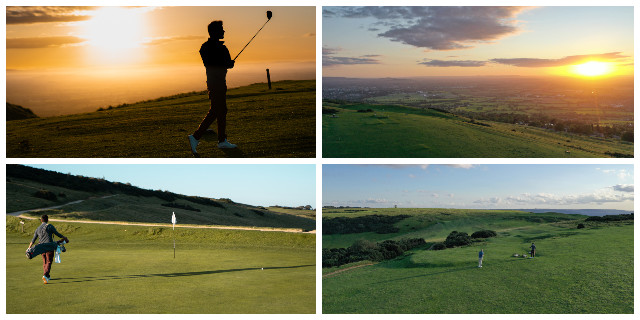 (Images by Cookie Jar Golf)
Mashie Golf has gone into partnership with The Cotswold Hub Co to save Cleeve Hill Golf Club in Gloucestershire. Based in the heart of the Cotswolds, Cleeve Hill's 18-hole golf course was designed by Old Tom Morris and later adapted by Dr Alister MacKenzie. Threatened with closure last year, The Cotswold Hub Co, in partnership with Mashie Golf, has taken on a 125-year lease to allow the club to remain open.
Mashie Golf and The Cotswold Hub Co are keen to provide continuity for existing members and plan to redevelop the site to provide more facilities for all users of the Hill, including lodge accommodation, a restaurant and a new pro shop with café.
Plans also include improving the course to encourage membership growth, something that Nick Hovey, the managing director of Mashie Golf, and co-founder of The Cotswold Hub Co, feels will be the heartbeat of the club for many years to come. Mashie Golf will establish its UK headquarters at Cleeve, bringing its team and a wealth of golf experience with it. MASHIE Golf will further support the club by opening the course to its own members and bringing additional green fees, corporate clients, and events to the venue.
Hovey said: "This is a really exciting time for Mashire and Cleeve Hill. The golf course is iconic, and to be able to help save such an important venue is very special for us. Equally, this is a fantastic opportunity for Mashie Golf, to establish a new HQ at such an historic site is a huge benefit for us and our members. We look forward to working with The Cotswold Hub Co to develop and deliver first class experiences to the golfing community."
The lease will begin on April 1. And the R&A has also been active on two fronts, applying to Glasgow City Council for the construction of T a new community golf facility that it is hoped will open next year and appointing Niall Horan's Modest! Golf to work on designing and developing a series of future grassroots programmes aimed at inspiring more young people into golf and retain them within the sport.
Here's a look at The R&A's plans for a new community golf facility we are hoping to open in Glasgow in Summer 2022 ??

Read more about the project here ???? https://t.co/v0SLymZ60W pic.twitter.com/dO9SEAV7nU

— The R&A (@RandA) February 11, 2021
The project in Glasgow aims to redevelop the existing public course at Lethamhill to create a family-focused venue that provides access to a nine-hole course, par-three course, putting greens, short-game area, adventure golf and a 25-bay floodlit driving range for visitors to enjoy a wide range of golf activities. Additional features including a café, fitness studio, indoor simulator and cinema, education room and retail area are also being planned as part of a central hub that would offer views north over nearby Hogganfield Loch to the Campsie Fells and south to the City of Glasgow.
Martin Slumbers, Chief Executive of the R&A, said, "We want to make golf more welcoming and inclusive for people of all ages and backgrounds and so we need to appeal to them by offering a variety of fun and affordable activities that entice more families and young people into the sport.
"We are excited by the prospect of establishing a facility in the very heart of the local community in north-east Glasgow that provides an accessible pathway into golf and inspires people to get out, have fun and experience the many health benefits that playing golf with family and friends can provide."
In collaboration with Glasgow Life, the views of local stakeholders including current golfers, community groups and elected representatives are being considered to assist in shaping the development of the facility to create a destination that truly appeals to local people. Work is also being carried out with the Golf Foundation and Scottish Golf to devise future participation and education programmes that use Glasgow Life's existing Active Schools network to connect local schools with the new facility and inspire young people to experience playing golf in a fun and relaxed environment.
Councillor David McDonald, Chair of Glasgow Life and Deputy Leader of Glasgow City Council, said, "This project is a great example of innovative thinking which protects and enhances resources relied on by the local communities and the whole city. It delivers an incredible facility for golfers while at the same time offering families more opportunities to discover the joy and health benefits of taking part in sport. The prospect of creating such a fantastic venue in what is already a well-used hub is something everyone can be very enthusiastic about, and we're looking forward to working with The R&A and engaging with groups and clubs in the local area to develop a facility which is the first of its kind in Glasgow."
The new programmes involving Modest Golf aim to provide more opportunities for young people to be introduced to golf through offering fun and accessible formats of the sport that are more in tune with how today's generation uses its leisure time.
The arrangement will see focus on increasing the appeal of golf for young people by leveraging the power of influencers from the sports and entertainment world to present golf in a more positive light to new audiences and challenge some of the more unhelpful perceptions that exist about golf.
Phil Anderton, Chief Development Offer at The R&A, said, "Modest Golf has a wealth of expertise and insight from the entertainment and sports industries that will be combined with our experience of developing golf around the world to establish exciting new initiatives aimed at reaching new audiences and inspiring more young people into playing golf with their family and friends.
"Our relationship with Modest! Golf is built on a shared ambition for golf to be viewed as a fun, friendly and accessible sport that is inclusive of all people no matter their age, gender, ability or background. We look forward to working together to broaden its appeal through our networks in golf and encourage young people to enjoy its many social and health benefits."
Horan said, "I am so proud to work alongside The R&A in developing programmes to encourage and inspire more young people to play the game of golf. It is something my company Modest! Golf is hugely passionate about and I am honoured that the chief executive Martin Slumbers, Phil Anderton and The R&A are entrusting my agency to help drive the game forward.
"The R&A has a long legacy within the game and I look forward to helping to create new and modern initiatives to showcase to the younger generation just what a great sport golf is."
And thegolfbusiness.co.uk reports that a Buckinghamshire golf club has said it needs to downsize from 18 holes to 12 – and build an area for mobile homes where those former six holes were located – otherwise it will not be financially viable. Acting on behalf of Three Locks Golf Club, WS Planning has applied to Buckinghamshire Council for planning permission for the change of use of land to site 119 lodge-style holiday caravans, with landscaping and ancillary works. The proposed development will utilise land that currently accommodates six holes – with the remaining 12 holes remaining intact.
All in all, then, the picture looks pretty bright, with courses being saved and initiatives being launched to grow the game.
---
Related Content
What Is Happening With Your Golf Club Membership
Golfers Address Issues Facing the Game
---
What do you think? leave your comments below (Comments)
---
Tags: Golf Courses daily picks Courses
---
PLAY MORE PLAY BETTER - LATEST TUITION TIPS
---
Leave your comments below
comments powered by

Disqus