Golf is Back - Did You Get A Tee Time
---
"SOME of you worry that there might once again be problems getting tee times but that is actually seldom the case at this time of year. Yes, the daylight hours are shorter, but many golfers just don't fancy playing as often when it is cold, wet and windy. Nothing will stop the diehards, of course, and it could well be that this second lockdown really will have whetted our appetites for playing again, regardless of the weather. However, I am not convinced…"
Well I got that wrong in the most spectacular fashion, didn't I? It was a case of 3-2–1….GO! as golf courses across England opened their doors for business once again, with many of you reporting that booking systems either crashed or that you were unable to get a time.
We ran a brief survey on Twitter which showed that 68% of you did manage to get a time, while 10% couldn't and a further 10% decided to wait until next weekend - the other 12% of you told us that you don't play golf in the winter.
So, while much of the population queued up to do their Christmas shopping, have their hair cut or their nails manicured, keen golfers were not letting anything stand in their way as they ended another four-week wait to play golf.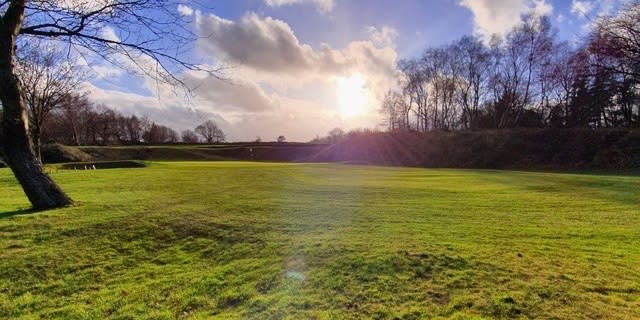 (View at Hillsborough Golf Club - Image by Paul Siddall)
Paul Siddall, who took the above photo, said: "Great to be back out in the fresh air and winter sun!"
You told us that demand was at fever pitch:
One of you wrote: "Our tee sheet was filled in a few minutes after opening and that has been the same each day so far, so demand remains as high as we've ever seen it at any time of year."
Another said: "Our club reopens with a computerised booking system, where all available tee slots for day one were taken up within six minutes of becoming available."
Golfshake Equipment Expert, Ryan Rastall, the PGA Pro at Howley Hall Golf Club in Leeds, described the scene on Wednesday morning.
"It has been packed! Tee sheet is rammed every day and some members really annoyed that they can't get a game due to the reduced daylight. It's been great to get the shop open again and hopefully pick up some pre-Christmas trade. Lesson bookings are filling up too."
Two of our Ambassadors, Richard Moore and Ed Dimambro, were also back on the fairways.
(Bright Dawn For Golfers in England)
Ed, playing the magnificent Gog Magog, said: "7:46 first tee slot out today.
"It was just great to be back as golf is far more than just a game/hobby/exercise for me. The mental benefits of getting out to play and talking to close friends makes it so much more important, time seriously well spent.
"Also - greens team have done some wonderful work in the time off and the course was in great nick for the first game back!"
Richard added from his round at The Abbey in Redditch..."I'm a golf nut so I quite surprised myself about how little I missed golf looking out of the rainy splattered windows during lockdown - it was much easier than during the heatwave of March/April! So playing today was nice. It is the longest I've been outdoors for a month and the first bit of exercise (I'm ashamed to admit) and truly felt like the cobwebs have been blown off.
"Although I was caught in heavy rain for just the 16th hole, it was fantastic to be out. Even the sun shone at one point, which was an amazing feeling. The downside was the course was pretty soggy and it really highlighted that my ball striking needs attention. I nearly dug halfway to Australia with one shot!
"So glad I played. There is a definite two club distance difference now compared to summer for me so had to redial myself in. But even so, I played to one under my handicap so pretty happy all round. Looking forward to my next outing!"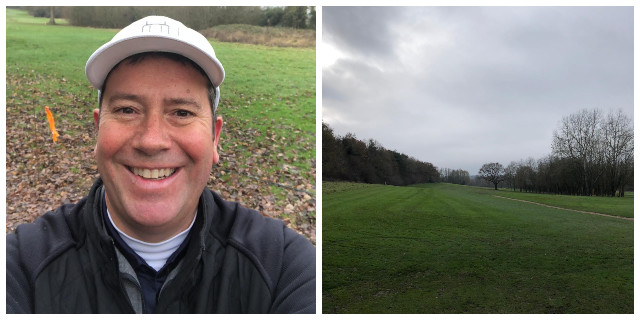 (Richard Was a Happy Boy!)
Perhaps we shouldn't be surprised by the incredible demand. It happened at the end of the last lockdown, when there were also problems finding tee times as new and returning golfers flocked to the game.
In our August survey it emerged that a staggering 80,000 new members had joined clubs and the biggest problem they experienced was finding tee times.
The following comment was a common theme within the survey.
"Was already considering joining and once we missed all of April playing, I wanted to ensure tee time availability and have time to play twice a week to get value."
When the game resumed in England during May, online tee time booking services crashed, just as they have done over the past week or so. It indicates that the technology being used to drive these systems needs some urgent attention.
These were just a few of your views:
"Golf seems to be more popular than ever. I can't get a tee time at my club before 4pm. You do need to book almost two weeks ahead now to get a decent weekend tee time. The club had reported more new members this year than for a long time."
"Before lockdown you could just turn up and play. Now you have to book a tee time."
"It has been noticeable how much more difficult it has been to book tee times. My perception is that more people are playing."
"My friend always says it's a dying sport. But he now moans he can't get a tee time. I say it was maybe the kick up the backside the nomadic golfer (me until April 2020) needed to commit to a club membership."
"Nice to see golf booming, but as the evenings draw in it will become increasingly difficult to get decent tee times at sensible times of the day. The risk here is that members will become disenchanted when visitors take up prime slots."
This is a time of year when playing numbers traditional plunge. The good news for golf clubs is that as long as the weather plays ball, things may be very different this year.
---
Related Content
Golfers Ready To Commit To Winter Season
Are You Ready For Winter Golf - Tips To Keep Playing
---
What do you think? leave your comments below (Comments)
---
Tags: GOLFERS Golf daily picks
---
PLAY MORE PLAY BETTER - LATEST TUITION TIPS
---
Leave your comments below
comments powered by

Disqus