Golf is Back in England But Will You Be Rushing Out To Play?
---
PHEW! What a relief that most of us can get back out there and start playing golf again. It's been a tough few weeks, with so much uncertainty surrounding whether or not we would be able to return. But with the imminent return of the tier system, it signals the way for courses to reopen in England. They are already back in business in Wales, while Scotland continues to exist in a state of rather more strict restrictions.
I had serious doubts and some reservations, and expressed them in an article in which I wrote that I didn't believe we would be allowed to resume playing in December. I was bamboozled as to why it was just fine for us to walk with somebody who wasn't from our own household but not to play golf with them. We could even go for a walk with that person on our golf course, just as long as we didn't have our clubs with us. Bizarre. Utterly bizarre.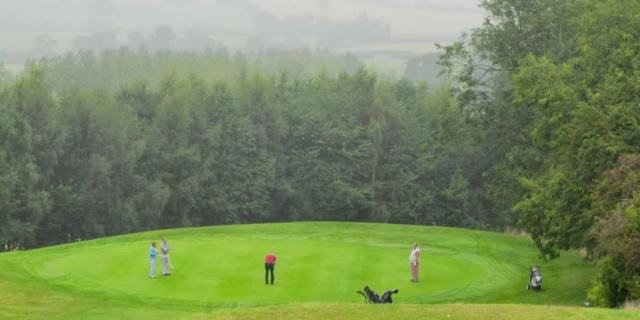 And it appears that I wasn't the only one who was confused about the logic behind the decision, with more than 250,000 people signing a petition that called for golf to be given exemption from the lockdown rules.
My article created quite a response, with almost all of you just as confused as me. And you were also rather more positive than I was about the prospect of being allowed back on the golf course in December. It turns out that you were right.
Our most recent survey revealed that 85% of you plan to resume playing, while 13% of you say that it depends on the weather. It is worth noting that many club and casual golfers normally put their clubs away during the winter, but the anecdotal evidence suggests that will not happen this year, quite possibly because we have spent so much time in our homes under Government orders not to play. It is highly encouraging that only 2% of you who responded to our survey indicated that you would not be returning to the course.
Some of you worry that there might once again be problems getting tee times but that is actually seldom the case at this time of year. Yes, the daylight hours are shorter, but many golfers just don't fancy playing as often when it is cold, wet and windy. Nothing will stop the diehards, of course, and it could well be that this second lockdown really will have whetted our appetites for playing again, regardless of the weather. However, I am not convinced.
---
What Can We Expect From Golf Courses in December
---
When golf returned before the weather was glorious - warm and sunny. And most golf courses were in fabulous condition.
Here are just a few of your thoughts:
"I'm counting the days until I can play again. I love the game and the social interaction. We have such a laugh playing."
"There was no reason for golf to stop in the first place, especially when considering that you can meet an individual from another household and walk outdoors with them. Members of the public are walking on public and private golf courses whilst golfers sit at home and dream of having a simulator…"
"I can't wait to get back on the course. Golf should never have stopped - it is one of the most Covid-safe environments possible."
"Playing golf again is the first thing that I have planned, as I miss it badly. I actually cancelled some holiday so that I can use it up once lockdown is lifted."
"I will be out there as soon as possible, assuming the course isn't waterlogged or the weather's really, really bad."
"I haven't been overly bothered about having a month off in terrible conditions for golf and since the last lockdown I've played more golf than in any of the previous years already so I'm happy to just wait."
To all of those people I say that I hope the weather is kind. It will be fascinating to discover whether all of those who either returned to the game during the summer or took it up for the first time will be as keen to get back out there now that the temperature has plummeted.
You had your own thoughts as to why the government chose to stop us from playing golf:
"I'm pretty sure the main reason golf courses had to close was because of the ' nnecessary' travelling that getting to and from the course involves, rather than any major concerns the government have regarding social distancing/staying safe when on the fairways. It sucks, and maybe people who live near enough to walk to their local course should be allowed to play, if this is indeed the government's thinking."
"I cannot help thinking that given there appears absolutely no logic in this decision- I can walk around a golf course but I can't hit a ball around a golf course- or that the reasons for banning tennis and golf have not been explained at all, other than we can't play either- that this is some half-baked political decision in order to fend off complaints of Conservative bias towards the affluent who many non-golfers perceive as the vast majority of those playing the game. They could not be more wrong, but then neither could this lamentable, vacillating government.
"I will miss playing, but more than that my two daughters who take lessons and play at the weekends will suffer without their weekly dose of fresh air and time with their friends and coaches. Of course even if golf was allowed to continue as 2-balls, I'm sure lessons would not, so for them this was inevitable in any case. Unfortunately now we can't even go out to hit a few balls as a family and I hope that their mental well-being doesn't suffer too much as a result.
But not all of you will be rushing out to play:
'I will probably wait a week or two because of the anticipated rush from everyone playing again."
"I will wait for the initial rush and then decide. Playing in poor weather and on a full course is not my idea of fun."
I may be wrong but I just don't believe that the rush to return will be on anything like the same scale that we witnessed in May. It is colder and the real rush will surely be to the shops as people attempt to catch up on their Christmas shopping!
If you play to get or playing or decide to give it a miss, let us know in the comments below.
---
Related Articles
Are You Ready For Winter Golf - Tips To Keep Playing
7 Reasons Why Winter Golf is Great
---
What do you think? leave your comments below (Comments)
---
Tags: daily picks covid 19
---
PLAY MORE PLAY BETTER - LATEST TUITION TIPS
---
Leave your comments below
comments powered by

Disqus