The Solution to Golf's Distance Issue
---
Golfshake's Derek Clements takes a light-hearted look at the debate following the R&A and USGA's Distance Report.
---
EUREKA! I have had a lightbulb moment. It came after I read the report commissioned by the R&A and USGA that looked into the subject of the distance that tour professionals hit the golf ball.
It should have come as a surprise to nobody that the likes of Dustin Johnson, Brooks Koepka and Rory McIlroy are hitting the ball 30 yards further than their contemporaries from the mid-1990s. It is an extraordinary increase, but it's nothing we didn't already know. Golfers today are, generally speaking, bigger, fitter and stronger. They spend hours in the gym (Kiradech Aphibarnrat is a notable and welcome exception who does his workouts with a burger in his hand). So, they were going to hit the ball further anyway.
And, of course, they have been helped enormously by technology. When he was in his prime, Jack Nicklaus used a wooden driver with a tiny head and a balata golf ball. He was still able to hit it out there 280 yards. Today's players use drivers made from titanium. This is space-age technology. They have massive heads, they are multi-adjustable, are as light as a feather and have sweet spots the size of an HGV. And that's without considering the progress that has been made with golf-shaft technology. Jack had to contend with steel.
Golf balls, too, are unrecognisable from the balatas that the Golden Bear used. Whether you are playing in hot weather, warm weather, cold, rain or wind, you will be able to find a golf ball to suit. There are also balls that have been adapted to different swing speeds. It is a massive industry. And most club golfers actually use golf balls that are not suited to their swing speed.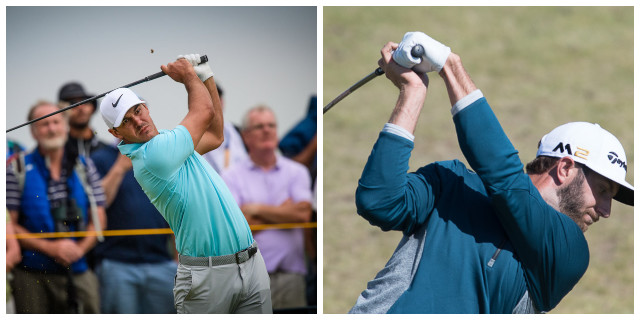 When John Daly won the US PGA Championship in 1991 the golfing world was in awe of him because he was able to hit the golf ball 300 yards. When he hit a driver, the ball seemed to be in the air forever. But that sort of distance barely registers on the scale now. Can you guess how many players on the PGA Tour averaged at least 300 yards last season? 10? 20? 30? 40? The figure was 50.
The distance report focused on the professional game and for its findings and recommendations to be implemented, the powers-that-be will need to get club and ball manufacturers on-side. Good luck with that guys.
Mere mortals watch the likes of McIlroy and Koepka strutting their stuff, read all about the equipment they use and then go out and buy the same clubs. In all respects other than the shafts, they are pretty much identical.
There is a suggestions that the clubs used by pros and club players may become fundamentally different. I just don't see Callaway, TaylorMade, Ping, Titleist et al wanting to play ball. At present, the big difference between the clubs used by pros and club golfers lies in the shafts they use. And let's face it, a 28-handicapper would not be able to use the driver that McIlroy has in his bag, in the same way that a 30-year-old will have different shafts in his clubs to a 65-year-old.
Will the manufacturers really be prepared to produce one model of club heads for the tour pros and another for you and me? I don't think so. Don't get me wrong - something clearly has to be done. We cannot simply carry on extending golf courses to 8,000 yards and beyond. But there was proof positive at the 2020 AT&T Pebble Beach Pro-Am that courses don't have to be monsters to provide a proper test. Pebble Beach measures just over 7,000 yards, which is little more than a pitch-and-putt course by today's standards. And yet the lowest score on the final day was the 67 shot by Jordan Spieth.
Admittedly, the wind was blowing, and it wasn't especially warm, but the course was the winner.
So why don't the R&A, USGA, European Tour and PGA Tour take a serious look at defending our iconic courses properly? It cannot be right that some of the tees used on the Old Course for The Open are actually out of bounds because there isn't the land to extend the most famous golf course in the world.
Why not face the best tour pros with actual proper rough from which they will only be able to hack the ball back into play? Why not make accuracy the key once again? Why not make fairway bunkers deeper? And let's do away with target golf once and for all. Almost every course used week in, week out by the PGA Tour features greens watered to within an inch of their lives. Let's see how the world's best players get on when faced with firm putting surfaces. We already know the answer - just look at what happens at the US Open.
And my lightbulb moment? Oh yes, I nearly forgot. When McIlroy, Johnson and Koepka step onto the first tee, the starter should hand them a bag full of Penfold Commandos. This was a budget golf ball that felt like a brick when you hit it. It was impossible to hit it beyond 200 yards. Backspin? Be serious. Yup, the Penfold Commando, the worst golf ball known to man or woman, is the answer to the great distance debate.
---
Related Articles
Governing Bodies to Finally Address Increasing Distance in Golf
How Far Should You Hit Your Driver?
The Deeper Questions Behind Rory's Long Drives
Golf Has Been Taken to the Edge by the Governing Bodies
The 10 Longest Drives of All Time
---

Be part of the action with a selection of unique golf tournament experiences, from playing in a pro-am with the stars to watching the action at golf's most illustrious events. Whether it's the Masters or The Open, The Ryder Cup or WM Phoenix Open, build your own bespoke package with the experts at Golfbreaks.com.
---
What do you think? leave your comments below (Comments)
---
Tags: USGA rules R&A PGA Tour european tour driving distance
---
PLAY MORE PLAY BETTER - LATEST TUITION TIPS
---
Leave your comments below
comments powered by

Disqus