Governing Bodies to Finally Address Increasing Distance in Golf
---
WE ALL thought it and now it is official - tour professionals are hitting the ball further than they used to. Much further. And the powers that be have finally decided that enough is enough and plan to do something to tackle the issue.
According to the newly published Distance Insights Project Report, in 1995 the top 20 biggest hitters on the top male tours averaged 278 yards from the tee. By last year that had increased to a scarcely credible 310 yards. And many hit it a lot further. It has long been clear that something has to be done to rein this in before the best courses on the planet become completely obsolete.
And the R&A and USGA have woken up to the fact that something needs to be done. But first of all, they need to persuade club and ball manufacturers to buy into the need for change. And that may be easier said than done.
There is no doubt that the added distance being achieved on the European and PGA Tours is almost all down to club and ball technology. Sure, today's golfers are fitter than the guys who used to dominate the game in the 1980s and 1990s. Diets have improved and most of them spend hours in the gym.
---
Are You Hitting The Ball Further Than 5 Years Ago?
---
Interestingly, technology has not given club golfers much in the way of additional distance. Today's drivers are certainly easier to hit, but there is no evidence that we mere mortals are hitting the golf ball any further.
The professional game is a different matter. We all love to see Rory McIlroy launching the ball but should be really be able to reach par fives with a drive and a wedge? Probably not.
So, the main objective of the ruling bodies right now is to rein in driving distances.
"This will only be achieved if the whole industry comes together to make sure the game is thriving 50 years from now," said R&A chief executive Martin Slumbers.
The changes will have to involve manufacturers and will have to see changes to club and ball specifications in order to limit their future effectiveness as well as local rules potentially being introduced for certain courses and competitions.
Many people argue that the very nature and the character of the game has been destroyed by huge drivers hitting modern balls vast distances, and it is difficult to argue with them. It seems that any par four measuring less than 400 yards is now within range for many Tour pros. And that simply cannot be right. And there is a limit to what can be done to extend courses. Even if we could routinely build courses measuring in excess of 8,000 yards, what fun would that be for weekend golfers? None at all. And longer courses mean higher maintenance costs, greater environmental impact and rounds taking more time to complete.
"Longer distances, longer courses, playing from longer tees and longer times to play are taking golf in the wrong direction," the report concludes. "Golf will best thrive over the next decades and beyond if this continuing cycle of ever-increasing hitting distances and golf course lengths is brought to an end."
The report admits a need for "potential changes to the equipment rules" and to "consider whether any existing specifications should be adjusted, or any new specifications should be created to help mitigate the continuing distance increases".
All of which will alert manufacturers - whose sales point is the distance gains their clubs and balls can offer the amateur golfer - and the tours, who view massive drives as part of their spectacle.
The R&A and USGA say these bodies have now been told that change is needed. It is not going to happen overnight, with further consultation over much of the next year before anything is decided.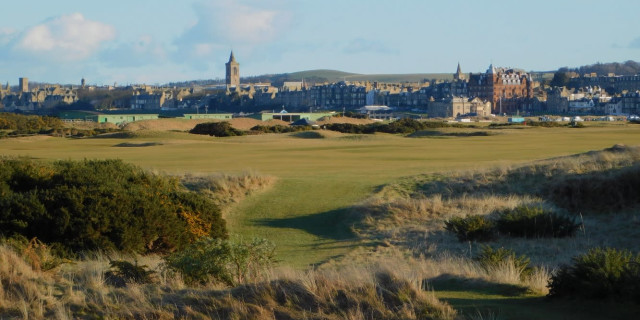 Many courses have already been rendered obsolete for elite golf and the iconic St Andrews Old Course needs certain tees to be located out of bounds in order to make it long enough to host professional events such as The Open. It was never meant to be like this.
"We now need to have a conversation about where we go. The report does not have any solutions whatsoever; from today is when we start the discussion with the industry," Slumbers said. "There are a lot of very serious people who run this industry and working together those serious people can handle and find solutions for a difficult problem. We need to find solutions because otherwise the issues of skill and footprint will just continue to grow, and I think that would be detrimental to the game of golf.
"As a governing body we have a real responsibility, both historical and modern, to protect the traditions of this game."
The report states: "We believe it is never too late to do the right thing for the future of the game."
Whether the likes of TaylorMade, Ping and Titleist agree that being told to go back to the drawing board is the right thing is an entirely different matter, of course. Club golfers all want to hit the ball further and go out and buy the same clubs and ball their heroes use. If the tour pros are using different clubs and/or different golf balls, it is going to give the marketing men a logistical nightmare.
---
Related Articles
What Golf Needs to Change in the 2020s
The 10 Longest Drives of All Time
---

Be part of the action with a selection of unique golf tournament experiences, from playing in a pro-am with the stars to watching the action at golf's most illustrious events. Whether it's the Masters or The Open, The Ryder Cup or WM Phoenix Open, build your own bespoke package with the experts at Golfbreaks.com.
---
What do you think? leave your comments below (Comments)
---
Tags: USGA rules R&A PGA Tour european tour driving distance
---
PLAY MORE PLAY BETTER - LATEST TUITION TIPS
---
Leave your comments below
comments powered by

Disqus