10 Essential Items for Winter Golf
---
That time of year is upon us where we put the shorts way to the back of the wardrobe and bring forward the thermal layers, mitts, and bobble hats, in preparation for the cold winter months.
Gone are the warm summer days, where the sun doesn't go down until late in the evening. Instead, we now look forward to the new challenge of frozen fairways and temporary greens.
To help you make the most of winter golf, we have put together a list of essential items you will need to be successful.
Waterproofs
Obvious but essential. Nowadays waterproofs act as much more than a garment to keep you dry. Many tops and bottoms are designed to keep you warm as well as dry, while maintaining the ability to complete a full golf swing.
You can no longer use the excuse of "but I can't swing in a waterproof top," thanks to the innovations of several waterproof manufacturers. Take a look at our waterproof jacket gear guide here, and our waterproof trouser gear guide here.
Mitts and a woolly hat
When you open your curtains before a round over the Christmas period and see a deep frost, the first thing you should reach for is your mitts and a woolly hat – especially if there is a harsh wind.
There is nothing worse than being on the golf course and feeling like your ears are about to fall off. The mitts will also keep your hands warm between shots. We all know how hard it is to hit the ball with freezing cold hands. And even worse, I'm sure we've all experienced the pain of catching one slightly thin with cold hands…
This leads nicely onto the next essential item.
Hand warmers
For those who really do not enjoy playing in the cold, then hand warmers are a must. Most pro-shops sell hand warmers that can be used once, but if you think you'll be playing a lot then maybe purchasing reusable ones could be a good idea.
Handy tip, combine your mitts and hand warmers for ultimate warmth on the golf course.
Thermal Layers
Thermals are another essential item of clothing when playing during the cold winter months. The skintight garments act as a second skin and as well as keeping you warm, it doesn't impact on the mobility of your swing. Thermals are definitely recommended over wearing several jumpers over your shirt, especially if you're looking to complete a full swing.
All Weather Glove
It may be hard to trust an all weather glove at first, but trust me they work. I know what you're thinking: "but how could a glove perform better when it's wet?" Well, here's how they work.
The glove has fibres on the palm and along the fingers, which stand up when wet allowing the glove to grip a wet golf club and therefore stopping it slipping as it would a normal glove. Simple.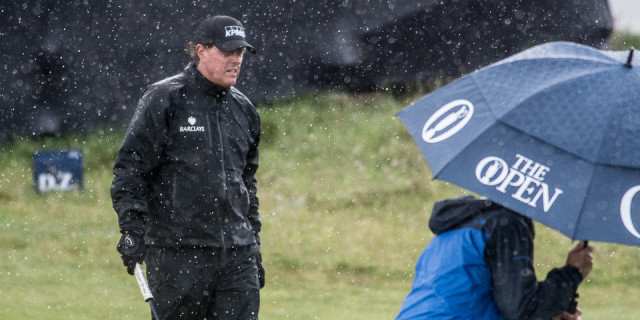 Golf boots
They might not be for everyone and they may not be overly stylish, but if you're looking for the ultimate in keeping your feet dry and warm then golf boots are the way to go.
There's no point wearing your brand new white golf shoes you've purchased from your end of season winnings, as they'll be ruined before the season has started. If you're playing a lot through the winter, definitely consider these.
Driver wrench
If you have an adjustable driver, it's time to dig out the little wrench that comes with it. During the winter months, your golf course will no doubt get wet and boggy meaning there won't be much run.
By using your wrench, you can adjust the loft of your driver to make the ball fly further in the air. Alternatively, if the ground is hard from the frost then you could experiment lowering the loft of your driver to get more run.
Flask
Another essential when it comes to keeping warm on the golf course. A flask filled with a coffee can both keep your hands warm as you hold it, as well as your whole body when you take that first sip. A flask on top of your mitts, hand warmers, woolly hat, thermals and waterproofs should mean there is no way you will be cold on the golf course.
Change of clothes
If you've decided to ignore all of our advice above, then you should definitely take note of this one. There's nothing worse than coming in off the golf course in wet clothes and wet socks because you didn't have a waterproof on and your summer golf shoes aren't waterproof. A spare change of clothes will make you much more comfortable as you tell your friends how you could have easily won the competition in the clubhouse.
Golf simulator
If worst comes to worst, then you could always swap the outdoors for an indoor golf simulator. Here you will be able to play some of the world's best golf courses in just a few hours, while not having to battle the harsh elements outside.
Your professional may have a simulator in their swing room, or alternatively you can look to places like Urban Golf, which are set up specifically for groups of golfers and non-golfers looking to play in the warmth of the indoors.
Take a look at our guide to indoor UK golf centres here.
Do you think we've missed something? Let us know what your essential winter golfing item is in the comments below.
---
What do you think? leave your comments below (Comments)
---
Tags: winter golf
---
comments powered by

Disqus