Jordan Spieth - the Will of a Champion
---
LET'S get something straight - Jordan Spieth won The Open in the most dramatic of circumstances and is now just one major short of claiming a career grand slam, but he does not possess a classic golf swing or a technique that anybody would or should try to copy.
For starters, he is a poor driver of the golf ball. If you doubt it, take another look at the tee shot he struck at the 13th hole in the final round at Royal Birkdale. It missed the fairway by more than 100 yards. And on his third shot he hit the ground before he hit the ball, but got away with it. Spieth has a habit of falling back on his right side at impact, and he did it twice at the 13th. As long as he continues to do it he will be susceptible to striking huge wides.
But what he does possess is a putting stroke that is the envy of every other tournament professional. He is the only man of the PGA Tour whose putting backstroke, downstroke and followthrough always remain at a constant speed. He does not accelerate and he never, ever decelerates at impact. Try it sometime and you will soon realise how difficult it is. Yet he manages it every single time.
Oh yes, and he has a will of iron, the 15th club in his bag. When he walked off the ninth green on Sunday after missing a short par putt he was shot to pieces. "Really?" he said out loud. His caddie, Michael Greller said to him: "Posture Jordan, posture." It is the thing that he has been working on. But it didn't help. Not straight away anyway.
When he walked off the 13th green, having rescued a miraculous bogey from a seemingly hopeless position, Spieth knew that he was on the verge of throwing away a second major. He admitted afterwards that his meltdown at The Masters in 2016 was dominating his thinking. "Not again. I am not going to let this happen again."
With that, he climbed aboard the 14th tee with the fire in his belly reignited. He then hit the best shot he had played all week, nearly holing his tee shot. The birdie putt was a formality. At that moment he drew level with Matt Kuchar, but The Open was won there and then. Yes, there was a miraculous eagle putt at the 15th, another at the 16th and a wonderful up and down for yet another birdie at the 17th. But what happened at the 14th was the key to it all.
You could only feel sorry for Matt Kuchar, one of golf's good guys, who had played alongside Spieth for two rounds, and had witnessed the 23-year-old hole putt after putt when it mattered most. Spieth made a shocking start to his final round, dropping three shots in the first four holes, before three-putting the ninth to reach the turn four over par.
Knowing sages shook their heads all over Royal Birkldale. He was going to blow another major for sure. When you have choked once, it is going to happen again - and again. Comparisons with Greg Norman were already being made. But Jordan Spieth is no Greg Norman. Neither is he the next Tiger Woods. The man who won 14 majors exuded star quality and charisma - Spieth would be the first to admit that he does not.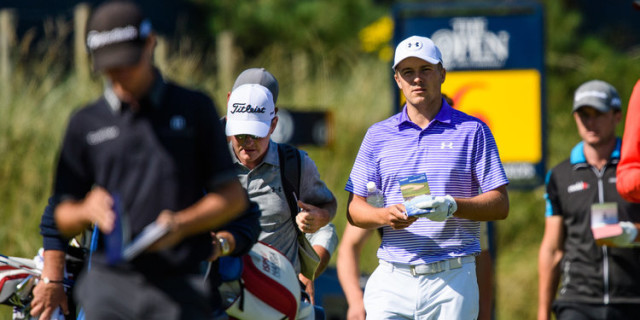 But what he does have that Woods never did is humility. He knows that this game can slap you in the face when you least expect it. He respects the game and those who pay their money to follow him. He also respects his fellow professionals. When he finally reached the 13th green after keeping Kuchar waiting for 20 minutes, the first thing that he did was to apologise to Kuchar. And he meant it. Can you imagine Woods or Nick Faldo ever doing that? Of course you can't. In the heat of battle, they would never have engaged with their rivals, other than to shake their hands and say: "Bad luck," as they walked off the 18th green.
Spieth paid tribute to Kuchar in his winning speech, describing him as a class act. The truth is that it is Spieth who is the class act. He also thanked the crowds for their astonishing support, even when the weather was at its worst on Friday. And he meant it.
In 2015 he won The Masters and the US Open. He also missed out on a playoff for The Open by a single shot, and then finished second to Jason Day at the US PGA Championship. His 2016 season was written off as a poor one. It is a measure of the standards he has set himself that a "poor" season was one in which he won twice.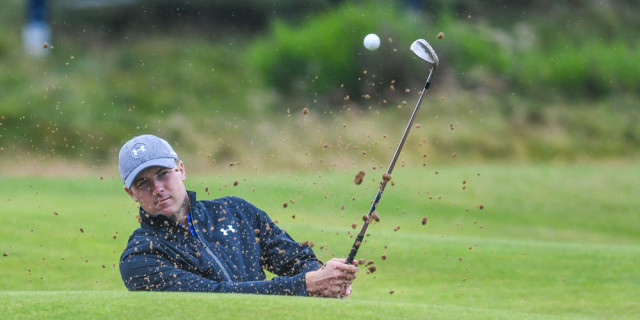 He won the Travelers Championship in June in the most dramatic of circumstances, holing out from a bunker at the final hole to take the title by a shot. It is what Spieth does. Rory McIlroy was meant to be the next man to achieve the career Grand Slam. Does Spieth have a better swing than McIlroy? of course he doesn't. But when McIlroy brings his B game to the course he misses the cut. For much of the final round of The Open, Spieth didn't have his A game or even his B game. He came armed with his Z game and yet he was still able to play four holes in five under par when it mattered most to break Kuchar's heart.
At Birkdale he confirmed his status as golf's superstar – at 23 years of age, he has three majors and 11 tournament wins to his credit. He is back up to second in the world rankings - does anybody genuinely believe that Dustin Johnson, for all the vast distances he hits the golf ball, is a better player than Spieth? Surely not.
Spieth will be a warm favourite to win the US PGA Championship, and who would bet against him? Quail Hollow, where the tournament is being played, is one of McIlroy's favourites. He has won twice there and holds the course record. But the course will be different this time around. The fairways will be narrower and the rough will be thicker. Spieth will miss fairways (plenty of them probably), but you can guarantee that he will hole the putts that really matter.
He may or may not win at Quail Hollow but you can be certain of one thing - Jordan Spieth will win the US PGA Championship at some stage and will win more majors besides. And he will do so because the best club in his bag is the one that lies between his ears. And if he can ever figure out a way to drive the ball properly then everybody else had better watch out.
---
Images Credit: Kevin Diss Photography
---

The oldest & most prestigious major, a trip to The Open is a must for every golf fan. From tickets and transfers to hospitality & golf, Golfbreaks.com can build the perfect package to help you experience The Open in style.
---
---
What do you think? leave your comments below (Comments)
---
Tags: The Open Jordan Spieth
---
PLAY MORE PLAY BETTER - LATEST TUITION TIPS
---
Leave your comments below
comments powered by

Disqus