10 of the Best Golf Courses in Suffolk
By: Golf Shake | Tue 29 Dec 2015 |
Comments
---
Suffolk is one of the most beautiful counties in England. It is a largely rural area, with plenty of glorious countryside that has been enjoyed by local residents for years and is becoming increasingly popular among tourists, who come from all parts of Brtitain and abroad. It also boasts some fabulous courses - a mix of links, heathland and parkland courses. Here are 10 of the very best.
Aldeburgh GC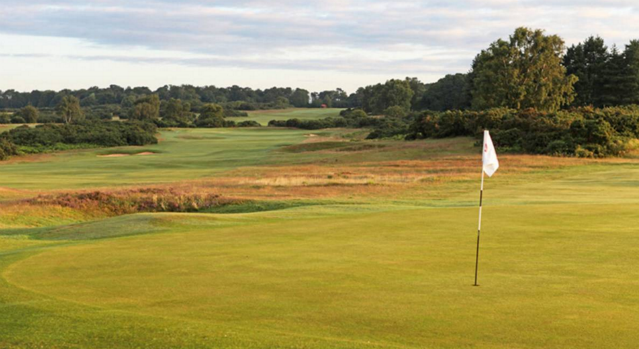 Par 68, 6,603 yards, heathland
Green fee £80 (twilight offers), winter £55
Aldeburgh is the best golf course in Suffolk – bar none. It is 'only' a par 68 but it is a really stern test, and anybody who is a member here will stroll round any other course they play comfortably below their handicap. It has a wonderful old clubhouse with wood panels and leather seats and an artisan membership who have their own separate facilities. Fourballs are discouraged in an effort to speed up play. The fairways are tight and well bunkered and most of the par fours require tee shots to be struck with pinpoint accuracy in order to provide the right lines to the greens. The four par threes are glorious and there isn't a single 'gimme' hole on this wonderful course
Southwold Golf Club
Par 70, 6,067 yards, heathland/links
Green fee £30 all year
You will struggle to find a better nine hole golf course anywhere. Southwold is a heathland course with a links feel. Unusually, every hole has two totally different sets of tees so when you play here there is no sense that you are playing the same nine holes twice. The fairways are narrow, the rough is thick and the gorse bushes look magnificent but must be avoided. The fifth (14th) is a magnificent par four that measures 470 yards – leave the driver in the bag because it is all too easy to run out of fairway, so a rescue club from the tee and the same again for the second to a green protected by bunkers. The 10th is a magnificent 148-yard par three – your tee-shot is semi-blind and has to be a hit over all sorts of rubbish to find the green.
Thorpeness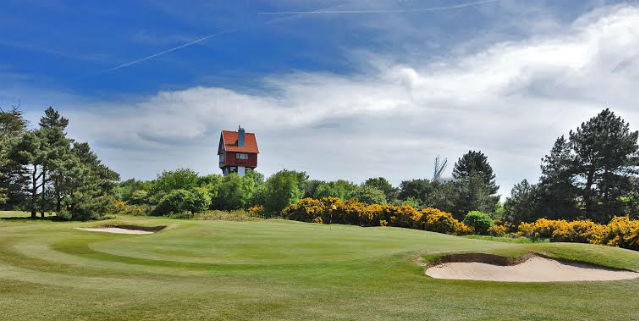 Par 70, 6,421 yards, heathland
Green fee £35, fourball £105, plus special winter membership deals
Designed by James Braid, Thorpeness is a heathland course that almost never closes, and never uses those awful winter greens. It is very close to the sea on the coast of Suffolk, an area of the country that sees little or no snow in the winter. Even better, Thorpeness, which is built on sandy soil, is located in its own microclimate and that means that not only do they rarely see snow, but the weather tends to be warmer than you would expect. A glorious folly known as The House in the Clouds sits beside the course, and there is also a windmill. Thorpeness actually offers special winter membership rates
Hintlesham
Par 72, 6,500 yards, parkland
Green fee £40 , winter £25, including coffee and bacon roll
Hintlesham was built in the grounds of Hintlesham Hall, a magnificent old manor house that is now one of the best hotels in the area. The course stands in 150 acres of woodland and opened in 1990. The fourth hole is one of the toughest par threes you will ever come across. It measures more than 200 yards and you have to hit over a ravine to a green guarded by a pond and trees left and right – go left and you will be reaching for another ball. Water also features on the 17th and 18th. The closing hole is a terrific par five featuring a green guarded by a large pond – it can be reached in two, but disaster awaits any second shot that is not struck perfectly..
Stoke by Nayland Golf Club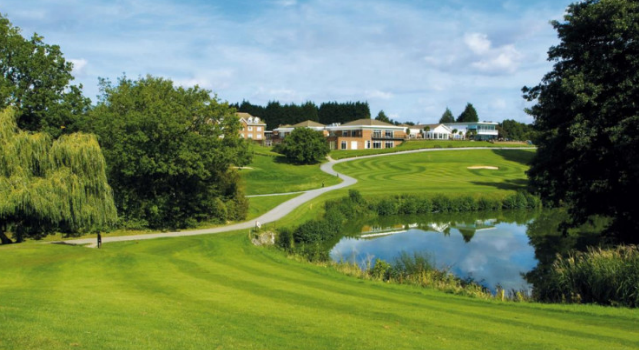 Gainsborough, par 71, 7,138 yards, parkland
Constable, par 72, 6,544 yards, parkland
Green fee, £53, including two-course meal, winter £30
Set in the heart of Constable country on the Suffolk-Essex border, Stoke by Nayland features two excellent courses, the Constable and the Gainsborough. When people think of Suffolk they imagine a county that is flat. Well we have news for you – it's anything but, as a trip to either of these courses will prove. They both feature a lot of hills and by the time you stagger off the 18th green you will know that you have played a proper course, no matter which one you opt for. Both courses feature tough closing holes –par threes over a huge lake, both featuring sloping, undulating greens. The signature hole on the Gainsborough course is the 10th, a magnificent 418-yard par four – from the back tee you have to drive over a lake to a narrow ribbon of fairway, with an approach played over more water to a green protected by bunkers and trees.
Woodbridge
Par 70, 6,299 yards, heathland
Green fee £55
Woodbridge is a delightful heathland course renowned for the outstanding quality of its greens. It was originally designed by Davie Grant in 1893 and was later updated by the legendary James Braid. The second hole is an excellent par four featuring a downhill drive, with trees on the right and thick rough on the left. The approach is played to a two-tier green protected by a pond. The third is a 529-yard par five which plays gently uphill. Like so many holes on the course, the drive is the key shot, ideally to the left side of the fairway. The ninth hole measures 198 yards with the tee some 50 yards above the green. The best hole on the course is the 17th, a par four measuring 400 yards. The fairway slopes viciously and tends to throw the ball left – which is exactly the opposite to the way you want to go. A long second shot is played to an elevated green that slopes from back to front.
Purdis Heath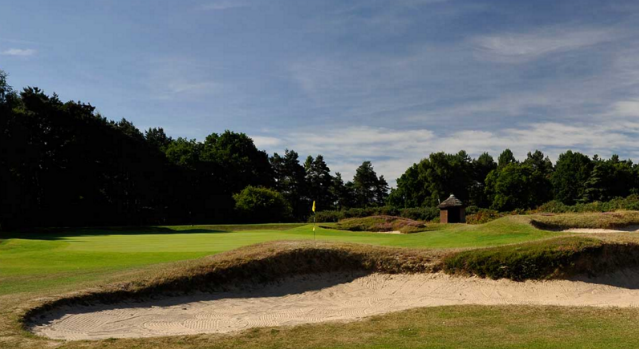 Par 71, 6,439 yards, heathland
Green fee £55
Purdis, or Ipswich Golf Club, is one of the best heathland courses in East Anglia with trouble lurking on every hole. The key to playing this course well is to drive the ball straight, and that may mean using a three wood or hybrid from many tees. The second hole is a magnificent par five. The fairway slopes from right to left – and there is some horrendous rough on the left side. But guess what? The best line for your second shot is from the left. The fairway features plenty of undulations. The green is sunken and requires an approach shot played with pinpoint accuracy. The fourth is a good par four with a fairway sloping from left to right. There is a lot of gorse to be avoided. Find the fairway and you play your approach at a huge marker post located at the back of a sunken green – it is vital to hit the right club. Too short and your ball will stick in the thick rough on the hill running towards the green; too long and you may never see it again.
Bury St Edmunds Golf Club
Par 72, 6,675 yards, parkland
Green fee £40
Bury St Edmunds is a beautifully maintained parkland course with lots of trees waiting to swallow up wayward drives. The greens are magnificent and the fairways are superb. The course has some fantastic par threes as well as some memorable par fives. The rough is not too punishing, but you will get the most enjoyment here if you keep the ball on the short and prepared. If you don't like slow play, you will really enjoy Bury, where all players are encouraged to keep going at a decent pace.
Stowmarket Golf Club
Par 69, 6,114 yards, parkland
Green fee £36
You won't find anybody with a bad word to say about Stowmarket, a fine parkland course featuring some very challenging holes and greens that are extremely difficult to read. It opens with a great par five, a gentle dogleg left, with water on the right and a fairway that is full of humps and hollows – the ground slopes from left to right but you need to keep both your drive and your approach to the left. The fourth hole is a par three that measures 250 yards – the good news is that it is a downhill hole, but the bad news is that the green slopes hugely from left to right. The 13th is a 545-yard par five that also plays downhill, but there are well-placed fairway bunkers and huge trees close to the green mean that you must be in the middle of the fairway for your approach.
Rushmere Heath Golf Club
Par 70, 6,265 yards, heathland
Green fee £35, winter £20
Rushmere is an excellent heathland course spoilt only by the fact that much of it is built on common land, which means golfers have to keep their eyes open for dog walkers and mothers pushing prams. The fifth hole is one of the best par fours in the county. It is a dogleg right, with trees left and right and a fairway that slopes from right to left. The 10th is a terrific par four – a semi-blind tee shot will travel long, long way if it catches the downslope, but you will then face a semi-blind approach shot to an elevated green. The 11th is a par five where the drive is struck over a valley – there is heather on both sides of the fairway and if you land the ball in this stuff you have to take your medicine. The 18th is another great par four. Once again, you drive over a valley to a narrow fairway, with gorse on the right and rough and trees on the left. The approach is played to an undulating green surrounded by trouble.
---
Related Content:
What do you think? leave your comments below (Comments)
---
Leave your comments below
comments powered by

Disqus
More Golf Course & Travel Features
Plan your next golf break with Golfbreaks.com