10 of the Best Golf Holiday Destinations in Spain and Portugal
By: Joe Hughes | Thu 30 Aug 2018 |
Comments
---
Spain and Portugal are without doubt two of the most brilliant countries in terms of golfing destinations in Europe. Before making a final decision on where your next golf holiday will take you, why not glance over our list of 10 of the best resorts across the two nations.
5 Golf Destinations to visit in Spain
PGA Catalunya
Arguably the best golfing resort comes in the form of PGA Catalunya. The resort is home to the European Tour's Spanish Open event and boasts some of the finest golf holes in Europe. Both of the resort's courses, the Stadium and the Tour are championship quality and meticulously maintained by the clubs green staff, assuring that you have the best opportunity to get the most from your game. The LaVida Hotel at the resort is a magnificent accommodation option and is the perfect choice when playing at the PGA Catalunya Resort.
La Cala
Costa Del Sol is one of the most in demand Spanish locations for tourists and golfers alike. La Cala, which is located right in the heart of the stunning area is a perfect location to experience some of the top courses in Spain. The three championship golf courses and wonderful accommodation make La Cala one of the most highly rated resorts in Spain and it must be seriously considered when deciding upon a destination.
Las Colinas
Las Colinas Resort is renowned for being luxurious as well as kinder to the environment than your average resort. Featuring villas and apartments of 2-4 bedrooms, the self-catering accommodation allows you to add a personal touch to your stay whilst still experiencing the luxury facilities of the resort. The golf course at Las Colinas is an outstanding 18-hole course which offers an enjoyable challenge for golfers of all skill levels. If you're looking for something a little different, particularly in terms of accommodation then you should definitely take a look at Las Colinas Resort.
La Manga
Arguably one of the most complete resorts in all of Spain is the superb La Manga Resort. Boasting 111 villas as well as a five-star hotel and three championship golf courses, La Manga really does have it all. The North, West and South courses all offer a slightly different challenge with the North course generally being viewed as the easiest of the bunch. Strategically placed hazards and plenty of trees make it important to think about the approach you're going to take. All courses however, provide golfers of any ability with a magnificent test of their game.
The Westin La Quinta
La Quinta Resort offers golf in a slightly different way to the previous Spanish resorts listed. The resort boasts a 27-hole setup with three brilliant 9-hole courses which provide a thrilling test of golf for all guests. You'll be able to relax after a long day on the course by taking advantage of the five-star resorts facilities and wonderful guest rooms. The spa, gym and outdoor swimming pool are great to help cool-down the golfing muscles and with each room featuring a private balcony you can kick back to some of Spain's most breath-taking views.
5 Golf Destinations to visit in Portugal
Quinta do Lago
Quinta do Lago is one of the hottest golfing destinations in Portugal and with a five-star hotel and 3 brilliant championship golf courses, it is not hard to see why. The South course is rated inside the top 100 golf courses by Golfshake users and the North and Laranjal courses aren't far behind in terms of quality. All courses are accessible to golfers of any ability and feature some of the best holes in European golf coupled with stunning views. The five-star hotel at Quinta do Lago makes for a complete trip, providing you with everything that you would expect from such a highly rated resort. To top it off, the resort has its own private beach where you can soak up the southern Portugal sunshine.
Quinta da Marinha
Yet another five-star experience can be found at the fabulous Quinta da Marinha Resort. The fantastic hotel was revamped as recently as 2014 and all rooms now feature a private balcony, perfect for taking in the scenery surrounding you. Furthermore, the spa and indoor and outdoor pools offer the perfect way to wind down before heading for a some food or drinks in any of the resorts brilliant restaurants and bars. As for the golf, the Quinta de Marinha Course, designed by renowned architect Robert Trent Jones Snr. is right on your doorstep and is meticulously maintained to ensure you get the best from your rounds at the resort. Located close to Lisbon airport, the resort is easily accessible and should be seriously considered.
Penha Longa
Penha Longa is one of the finest resorts in Portugal and really defines what a luxury, five-star resort should be like. There is a five-star hotel on site which offers rooms and suites of the highest quality. Packed full of excellent amenities and facilities, the Penha Longa hotel is a brilliant option. If it's a villa that you're after then this resort still has you covered. Situated in a prime location are a number of top of the range villas, ideal for those who prefer a more intimate stay. Aside from the wonderful accommodation there is the small matter of the 27-holes of fantastic European golf. Penha Longa Championship Golf Course is just a stones' throw away from the accommodation and has previously been ranked as one of the top 30 European golf courses. The course caters for all types and levels of golfers and the resort as whole is definitely one of the best in Portugal, if not Europe.
The Lake Spa Resort - Villamoura
This resort is solely focused on providing you with the best possible accommodation and service for your golf trip. The Lake Spa Resort does this whilst putting you within minutes of a whole host of championship golf courses. The five-star hotel offers a comfortable and luxurious base for you to return to after hitting some balls. With many bars, restaurants and modern facilities including a spa you will be well catered for however you choose to spend your free time. Golf courses in the area include the likes of the afore mentioned Quinta do Lago North and South courses as well as tracks such as Pinhal and Laguna which are also top notch.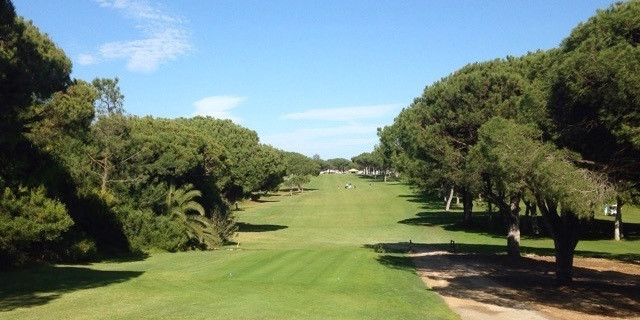 Vidago Palace Resort
The Vidago Palace Resort has plenty of history behind it and sits on the grounds of the ancient Vidago Palace. The resort has found the perfect mix of traditional and modern looks, creating one of the most stunning complexes in the Porto area and Portugal itself, in fact. The five-star hotel offers a range of room types, all of which are of the highest quality. Coupled with the brilliant hotel is the relatively new and stunning Vidago Palace Golf Club. With a wealth of practice facilities available, you can spend time perfecting your game before heading out on to one of Portugal's best courses. If you're looking for a rest with plenty of character then this may just be the place for you.
Hopefully this list can help you get a little more from your next golf holiday and has highlighted just how many brilliant destinations Spain and Portugal have to offer. These are by no means the only top resorts in the two countries, websites such as golfbreaks.com offer many, many more so be sure to do some research there before you book.
Have you had a great experience in either Spain or Portugal and believe that the resort you visited could make this list? If so, let us know in the comments!

---
Related Content: travel Spain Portugal
What do you think? leave your comments below (Comments)
---
Leave your comments below
comments powered by

Disqus
More Golf Course & Travel Features
Plan your next golf break with Golfbreaks.com