10 of the Best Flora and Fauna Courses in the UK
By: Golfshake Editor | Fri 21 Apr 2017 |
Comments
---
IT WAS supposedly Mark Twain who once described golf as "a good walk spoilt". Everybody is entitled to their own opinion, of course, but a good walk spoilt? Never. I prefer Walter Hagen's maxim that everybody should take time to smell the flowers.
It has to be said that Twain never had the advantage of being able to watch The Masters, which is not only a classic sporting event but a visual feast to everybody who has ever attended Augusta National or watched the drama unfold on TV. Is it the lightning fast greens? Or the impossibly white sand in the bunkers? Maybe it is bright blue water that fills the ponds, streams and brooks that run through and around the property. Or it just might be the azaleas that adorn this most spectacularly beautiful golf course.
It is the azaleas that always feature in press reports as the key backdrop to the action. And it is the azalaes that give Augusta its colour. As the thoughts of horticulturists around Britain turn to the Chelsea Flower Show, we at Golfshake thought it might be fun to highlight a few British golf clubs that are as famous for their flora and fauna as they are for the quality of their holes.
Some of them have been designated as areas of Special Scientific Interest, some have attracted the attention of English Nature while others are just plain beautiful. Here, we pick out 10 of the best.
Saunton Golf Club
Saunton Golf Course is situated on Braunton Burrows, a sand dune system which is the largest in England and vitally important for its plants and animals. The course and its dunes have been designated as an Area of Outstanding Natural Beauty, a Site of Special Scientific Interest (SSSI), a Special Area of Conservation (SAC) and a Unesco Biosphere Reserve. Phew! All of this means that the club has had to draw up a Course Management Plan with English Nature, which dictates exactly how they manage the land. The course and its immediate surrounds feature a surfeit of blackthorn, willow, privet and bramble which may look spectacular but has to be kept under control. The dunes attract a lot of wildlife but they come into their own during the summer when the wild flowers are in full bloom. More than 400 different species grow on the dunes, including orchids, evening primrose and poppies. If you decide to play here, take your camera.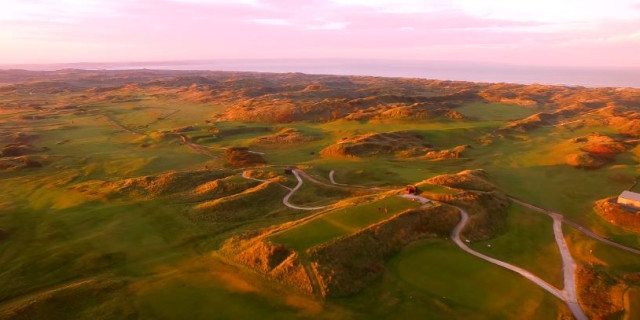 Marlborough Golf Club
The most striking feature at Marlborough is the huge variety of trees. These include oak, ash, beech, horse chestnut, silver birch, cherry and field maple. The chalky soil on the lower slopes of the course also supports wayfaring tree, dogwood and spindle. Then there are sycamores and Norway maples to the left of the seventh fairway and field maples to the right. These produce a wonderful tapestry of colour in the autumn.
Tidworth Garrison Golf Club
Located on the edge of Salisbury Plain, Tidworth features rare and beautiful wild flowers as well as deer, buzzards, owls, stoats and foxes – just to mention a few of the birds and animals that can be seen around the course. It is built on a chalk grassland monitored by the Wiltshire Wildlife Trust Sites Project, and is one of the top most bio-diverse courses in Britain. It retains large areas of high quality Lowland Calcareous Grassland, 90% of which has been lost in the UK since 1945. Several species of plants and animals at Tidworth Garrison Golf Club are regarded as rare or threatened in Wiltshire, nationally or even globally. The White Helleborine, a beautiful orchid, hthrives in the shade of the beech trees, as well as in the rough. More than 20 species of high-quality calcareous grassland were recorded on the course during a study in 2011. The natural habitat at Tidworth is listed in the UK Biodiversity Action Plan and protected under an EU Habitats Directive. In other words, this golf course is an absolute delight.
Hayling Golf Club
Hayling is arguably the most naturally breathtaking golf course in Britain. From April onwards a host of wild and indigenous flowers become more evident, adding huge swathes of colour to the course. Thrift creates carpets of pink to parts of the course and its immediate surroundings. But it is in May that the natural beauty of this course really comes into its own. It begins with the green winged orchid and as May turns to June the rare southern marsh orchid come sinto flower. In July the course is further enhanced by still more wild flowers, including the yellow horned poppy. Summer flowers also attract butterflies and honey bees
Pleasington Golf Club
You may find this hard to believe, but heather has become an endangered shrub. But it exists in abundance at Pleasington. You really don't want to be hitting your ball into the heather because even if you are lucky enough to find it, you may never find your way back to the fairway. Everybody knows that the rain forests of South America are in peril but did you know that there is less heather on the planet than there is rain forest. Take the time to admire its delicate purple hue as you walk past or through i
Charnwood Forest Golf Club
This James Braid designed course in Leicestershire makes full use of the natural environment as it meanders between stunning ancient rock formations, beautiful plant life and dry stone walls. It was first opened for play in 1890 and has seen many changes. The course is primarily heathland and has been designated as a Site of Special Scientific Interest (SSSI) by Natural England because of its variety of habitat for flora and fauna. It is built amongst the Hanging Stone Rocks, which date back 620 million years. The rocks are a magnificent feature of the area and are home to a wide variety of plants, wild flowers, birds and animals, all of which are part of the experience of playing the course.
Manchester Golf Club
If you go down to the woods today, you're sure of a big surprise! To be more precise, when you play Manchester Golf Club be certain to take some time to stop when you get to the 13th hole and enjoy the beautiful bluebell woods. The course attracts a huge variety of wildlife and is a delight for anybody who enjoys bird watching, so much so that you are just as likely to come across people armed with cameras as you are fellow golfers. Robins, black-headed gulls, curlews, pheasants, oyster catchers, jay and finches are regular visitors. There are also plenty of deer and foxes and the club has installed several bee hives.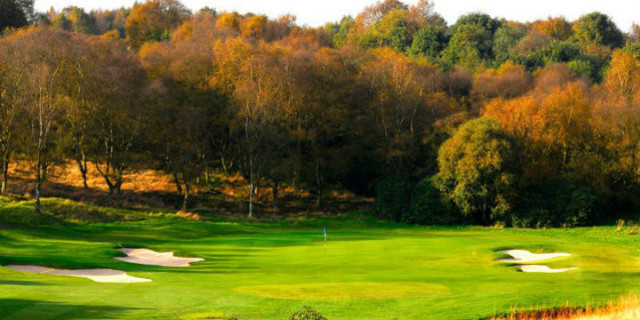 Coxmoor Golf Club
Coxmoor is a veritable haven for flowering plants. Not only do these look spectacular, but they create a wonderful aroma. Expect to see teasel, field scabious, red campion, rose bay, foxglove, heather, scarlet pimpernel, dead nettle, thistle, tansey, coltsfoot, cats ear, dandelion, ragwort, buttercup, daisy, yarrow, ox eye daisy, early purple orchid, common quaking grass, harebell and snowdrops. The course also boasts common rush, bracken, Royal fern, shaggy inkcap, blue stalk and fly agaric which abounds in the autumn. On top of all that, there is larch, alder, ilex, sorbus, silver leaf poplar, willow, rhododendron, sycamore, rowan, three oaks, dog rose, elderberry, hawthorn, gorse and broom.
Fortrose and Rosemarkie Golf Club
Located on the Chanonry Peninsula in the 'Black Isle' our Scottish links golf course enjoys breathtaking views over the Moray Firth, close to Inverness. A finel links course, it first opened in 1793 and was later re-designed by James Braid. There is evidence of golf being played here as long ago as 1702. called Fortrose dating back to 1702, which means there has been plenty of time for the flora and fauna to develop. It has been described as one of the most beautiful courses in the Highlands. Check out the flowers on the dunes and the heather that thrives in this climate.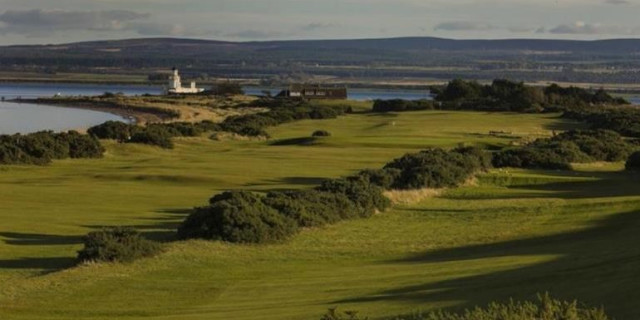 Eltham Warren Golf Club
The greenkeeping team at this James Braid course describe their work as like looking after a large back garden - and that philosophy shows in everything connected to the course, which features ponds, ditches, bunkers and many ancient, mature trees. The club won an English Nature & STRI Environmental Award for their work in maintaining the flora and fauna on and around the course. The Rhododendron bushes scattered around this glorious nine-hole layout are stunning when in full bloom
---
Related Content: Ten of the Best Courses
What do you think? leave your comments below (Comments)
---
Leave your comments below
comments powered by

Disqus
More Golf Course & Travel Features
Plan your next golf break with Golfbreaks.com