Golf in Lisbon - Everything you need to know
By: Andrew Picken | Wed 05 Oct 2016 |
Comments
---
We recently sent Golfshake ambassaor Andrew Picken to Lisbon on a golf trip to stay and play at 3 courses including Ribagolf, Aroeira 1 and Quinta de Peru Golf & Country Club. Find out how he got on and insights for planning your golf trip to Lisbon.
---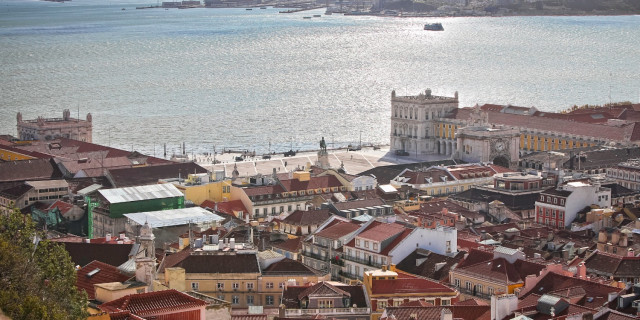 When you think of golf in Portugal it is hardly surprising that it is the Algarve that comes immediately to mind, but it has more to offer, and you should consider Lisbon as an alternative venue.
The capital city has so much going for it. For starters, the airport is located close to the city centre, which means hotels and villas to suit all budgets are just a short trip away by taxi, bus or tram. And it is just a two-hour flight from the UK.
Portugal has an excellent climate all year round, although you should be aware that at the height of the summer it can be sweltering hot. There are several excellent golf courses, all within 40 minutes of the city centre. None of them are serviced by public transport, however, so you will need to hire a car or take a taxi.
Lisbon has a good, well-planned road network and everything is within easy reach, either on foot or by using the tram network, which is cheap, regular and reliable.
Lisbon Region
The Costa Azul (Blue Coast) is accessed from Lisbon by two road bridges across the River Tagus. Here you will find an easy pace of life and a beautiful natural environment. The 25th April bridge links western Lisbon to the Costa Azul, overlooked by one of Lisbon's most famous landmarks – Cristo Rei – a 260ft statue of Christ. The Vasco da Gama bridge is Europe's longest at 10.7 miles.
The coastal towns of Caparica and Sesimbra have several good hotels, along with restaurants and bars. Both towns overlook the Atlantic Ocean and are ideal places to relax. The port city of Setúbal also offers a wide range of accommodation and shopping. To the east, Alcochete sits on the south bank of the River Tagus, about 20 minutes from Lisbon, and is a perfect base to explore the courses at Ribagolfe and Santo Estêvão. There are many excellent hotels and a fine selection of villas for rent for larger parties and groups.
Nature, Beaches, Cuisine and Culture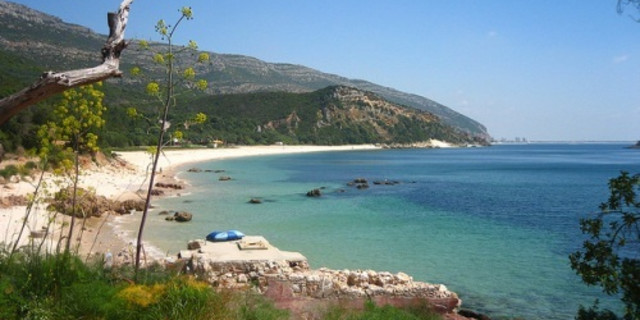 In addition to its golf courses, the Costa Azul is famous for its beaches, bars and restaurants, particularly on the Costa da Caparica (west) and at Sesimbra (south).
The Arrábida Natural Park on the northern shore of the Sado River estuary is dominated by the Serra da Arrábida mountain and is home to rare flora and fauna.
Lovers of good food and wine will not be disappointed. Unsurprisingly, there is an abundance of locally-caught, freshly-prepared seafood on offer, together with beef from the many cattle farms in the east of the region. There is also plenty of locally-grown fresh fruit and. Wine is produced in the region and there is the opportunity to visit two wineries, the Jose Maria da Fonseca and Bacalhôa, both located in the picturesque town of Azeitão.
Lisbon City
Lisbon lies on the north bank of the River Tagus estuary and has a population of 600,000. It is a city of contrasts, with a cosmopolitan feel, and back streets full of cafes, boutiques and restaurants serving Portuguese and Brazilian cuisine.
The Bairro Alto features restaurants nestling alongside bookshops; tea rooms and fashion shops.
By night, Lisbon really comes to life, with some of the best clubs in Europe encouraging people to party until dawn..
Lisbon Climate
Lisbon and the Costa Azul region provide an ideal climate for playing golf year round. From November to February the average temperature is 14-17C and it is not unusual for it to hit 20C, although there is always a chance of rain at this time of year.
March and April is ideal for golf, with the average temperature around 18C. May and June are perfect, with warmer temperatures averaging 22-25C and lots of sunshine.
Many golfers may find that July and August are too hot, with early morning or late afternoon being the ideal time to play. September and October may be worth considering, with the courses still in perfect condition and the temperatures between 19-23C.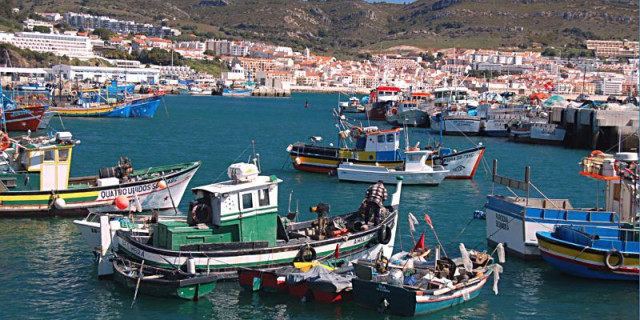 Flight Access to Lisbon
Lisbon is well-served with flights from across Europe – and no fewer than 10 UK and Ireland airports offering direct services. The flight time from the UK and Ireland is little more than two hours.
Direct flights are available with the following airlines:
Monarch: London Gatwick, Manchester, Birmingham
TAP Air Portugal: London Heathrow, London Gatwick and Manchester
British Airways: London Heathrow
EasyJet: London Gatwick, Luton, Bristol, Liverpool, Edinburgh
Aer Lingus: Dublin, Cork
Ryanair: London Stansted, Manchester, Dublin
Monarch, the scheduled leisure airline, operates year round flights to Lisbon from Birmingham, London Gatwick and Manchester airports with fares, including taxes, from £44 one way (£79 return). For further information or to book Monarch flights, Monarch Holidays or Monarch Hotels, please visit www.monarch.co.uk
Golf Course in and around Lisbon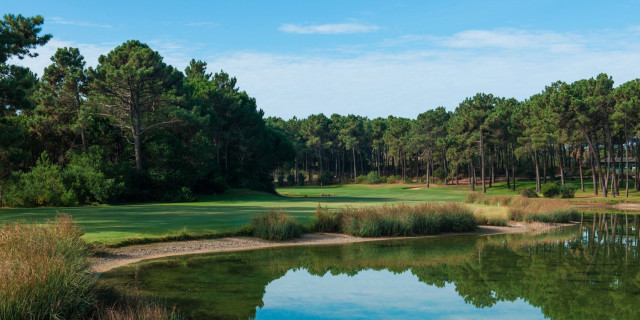 Quinta Do Peru Golf & Country Club
Located 30 minutes' from Lisbon and framed by the Arrábida Natural Park, Quinta do Peru was designed by Rocky Roquemore and is one of Portugal's finest courses. Opened in 1994, the parkland course meanders through pine trees and provides a 6,640-yard test, with astute bunkering and fast greens. Practice facilities are first. Facilities include a 300 metre practice range, short game target greens and putting areas.
A large clubhouse features a pro shop, restaurant, bar and a sun terrace to make full advantage of the glorious weather and Quinta do Peru's tranquil surroundings.
Read the full Golfshake feature review for Quinta Do Peru Golf & Country Club >>
Aroeira I
Aroeira I is about 18 miles from Lisbon, close to the coastal town of Caparica. It features two golf courses and a host of impressive mansions.
Designed by Frank Pennink and opened in 1973, Aroeira I has been likened to Wentworth and it is easy to see why. Played through avenues of tall pine trees and alive with wildlife and nature, the course is 6,650 yards long and demands accuracy off the tee.
It was the venue for the Portuguese Open in 1996 and 1997 and has played host to several Ladies' European Tour events. Significant investment has been made since 2014 to upgrade the course conditioning and enhance the guest experience.
Read the full Golfshake feature review for Aroeira I >>
Aroeira II
Opened in 2000 and designed by the world-renowned architect Donald Steel and built to exacting European Tour standards, Aroeira II is a magnificent course. It measures more than 7,000 yards and features water on no fewer than nine holes. The greens are fast, large and undulating.
It has hosted the Ladies European Tour Qualifying School and several Ladies' Portuguese Opens.
Riabgolfe I
Ribagolfe I provides a superb test of golf in a unique and natural setting 40 minutes from Lisbon. Each hole is sheltered from the others by trees. The setting is spectacular, with not a house to be seen anywhere.
It was designed by Peter Townsend and European Golf Design, who were given a beautiful piece of virgin cork oak forest and created a layout fit to host any European Tour even. It measures 7,370 yards, with narrow fairways and large, fast greens.
Ribagolfe has hosted the first stage of the European Tour Qualifying School since 2009.
Read the full Golfshake feature review for Ribagolfe I >>
Ribagolfe II
Ribagolfe II measures more than 6,800 yards and was designed by former Ryder Cup player Michael King in conjunction with European Tour Design.
Blessed with the same indigenous cork oak canvass, King crafted a more forgiving but equally appealing golf course with wider fairways and landing areas. The huge, moderately contoured greens provide a stiff test if you are going to score well here.
Santo Estêvão
Located near Ribagolfe and just a 40-minute drive from Lisbon, Santo Estêvão is the newest course in the Costa Azul region.
Designed by Donald Steel and opened in 2004, Santo Estêvão is built on rolling landscape, occupies 72 hectares and measures more than 7,000 yards.
With well-designed, strategically-placed bunkers and greens, the 18-hole course offers a challenge for golfers of all abilities and the gently undulating land makes for an easy, pleasant walk.
Stand-out holes include the third, with a drive over the first of the course's two lakes; the seventh, where players must negotiate the second lake with their approach shots; and the 11th with an outstanding view of the resort's large new lake.
Oeiras
Situated in Oeiras and surrounded by the most important business centres of Portugal, this 3,515-yard 9-hole course offers players an enjoyable and challenging golf experience in a quiet and secluded setting just 10 minutes away from Lisbon.
Orizonte - Lisbon Golf Passport
The Orizonte Lisbon Golf Passport, available from €150pp, offers the best value for money for anybody wanting to play golf in this area, and includes play at weekends.
Three-round Passport
Includes playing three rounds at three courses:
€150 per person (June-Sept 15 2016; Nov 16-Dec 31, 2016; Jan 1-Feb 28, 2017)
€180 per person (Sept 16-Nov 15, 2016; March 1-May 31, 2017)
Five-round Passport
Five rounds on a choice of seven courses and you may choose to play only one course twice:
€240 per person (June-Sept 15 2016; Nov 16-Dec 31, 2016; Jan 1-Feb 28, 2017)
€290 per person (Sept 16-Nov 15, 2016; March 1-May 31, 2017)
For more information on the golf course in Lisbon and Orizonte visit www.orizontegolf.com for more details.
---
Related Features
Golf in Lisbon - The best of both worlds
Destination: Golf in and around Lisbon
---
Related Content:
What do you think? leave your comments below (Comments)
---
Leave your comments below
comments powered by

Disqus
More Golf Course & Travel Features
Plan your next golf break with Golfbreaks.com