Quinta do Peru Golf & Country Club Feature Review
By: Andrew Picken | Wed 05 Oct 2016 |
Comments
---
Golfshake ambassador Andrew Picken recently headed to Portugal for a golf trip to Lisbon and played Quinta do Peru Golf & Country Club. Find out how he got on and what he thought.
---
Situated 30 minutes drive from Lisbon city Quinta do Peru Golf and Country Club is a beautiful parkland par 72 course measuring 6,640 yards located in the Azeitao region.
The Arrobida Hills provide a glorious backdrop and the course sits in 300 acres of this land and was designed by American architect Rocky Roquemore. Many people regard it as one of the best in not only Portugal but in continental Europe.
The course was opened in 1994 and the Parkland layout meanders through verdant pines and features clever bunkering and quick, true greens providing a test for all golfing standards. It was no surprise to discover that many international golfing teams have used the facilities for training. It has also been featured in high quality international competitions.
Both front and back nines start with demanding par 5's and are equally testing for golfers at any level. Huge bunkers and large expanses of water are in play on most holes.
The practice facilities are first rate, featuring a double ended 300-yard driving range, short game area, target greens and putting areas.
There are a number of excellent golf holes on this course. It simply oozes class and quality from the moment you drive into the car park and in my mind the 8th and 16th are the signature holes - both are memorable played across deeply inviting water.
Course highlights (from white tees)
1st, 563 yards, par five
This is a testing and challenging golf hole requiring full focus from the outset. Out of bounds markers loom large when taking in the tee shot. They are evident from both sides of the fairway along the full length of the hole.
This is not a gentle opening to a round by any stretch of the imagination. Magnificent trees form a boundary to the fairway. These tree's guide the eyes towards the tee shot landing area making it seem less than it actually is.
This is due to the very clever design of the trees and foliage pruning giving reduced views and perspectives from the tee. It appears that some visual deceit has been added by the designer from the tee box position which makes this tee shot even more challenging and imposing.
This is a brilliantly conceived and constructed golf hole. First tee nerves? Without a shadow of a doubt! Anything left is in the driving range; anything right is off the course.
Well-placed bunkers feature strategically at all points that protect the adventurous second shot into the green. Other bunkers equally provide protection for any lay up shots attacking the green. This is a really interesting and challenging opening hole.
2nd, 372 yards, par four
This is a tightly lined fairway. Once again, out of bounds run the full length of the hole on both sides. One saving grace is that any hooked or sliced ball has a good chance of hitting the trees and landing back in the middle of the fairway.
3rd, 195 yards, par three
This is a real beauty of a golf hole. Out of bounds full-length right with a green well guarded by bunkers front left and right. Fully foliaged trees reduce the green entry point left so ensure you find the right side but avoid the out of bounds. This is a visually stunning golf hole.
The green is fast, true and immaculately manicured. The sand in the bunkers is of an excellent quality leaving no excuses for poorly executed recovery shots. Don't be surprised to try them as they are very well placed and inviting.
5th, 538 yards, par five
This is another tight par-5 requiring accurate placement off the tee. A right dog- leg follows the course boundary. Left off the tee will find some deep bunkers. There is an obvious landing area for the tee shot to gain best advantage for the next shot's . The bunkers left are visually intimidating and given the Out of Bounds right must gather many less than perfect shots.
Further bunkering protects both green and lay up areas. There is also a ditch that runs parallel to the out of bounds right to add another interesting feature to this delicious golf hole.
Having played it once I wanted to go back and immediately play it again. This is a cracking golf hole using all the natural benefits and topography that this ground has to offer. This was my favourite hole on the course. It is strikingly well designed and presented.
7th, 366 yards, par four
This is a right dogleg with only one bunker left visible off the tee. The fairway offers an invitation to take on the corner to gain maximum advantage. Not as long as other holes but still a strategic tour de force.
8th, 217 yards, par three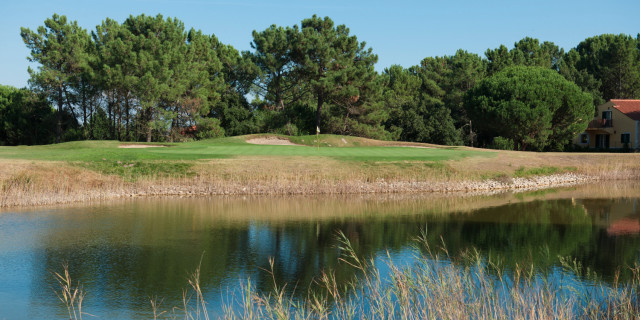 This is an absolutely beautiful golf hole from all the tee boxes. You are faced with a tiny postage stamp green protected behind and left by bunkers, in front by a lake. There are no obvious bailout areas.
What you see is what you get. Get your distance, trust your swing and club selection and hit it.
The placement of the hole from the tee is also very clever with the tunnel of trees providing an even more intimidating tee shot.
A par here is a real treat. Mark it down and walk off.
10th, 526 yards, par five
Out of bounds form a static patrol left and right.. The tree formations resemble lines of soldiers on parade. They really are a sight to behold. Columns of majestic trees frame the fairways and protect some of the incredible houses that are part of the overall complex.
The green is surrounded by bunkers front left and right. There are also some traps set to catch you if you air mail the green in your eagerness to avoid the more obvious hazards.
11th, 171 yards, par three
Two bunkers protect the green on what is meant to be the easiest hole on the course. But don't go left, where lots of trouble lies in wait.
12th, 348 yards, par four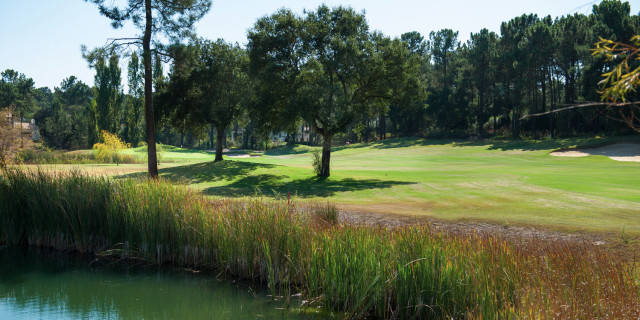 As you stand on the tee, out of bounds lurks on the left behind an avenue of trees. A lake runs two-thirds of the hole with a fairway bunker on the right side. A long, narrow green is protected left by the lake and bunkers. Accuracy is the key for the approach with a long thin green protected left by the lake and right by bunkers.
Visually this is a superb golf hole that will require accurate shot placement.
13th, 491 yards, par five
Out of bounds right, bunkers left and a ditch bisects the hole. Your best tactic is to hit a hybrid or fairway wood from the tee, which takes the ditch out of play. Then hit a lay-up before going for the small, well-bunkered green with a short iron.
16th, 194 yards, par three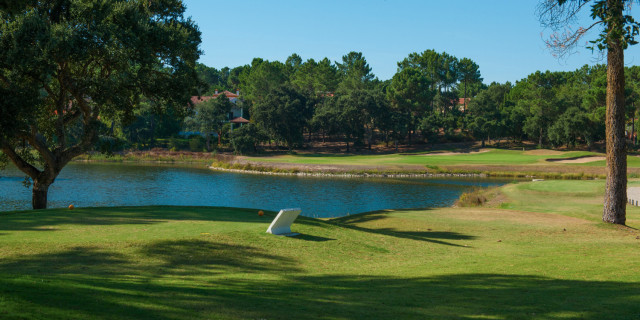 The finishing holes on this course are superb. The 16th features another small green protected by water in front, bunkers right and left. This requires complete commitment to the tee shot particularly taking into account the winds that can swirl in the area of this great beautiful golf hole. It is a golf hole that I will remember for a long time.
18th, 423 yards, par four
Like so many other holes on the course, the 18th has out of bounds on both sides of the fairway. There is a small bunker on the right waiting to catch your drive before a second shot to an elevated green surrounded by sand.
Post Round Thoughts
There is a large barbecue area behind the 18th green where hog roasts are frequently cooked – the aroma is amazing. There is also a sun terrace, where you can enjoy a cold drink and the smell from the barbecue before getting stuck into a culinary treat that tastes as good as it smells which provide the perfect end to a perfect round of golf on a beautiful course.
Memories of my visit will remain with me for a long time. The smell of pork cooking now brings to mind this memorable round of golf in Lisbon. The food and welcome in this club were absolutely superb.
This was a magnificent golfing experience that I thoroughly recommend.
---
Monarch, the scheduled leisure airline, operates year round flights to Lisbon from Birmingham, London Gatwick and Manchester airports with fares, including taxes, from £44 one way (£79 return). For further information or to book Monarch flights, Monarch Holidays or Monarch Hotels, please visit www.monarch.co.uk
---
Related Content:
What do you think? leave your comments below (Comments)
---
Leave your comments below
comments powered by

Disqus
More Golf Course & Travel Features
Plan your next golf break with Golfbreaks.com