Ribagolfe 1 Feature Review
By: Andrew Picken | Wed 05 Oct 2016 |
Comments
---
Golfshake ambassador Andrew Picken recently headed to Portugal for a golf trip to Lisbon and played the Ribagolfe 1. Find out how he got on and what he thought.
---
Ribagolfe features two courses and is one of the finest complexes in Europe. Designed by Michael King and Pete Townsend from European Golf Design, an associate company of the PGA European Tour, it is a real gem.
Ribagolfe I is a terrific test, measuring 6,707 metres (7,334 yards) from the back tees, and is extremely challenging. From the white tees the course measures 5,903 metres (6,456 yards). In total there are five tee options, so the length of the course can be reduced to 5,200 metres, ensuring that all standards of golfer are able to enjoy this excellent course.
Built in 2004, Ribagolfe I is set out across the rolling landscape of a cork tree plantation. This course features tight fairways, numerous bunkers, sculptured water hazards and quick, undulating greens.
There is not a house in sight and each hole is sheltered from the next – this is a very different playing experience from many of the other courses in Portugal that are surrounded by villas. Although only 40 minutes from Lisbon city centre, you get a sense that Ribogolfe has been built in splendid isolation.
The cork trees radiate the heat of the sun and the course features cold water vapour arches on many of the tees. Each arch is controlled by a tap on a timer switch and creates a fine mist of cold water – walk through it to cool you down and by the time you reach the next green you will be completely dry. In the height of summer you will welcome the wet towels on offer from the drinks cart.
The course is lush, green and visually stunning. The bunkers are penal but fair and are filled with excellent quality sand. The greens are flat and true with an even pace across the course throughout the year. One of the advertising strap lines used by the club is CLOSE TO PERFECTION AND SO CLOSE TO LISBON. I can see exactly where the inspiration for this came from.
Apart from the course, the site features an extensive and well equipped practice area, including chipping and putting greens and practice bunkers. The clubhouse and main golfing facilities are away from the course but this does not diminish from the warm welcome. The staff were attentive and helpful.
The food was exemplary with local seafood and meats featuring highly on the menu. The grilled sardines were magnificent and some of the largest it has ever been my pleasure to encounter. They were grilled to perfection, supported by a wonderful marinade. Try them if you visit this place. I guarantee you will not be disappointed.
The course comprises four par threes and par fives with 10 par fours. The key to scoring well is to find the fairways from the tee. There are some fantastic holes one of my personal favourites being the long 12th. You need to avoid the bunker off the tee and then get into the right position to hit your 3rd shot into the green, which is protected not only by water but also a large bunker. This course is a great test and superb value for money.
Ribagolfe 1 Course Highlights
We played using a buggy for convenience given our need and this was a sensible option, on the day of my visit the sky was crystal blue and clear with no clouds to be seen, ambient temperature was around 35°C. We saw local golfers walking at different points around the course and it is flat enough to be a comfortable stroll.
Pace of play was wonderful with few others playing the course. I couldn't help describing the round as a millionaires' adventure such was its quality and yet no pressure from other golfers.
1st, par 4, 394 metres (430 yards off the white tees)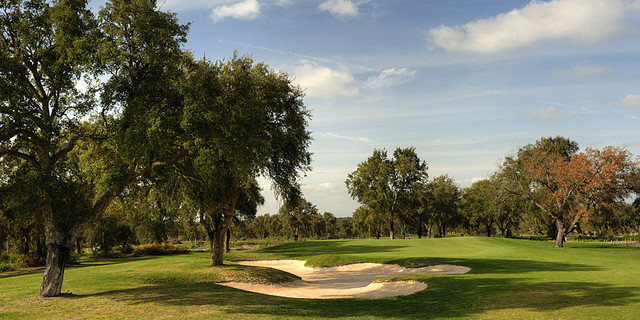 This is an interesting opening hole. The golfer is faced with a sharp dog leg right off the tee. Bunkers protect the hinge of the dog leg to discourage attempts to fly the corner too ambitiously. These are also supported by the well established trees that are on escort duty throughout this course. They give a wonderful definition to the course and each hole.
2nd, par 5, 480 metres (524 yards)
This is a tight, contoured golf hole with a narrow landing area for your drive through an avenue of trees.
Most trees are stripped of bark at the lower reaches, the canopy of foliage shadowing and cooling the ground underneath. This process is repeated every few years to harvest the cork for use in the local wine trade but also provides husbandry for the best maintenance of the trees themselves. You will need to play quite a few low shots on this course to avoid the many overhanging branches.
4th, par 4, 379 metres (414 yards)
This is another memorable golf hole. It features a slight dogleg right off the tee, with bunkering protecting the left side of the hinge. They lay in wait to catch an over enthusiastic tee shot. This is a hole requiring accurate placement and strategic thinking. The green is heart shaped, with the entry point pinched in tight at the bottom. Bunkers protect any short shots left or right and an elevated green adding further to the potential hazards.
7th, par 4, 410 metres (448 yards)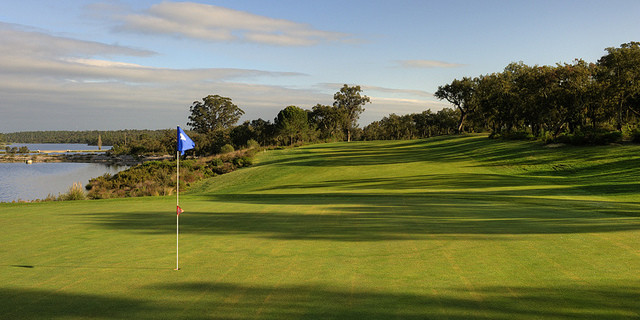 Wow! This is the second most difficult hole on the course and is a real challenge. There is a lake down the right of the hole. Once again, the landing area is narrow, so you need to be accurate.
12th, par 5, 470 metres (513 yards)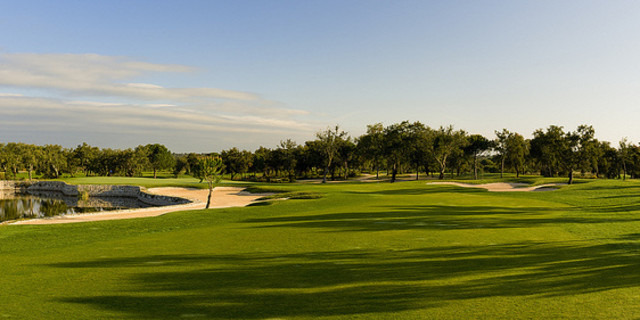 Accurate driving from the tee is paramount to give any chance of a par. Bunkers right around the 250 yard landing zone provide and interesting distraction. Laying up short renders a green in two almost impossible.
The green is protected by a lake left front and centre and then bunkers are set to catch out any shot right.
13th, par 4, 419 metres (458 yards)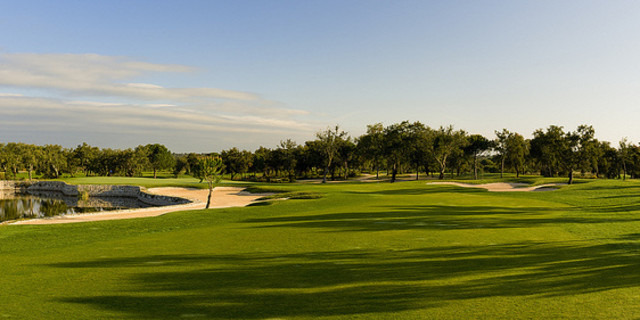 Right of the entire hole was out of play given the density of the trees and foliage. This hole loops back around the course boundary. The fairway has a right and left swerve with bunkers situated around the landing area. The pinched waist nature of this fairway is a real visual challenge and intimidates most golfers. Fly the trouble with a 290 yard carry if you dare!
This is a really clever design feature as each bunker has additional protection with swales, humps and hollows that are tightly mown increasing the effective footprint of the hazard substantially.
This hole makes beautiful use of the local topography and is a real gem.
14th, par 4 302 metres (330 yards)
This is a visually intimidating golf hole from the tee as water comes into play down the entire left of the hole with a series of interlink streams and lakes.
Bailout right off the tee and series of bunkers and swales make a second shot from their vicinity even more of a challenge. There are some interesting elevation changes on the hole as well.lt is a real beauty. Shorter than many holes on the course it is nevertheless a real treat to play.
15th, par 3, 150 metres (164 yards)
This again is a beautiful golf hole. There is a small green, guarded front and right by bunkers and a lake that stretches from the tee box to the green edge. This requires a confident, committed shot to achieve success. Pay attention to the wind direction at this point as it is a factor due to the height of the trees around the green.
Post Round Thoughts
This is probably one of the most difficult short course features I have written given the quality - I could easily have written about every single hole on the course.
This golf course is like playing in your own little golfing oasis - splendid golfing isolation as you are not overlooked by any developments at any time whilst on this course. Each hole is played as a completely separate entity.
This was a memorable golfing experience that I will definitely repeat. This is a wonderful course that is fully established and coming to its prime.
I also think that it represents excellent value for money given the quality of the facilities being offered.
If you are in the Lisbon area this course should be a definite addition to your bucket list.
---
Monarch, the scheduled leisure airline, operates year round flights to Lisbon from Birmingham, London Gatwick and Manchester airports with fares, including taxes, from £44 one way (£79 return). For further information or to book Monarch flights, Monarch Holidays or Monarch Hotels, please visit www.monarch.co.uk
---
Related Content:
What do you think? leave your comments below (Comments)
---
Leave your comments below
comments powered by

Disqus
More Golf Course & Travel Features
Plan your next golf break with Golfbreaks.com
Travel Deals Newsletter
Save up to 50% on golf breaks!
Join Today »