Destination: Golf in and around Lisbon
By: Golf Shake | Fri 21 Jun 2013 |
Comments
---

Whilst golf isn't one of the most popular pastimes for the average Portuguese native, it's a country that's long since been viewed as the pinnacle of the European golf travel scene. Whether you're English, German, Dutch or Scandinavian, Spain's westerly neighbour has always exuded huge appeal, and its name has been seemingly forever etched atop the list of Europe's most viable golf tourism destinations.
The Algarve region in the south generally takes the larger percentage of such visitors, but Lisbon – Portugal's capital and one of Europe's most decorated cities – is home to 12 championship golf courses designed by some of the world's most renowned architects, an eclectic range of magnificent hotels and a vivacious nightlife.
Weather, accessibility, background
Lisbon is situated on the Tagus River, bordering the Atlantic Ocean on the west of the Iberian Peninsula. It's home to more than three million people (27% of Portugal's population) and boats a GDP per capita that's 40% higher than the average city in the European Union. The backdrop of financial prosperity and a bustling economic sector has transferred across into leisure sector, with many all-encompassing golf and hotel resorts springing up in the latter half of the 20th century. Lisbon is easily accessible from all major UK, and cheap flights are frequently on offer from Edinburgh, Manchester, Liverpool, Luton, Heathrow and Gatwick airports, amongst others. The climate is placid – with summer temperatures averaging in the mid 80s – the city is vibrant and Lisbon's historical and cultural significance only serves to make this area of Portugal more appealing.
Golf
Despite all its pull factors, Lisbon represents a far less trodden path than the likes of the Algarve and the Costa del Sol. The main golfing areas are Cascais and Estoril, and these locations are supplemented by a whole host of resorts to the north and south of the city.
Cascais/ Estoril
Cascais is located some 30 km to the south east of Lisbon, and is renowned for its beautiful seaside location, diverse nightlife and selection of championship-quality golf courses. It sits just next to Estoril – which shares all the same traits - and these two towns combine to present a world-renowned area of golfing majesty that simply cannot be surpassed. Indeed, the Lisbon Golf Coast won the Golf Destination of the Year – Europe accolade at the prestigious IAGTO (International Association of Golf Travel Organisations) Awards in 2007.

Three of the most famous golfing resorts in this area are Penha Longha, Quinta da Marinha and Oitavos Dunes. Penha Longha boasts two courses; the nine-hole Mesteiro and the revered Atantico. Robert Trent Jones designed the latter, and it opened to such acclaim in 1992 that it was chosen to host the Portugese Open just two years later. The resort sits beneath the arresting Sintra Mountains and offers spectacular views of the Sintra Cascais Nature Park, the town of Estoril and the sand-strewn Atlantic coastline. The course winds around trees, lakes, rocky outcrops and areas of lush greenery, which all come into play on the par-3 15th – a treacherous hole that demands a 170-yard carry over water. The course is also supplemented by a luxurious five-star hotel, creating one of Portugal's finest all-round resorts.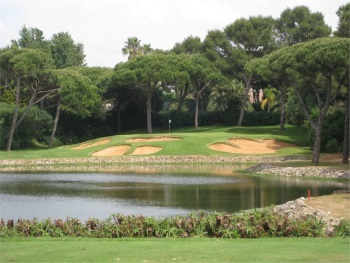 Quinta da Marinha is situated just down the road in Cascais, and its superb setting amid ample lakes, mature trees and natural flora make it one of the most picturesque courses in Portugal. The scintillating views of the Atlantic Ocean and Sinatra Mountains only add to the allure of this revered track. Quinta has staged many professional tournaments – including the LET's Ladies Masters in 1988 and the 2007 Estoril Challenge de Portugal – and the six par 3s, ranging from 143-182 yards, are undoubtedly its stand-out feature.
Qunita do Marinha and Penha Longha are brilliant layouts, but it's arguably Oitavos Dunes that takes first prize in this inimitable area of Portugal. The four-time Portuguese Open host has been ranked as one of the world's top 100 courses, and is firmly established as one of Portugal's top 5 courses. It was designed by American Arthur Hills, but any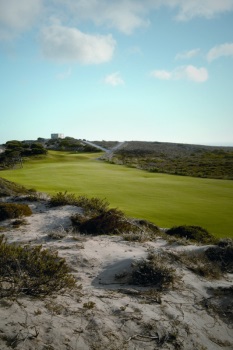 notion of an American-style golf course needs to be immediately dispelled. Oitavos Dunes is a woodland/links hybrid that's been crafted expertly out of the natural landscape. The greens are firm and fast and the terrain is peppered with dunes (as its name might suggest), ravines, water hazards and countless traps. The 7th and 8th – back-to-back par 5s – are beautiful holes strewn with such obstacles, and the 170-yard 14th – a sublime par 3 with tee shots hit over a winding barranca – is arguably the best hole on the course.
Golf Estoril and Belas Clube de Campo are two other well-respected courses in the area. The former was designed by prolific architect Mackenzie Ross, who carved a gorgeous course through eucalyptus, pine and mimosa trees. The 20-time Portuguese Open host offers wonderful views out to sea and a selection of eclectic par-3s viewed by many as the best selection in the south. The latter is laid out through valleys and over rolling hillside, with the ample water and deep, penal bunkers creating a truly unique feel.
Where to stay:
You'll be spoilt for choice when it comes to choosing a hotel, and many of the larger resorts offer reduced-price golf passports to keep the price of golf to a minimum.
The Vila Gale chain – which owns numerous hotels throughout Portugal - boasts offerings in both Cascais and Estoril. These two four-star hotels represent excellent value for money and their respective locations make them extremely popular choices for golf tourists. The Pestana Cascais – a fellow four-star hotel situated in Cascais – has 142 rooms and seven suites, and is no more than 10 minutes from five of the area's most prestigious courses. The three-star Hotel Baia is also popular, thanks to its sea-side location, range of amenities and top-floor swimming pool, which offers stunning views over Cascais Bay and the Sintra Mountains.
Off-course:
Estoril is famed for having the largest casino in Europe, and the prospect of huge financial gain tempts many tourists after a sun-drenched day on the golf course. If you're not that way inclined, enjoy the white sands and glistening seas on the Estoril coast or take a stroll on Cascias harbour's attractive promenade. In the evening, you'll find a huge variety of restaurants and a nightlife that's as lively and entertaining as anywhere else in Portugal.
South and North
If you aren't satisfied with the complete offering in Cascais and Estoril, a 1 hour drive and a short ferry ride will take you to a headland some 20k south of Portugal's capital. Troia Golf – an underrated Trent Junior gem with a selection of sublime sea-view holes. Heading back north towards Cascais you'll find the 900-acre Aroeira Golf. There are two magnificent tracks at Aroeira, and Course 1 was labelled the "Wentworth of Lisbon" by the British press shortly after opening. Rarely is such great value found.
A number of other courses occupy the space between Lisbon and the Algarve, including Quinta du Peru, a wonderfully tranquil course set amid 300 acres of pine forests in the shadow of the striking Arrabida Mountains. This course makes it home in Sesimbra, an area just south of Lisbon that presents a viable alternative to Cascais and Estoril. Sesimbra is a hub for golf tourists, and the quality of hotel on offer goes some way to explaining its popularity. The Sana Sesimbra and Hotel do Mar – two four-star fixtures in the heart of this thriving town – take the lion's share of golfing tourists.
Golf in Portugal isn't just confined to the south, though. An hour north and you'll find a warm welcome at the established Praia d'El Rey resort. This world class set up offers a 5* Marriott hotel, apartments, townhouses and beachfront accommodation. All this as well as a Parkland / Links styles course that regularly occupies a Top 20 slot in the list of Portuguese courses. You'll also find the emerging Bom Sucesso Resort, which combines very contemporary living with a strong parkland course on site. Last but by no means least is the wonderful Royal Obidos, one of the newer courses in Portugal but is swiftly gaining quite a reputation. Still a hidden gem, we recommend you get there before the crowds do.
Current deals
£245 – three nights' bed and breakfast at the Hotel Quinta da Marinha and three rounds of golf (Quinta da Marinha) - more information
£265 – three nights' breakfast at the Penha Longha Hotel and three days of unlimited golf (Penha's Monastery or Atlantic) - more information
£319 – three nights' bed and breakfast at the Hotel de Baia and three rounds of golf (Atlantic, Belas Clube de Campo, Aroeira 1). One in eight also stays free. - more information
£349 – three nights' bed and breakfast at Hotel Vila Gale Cascias and three rounds of golf (Oitavos, Quinta da Marinha, Atlantic) - more information
---
Related Content:
What do you think? leave your comments below (Comments)
---
Leave your comments below
comments powered by

Disqus
More Golf Course & Travel Features
Plan your next golf break with Golfbreaks.com