3 Ways to Grow the Game of Golf
By: Nick Bonfield | Mon 12 Jan 2015 |
Comments
---
As it stands, golf is in a bit of a predicament. While the professional game is as strong as it's been for a long while - with Tiger Woods' return from injury, a vast body of talented 20-somethings headed up by Rory McIlroy and countless others from all over the world with the requisite talent to win Major Championships - the amateur sphere is really suffering.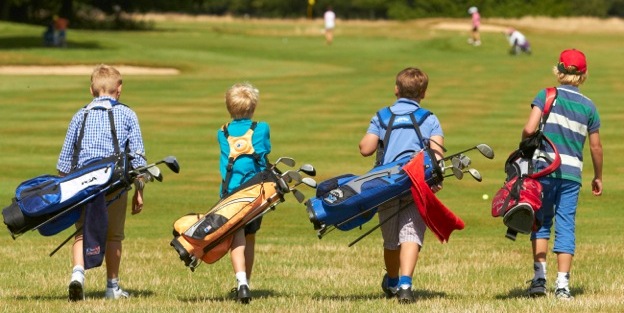 The number of casual participants has remained relatively constant, but there are almost 200,000 fewer golf club members than a few years ago. The game is still perceived as stuffy, misogynistic and elitist by a worrying number of people, not aided by the existence of single-sex clubs, rules and customs that seem archaic to many and other pedantic elements, such as strict dress codes.

So, how can we make strides in this area? Below, I take a look at three areas of focus.
1. Perception, leadership and marketing
Everyone who plays golf fully understands the importance of good etiquette, and the need for a number of relatively complex rules. After all, golf is a complicated game. But you'd be hard pressed to present an argument suggesting there's no need for simplification. It's a hard enough game to learn anyway without scaring off beginners with a thick rule book including both rules and terminology that are confusing to even seasoned veterans of the sport. I'm not suggesting there should be wholesale changes, as the last thing we want to do is lose the essence of the sport, but perhaps there's scope for a beginner's rule book, an abridged version or club tournaments governed by a simplified version, like one-stroke penalties for lost balls to reduce searching times and speed up the game.

It's things like complicated rules that feed into golf's overall reputation, but a bigger issue is getting people through the door in the first place. Golf clubs need to market themselves as more family friendly, and while the top clubs will always have long waiting lists, those in lower tiers have to look at how to make their offering more appealing. It's no longer 1920 - an age where the social paradigm was markedly different. People's time is at a premium and families need to be targeted. Why do you think cycling is taking so many people away from golf? Because it's an activity everyone can participate in. Encouragingly, there have been signs of this being taken on board in recent times, with some clubs offering family memberships and marketing their leisure facilities to men, women and children. It's also been encouraging to see more and more clubs taking to social media and talking to people on a level they are familiar with.

But these developments will pale into insignificance if the game's custodians don't make similar strides. The most pertinent example of this came after last year's Open Championship. With two of golf's young superstars - Rickie Fowler and McIlroy - watching on, R&A executives wore suits and delivered stilted speeches, reinforcing some of the negative stereotypes of the sport. Golf doesn't get a huge amount of terrestrial publicity, so when it does, it's important we use it as an advertising window. At the 2014 Open, the golf did that. Sadly, the last thing many people remembered was uncharismatic people in suits. Leadership isn't like that in many other sports, and just because golf is a traditional game, it doesn't mean that executives have to give off an old-fashioned vibe.
2. No one-size-fits-all approach
We don't want to dumb down the game or attract the wrong type of personnel - those who don't respect the heritage and traditions of golf, don't respect the course or don't conduct themselves in the right way - but what many people don't seem to understand is that there is room for everyone within the game of golf, and that relaxing dress codes isn't going to result in a surge of yobs hacking up the course.

One thing that can't be disputed is that golf can be hard to get into. It's expensive, it requires patience and it's time-consuming. As such, we don't need to add any unnecessary obstacles. Why can't we have venues where rules and dress codes are relaxed, and where it's acceptable to use mobile phones in the clubhouse? It's reflective of modern society and it's not as if we're forcing traditionalists to play at these courses. And, many who start off here will eventually make the move to a more traditional course where dress codes are in place and the Rules of Golf are stringently adhered to.

There is room for everybody. I'd like to see more par-3 courses and informal beginner clubs alongside traditional members' clubs, pay and plays and others operating flexible membership schemes. No one should have to compromise if they don't want to, but competition, diversification and innovation in the industry should force all golf clubs to reassess, reevaluate and look at where they can grow. There will always be a demand for traditional clubs with long-standing customs, and that's absolutely fine, but that's not where the growth opportunity is. The more clubs that realise this, the better.
3. Tour golf
I think there is a huge opportunity in the professional sphere by introducing some more variations - just like T20 in cricket and new one-set formats in tennis. On the European Tour this season, for example, there are 48 events. The breakdown: 46 of them are 72-hole strokeplay tournaments and two are matchplay. Why can't we introduce a 36-hole, even an 18-hole, shootout? How about events where two players team up and each round is a different format? How about more modified stableford formats that encourage aggressive golf?

I love 72-hole stroke play events, but I'm a golf fan through and through. Surely more riveting formats will attract more media coverage, more interest from viewers and new, more youthful sponsors? The players would almost certainly embrace some variation, it would allow for different and more creative marketing, fans would welcome the additional excitement and all that, you would presume, would bring more attention from the media.

In all areas, the industry just seems resistant to change. I firmly believe we can make modifications - some small, some substantial - to attract a new audience while maintaining the heritage and traditions of a sport that means so much to so many. What's more, I think we all have a responsibility to extol the virtues of golf to our non-playing friends and family and introduce them to the sport.
---
Related Articles
It's Not Rocket Science - Growing the game
Golf is dying - Is this how we can save it?
Family friendly orientated golf courses could double the numbers of UK golfers
Golf: The state of the game - A professional view
---

Be part of the action with a selection of unique golf tournament experiences, from playing in a pro-am with the stars to watching the action at golf's most illustrious events. Whether it's the Masters or The Open, The Ryder Cup or WM Phoenix Open, build your own bespoke package with the experts at Golfbreaks.com.
---
What do you think? leave your comments below (Comments)
---
Tags: get into golf
---
PLAY MORE PLAY BETTER - LATEST TUITION TIPS
---
Leave your comments below
comments powered by

Disqus