It's Not Rocket Science - Growing the game
By: Golf Shake | Fri 30 May 2014 |
Comments
---
Post by Sports Writer Derek Clements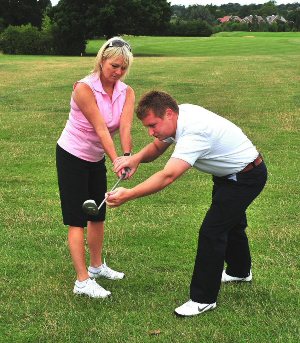 AT a time when we are constantly hearing about the trials and tribulations of British golf clubs as they continue to struggle to attract new members, there is timely news that up to 700,000 women and young people in this country are "very interested in taking up golf this summer".
It comes in a survey published by Syngenta and coincides with National Golf Month and follows on from Syngenta's Growing Golf in the UK (2013) report, which indicated that nearly two million Britons have a strong interest in the sport.
More than 2,000 UK residents were questioned as part of the survey, which was undertaken in April and will form part of a new study called The Opportunity to Grow Golf (2014), to be published later this year.
The research, conducted by GfK, one of the world's largest market research firms, found that 5% of women (age 19-64), equivalent to 640,000 people, were "very interested in taking up golf this summer"' while 30% (3.8 million) were "somewhat or little interested". Among young people (age 14-18), 3% (equivalent to 62,000 adolescents) said they were "very interested in taking up golf this summe", while 68% (1.7 million) said they were "somewhat or little interested".
"Building on our previous research, we knew that there was a level of interest in golf among non-players, and proportionately more among women and young people, but we wanted to gauge how strong this was," said Simon Elsworth, Syngenta Head of Turf and Landscape (EAME).
"What we have found is a very strong interest in golf and an indication that this is a fertile market with a specific opportunity to grow the game around female and youth participation. However, how many of these prospects can be converted into regular golfers depends on a multitude of factors, from access to affordable golf lessons to the friendliness and flexibility of golf clubs and courses."
Growing Golf in the UK' (2013) found that there was a need for clubs and courses to become more female and family friendly, with flexible membership options and more relaxed rules and regulations. It also indicated the need for access to affordable golf lessons and, in the case of women, a preference for female-only beginner classes. Regular, committed golfers – golf clubs' most valuable customers – indicated their desire for the best course conditions.
"As we celebrate National Golf Month, the UK golf course industry can be encouraged to see that there are opportunities to grow the game and that female and youth participation is one of those specific opportunities," said Elsworth.
"As a company, our objective with this research is to provide clubs and courses with information that will help them make customer-focused decisions to maximise market opportunities and deliver long-term sustainability for the sport and business of golf."
So there you have it. The demand is there. The interest is there. Once again, we hear a respected organisation telling us that golf clubs need to change their attitudes towards women and youngsters, that they want rules and regulations to be relaxed.
Once again, women say that they want cheap lessons. None of this is new.
What we need - and urgently - is for some golf clubs to grasp the nettle and introduce some of these initiatives. It is not difficult. It is not rocket science. It's time to stop talking. It's time to start acting.
---
Derek Clements is a sports journalist with a particular passion for golf with over 12 years of experience covering golf and other sports including Chief Sub-Editor on the sports desk of The Sunday Times. To contact Derek email direct via [email protected]
Related Articles
Crown Golf aiming to convince more women to give golf a try
2013 Golf Participation Figures Announced by Sports Marketing Surveys
Friendly, flexible and family orientated courses could double number of golfers
---
What do you think? leave your comments below (Comments)
---
Tags: industry insider golf survey golf data
---
PLAY MORE PLAY BETTER - LATEST TUITION TIPS
---
Leave your comments below
comments powered by

Disqus