Padraig Harrington Interview
---
Padraig Harrington Interview by Sports Writer Derek Clements
---
OFFER him a straightforward path from A to B or a route that would take him off the beaten track through wild terrain and the chances are that Padraig Harrington will opt to take the longest, most difficult journey.

He is not one to take the easy option, never has been. If he were, then he wouldn't have achieved a fraction of the success he has enjoyed. Harrington is a grafter. You've read stories about golfers who have hit golf balls until their fingers bled - that would be his preferred route.

Harrington knows full well that his last victory was the 2008 US PGA Championship - you get the sense that as laidback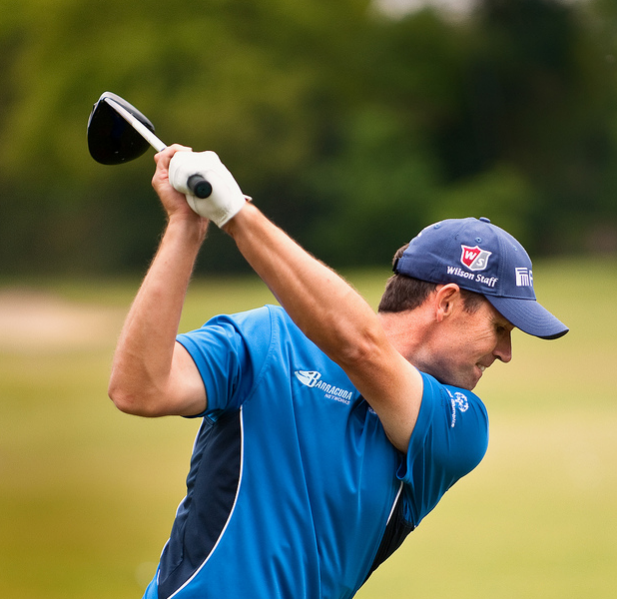 as he apparently is, he is growing weary of being reminded of the fact. There is nobody more frustrated than him by that statistic. Until that point, he had won at least once every year he spent on the European Tour and, later, the PGA Tour.

He may have a reputation for being a serial runner-up, but the 42-year-old Dubliner is no such thing - he has won 28 times around the world. And sliding down the rankings hurts.

"I watched the Accenture world matchplay [featuring the top 64 players in the world] and I hated not being among them," he says. "If you are playing well, you get automatic entry into all the World Golf Championship events and that makes it easier to pick up more ranking points."
He also had to sit at home and watch The Masters, a bizarre case of cramp in his hands causing him to miss the cut at the Shell Houston Open, a tournament he had to win to get into the field at Augusta. The Players Championship has also passed him by.

He doesn't need reminding that this is a Ryder Cup year. Harrington made his debut at Brookline in 1999 and played in 2002, 2004, 2006, 2008 and 2010. He hated missing out in 2012. Paul McGinley, the European captain, attended the same school as Harrington and it would mean something extra special for him to secure a place on the European team to face America at Gleneagles.

"Clearly, Ryder Cup years are special and this year is no exception. I would love to make the team," he says. "I have to be realistic though - I am nowhere near it right now. Nobody is going to be doing me any special favours, so I need to start winning, and I need to start winning soon."

He spent the winter working on his short game, in particular his putting. It looked like it had paid off when he finished fifth at the Volvo Champions event. But he missed the cut at Abu Dhabi, Phoenix and at the Northern Trust Open.

"I may have spent the time on my putting but it hasn't paid off," Harrington says.

After winning The Open in 2007 and 2008, and confirming his position as the best player in the world - no matter what the rankings said - by adding the PGA Championship, Harrington decided that he needed to change his swing. Why is that so many players come to this conclusion?

He insists that he has no regrets about fiddling with a technique that won him three majors in less than 14 months. "I am done now," Harrington says. "I am as happy with my golf swing as I have ever been. Last year I struck the ball really well, but I putted poorly, and that's why I have focused on that part of my game.

"I started 2014 in the best shape of my life. I am fitter than I have ever been and I am hitting the ball further than I have ever done." Having been coached for years by Bob Torrance, he is now working with Pete Cowen, who is one of the most highly-respected coaches in the business.

At 42, he will take heart from the achievements of Phil Mickelson, Steve Stricker, Vijay Singh, Darren Clarke, Miguel Angel Jimenez and Ernie Els, all of whom have achieved great things since hitting 40. Harrngton has a clear advantage over that group in that he is clearly in better physical shape than any of them.

Clarke is focusing his efforts on the PGA Tour this year, and Lee Westwood moved his family to Florida last year. Harrington is a home bird though. He was born in Dublin, still lives in the Irish capital and it is impossible to imagine him living anywhere else.

He will spend a lot of time in airports lounges this year, but Dublin will always call him back.

"I am playing a full schedule in 2014, probably one of my busiest ever. I need to play a minimum of 13 events on the European Tour to keep my card, and I will be playing in tournaments in America that I might not otherwise have considered. If I can get a win soon, then I may be able to look at things again, but I need victories.

"It's a funny thing, but the way I look at it is if I can get a victory it will take a little bit of pressure off me in my bid to accumulate ranking points and move towards the Ryder Cup team; and if I don't win then there is still no pressure because it allows me to play knowing that only a win will do."
It is typical Harrington logic. He is, without the shadow of a doubt, one of life's optimists - and one of it's hardest workers.

"I still love being out on the practice ground hitting golf balls for hours," he says. "I firmly believe that the harder you work, the more you will get out of this game. I realise how fortunate I am to earn my living doing something I enjoy so much."

While many rich sports stars lose all sense of perspective, Harrington's feet are planted firmly on the ground. If he is animated when talking about golf, then he really comes to life when the subject turns to his charity work. There is so much of it that Harrington is unable to recall it all, but it is clear from his enthusiasm that he loves helping others.

"I have a charitable foundation. It raises money, but essentially it is about making myself available to organisations that might benefit from my presence," Harrngton says.

His eyes really light up when he talks about his role as an ambassador for the Special Olympics. "I give clinics and exhibitions and give lessons to Special Olympics athletes," he says. "Many of them suffer from Down's Syndrome and I have to say that I have never met happier people in all my life. They love the tuition and they love the attention. When they smile at you, you'd have to have a heart of stone not to be moved.
"I hear people saying the athletes are lucky to get this sort of tuition but that is all wrong - I am the lucky one. Just playing some small part in their lives is an enriching, rewarding experience."

Harrington's father died of oesophageal cancer in 2005 and he has since been a spokesperson for the Oesophageal Cancer Fund Ireland, and is a tireless supporter of cancer charities.

He is only too well aware of the many forms in which it comes and the devastation it can cause. Much of his life is spent playing golf in the sun and he has been treated for skin cancer.
"I've had a number of skin cancers removed off my face," he said."When you get a symptom, don't ignore it. Do something about it. Dealing with cancer is not what it was 10 years ago.
"Instead of just one treatment they are now looking at combining different types of treatment of dealing with oesophageal cancer.
"Everybody responds differently to treatment and ways of treating cancer are moving on. I see that when I travel the world. It is easier to clear these things up at the start rather than waiting until there is a problem. You can get treated and go on to live a much longer life."
Harrington says that the worst thing anybody can do is to ignore any symptoms they may suffer. That is what his father did, and it is what a lot of men do. "My father had symptoms but didn't do anything about it. It's the nature of men in Ireland and certainly older men. I would be much more inclined to go and do something about it.
"If I get a pain I go and get it checked out. It's a little bit of hardship (going to the doctor) but you will feel much better afterwards."
Speaking a few months before his death, Harrington praised the role his father played in his development.
"I've had the best possible background for playing golf, for playing all sports," he said. "I couldn't have got more encouragement from my dad without ever in any sense pushing or wanting to live his life through my sports.
"It was top-notch. When I was growing up my dad was a very competitive, very intelligent player and he just taught me the art of scoring."
Harrington is a rare beast in this world of open cheque books. Much was made of Rory McIlroy's switch from Titleist to Nike, and the huge financial incentives that came with it. Harrington has had offers too, especially when he was winning his majors, but he chose to stay with Wilson, the American-based manufacturer.
Why? "Wilson have won more majors than any other club maker," he said. "Unlike some other manufacturers I could name, they have a small stable of golfers and the important thing from my point of view is that they listen to us.
"When they are working on a new model, I get to have some input, and that is incredibly rewarding and satisfying. In saying that, the Centenary range of irons being brought out this year [Wilson celebrate their 100th birthday in 2014] bring together all the very best aspects of the classic blade irons the company produced during the 1970s and 80s. It would have been extremely difficult for me or any other pro to have improved upon them.
"I also have to say that it's great to be involved with a company that doesn't launch a new model every other week. Lots of models equates to lots of confusion for club golfers in my view."
Image Credit - Kevin Diss/www.kevindiss.com
---
Derek Clements is a sports journalist with a particular passion for golf with over 12 years of experience covering golf and other sports including Chief Sub-Editor on the sports desk of The Sunday Times. To contact Derek email direct via [email protected]
---
Related Articles
Wilson Golf - Custom fitting feature
---

Be part of the action with a selection of unique golf tournament experiences, from playing in a pro-am with the stars to watching the action at golf's most illustrious events. Whether it's the Masters or The Open, The Ryder Cup or WM Phoenix Open, build your own bespoke package with the experts at Golfbreaks.com.
---
What do you think? leave your comments below (Comments)
---
Tags: wilson Padraig Harrington interview
---
PLAY MORE PLAY BETTER - LATEST TUITION TIPS
---
Leave your comments below
comments powered by

Disqus