A very special birthday for the most successful manufacturer in golf
---
WHICH club manufacturer has won more majors than any other? No, it's not a trick question, but the answer may surprise you. Go on, have a go.
TaylorMade, you say? Not even close. Titleist? No. It must be Nike, you say? You are wrong. MacGregor? Good guess, but still way off the mark. And it's not Callaway, Mizuno, John Letters, Dunlop, Slazenger, Ping or Cobra either.
Give up? The answer is, of course, Wilson Staff, with a staggering 61 majors. Among those who used Wilson clubs to land majors are Gene Sarazen, Sam Snead, Arnold Palmer, Billy Casper, Hale Irwin, Johnny Miller, Bernhard Langer, Payne Stewart, John Daly, Ben Crenshaw, Vijay Singh, Paul Lawrie and Padraig Harrington.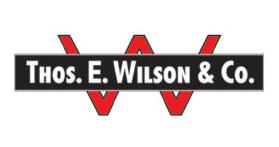 It is a veritable who's who? of world golf, starting with Sarazen's US Open win in 1922 and going all the way through to Harrington's memorable victory in the US PGA championship in 2008.
Wilson celebrates it's centenary this year and does so with the launch of a range of special clubs to mark this very special birthday.
Tim Clarke, the General Manager of Wilson Golf, said: "We are very proud of what we do and take great pride in the clubs we produce. This is obviously a very special year for us, and that is why we have launched a number of new models to mark it.
"Unlike some of the other club manufacturers, we don't spend huge amounts of money on contracts for players. We prefer to work with a small group of players and take on board what they tell us and use that feedback to improve our product. As we don't have a huge sponsorship budget, it means that we can sell our clubs at more competitive prices than our rivals."
Wilson Staff players include Kevin Streelman, Rick Barnes, Paul Lawrie and Padraig Harrington and all of them are keen advocates of the clubs they use. It is telling that they could earn more by going elsewhere but choose not to.
Innovation has always figured high. In 1917, Wilson was the first company to provide an unconditional two-year quality guarantee. Seven years later, Sarazen signed an endorsement contract that ran for a mind-blowing 75 years, during which he won six majors. With Sarazen's assistance, Wilson came up with the first sand wedge.
In 1933, designer Willie Ogg distributed weight in the toe of the clubhead, the forerunner of perimeter-weight clubs, and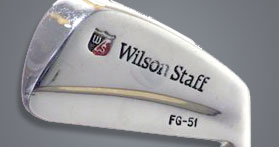 three years later came the first set of offset clubs, which helped to eliminate the slice.
In 1939, Wilson used controlled hydraulics to bond several layers of wood together in a criss-cross pattern. The resulting Strata-Bloc woods were golf's biggest innovation since the steel shaft.
From 1950-80, a galaxy of golfing legends became Staff players, with Arnold Palmer leading the way.
New Staff Dyna-Powered irons incorporated a drilled-through hosel in 1956. This exclusive principle of 'fluid feel' reduced torsion and shock, while weight was taken from the heel and flared out and up the blade. In 1967, woods and irons that matched the flex action of each shaft to the weight of the individual clubhead were introduced, and two years later Wilson Sporting Goods received the Queen's Award for Export Achievement in the UK, primarily for sales of golf clubs to Japan.
New Reflex irons and woods were designed in 1979 with a narrow slot behind the face, allowing it to flex in and reflex out at impact, adding power without the need to swing harder, and in 1986 came the Ultra golf ball, advanced sales of which surpassed any previous ball in the company's history.
In 1989, the Amer Group, based in Helsinki, Finland, bought Wilson Sporting Goods Co. and remains the parent company to this day. Four years later, the Killer Whale driver boasted an oversized club head that was 40% bigger than leading rivals and was put into play by John Daly, and it was followed by the ULTRA 500 golf ball, designed by former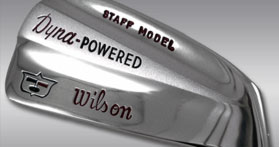 NASA engineers with a dimple design that produced the most stable ball flight.
Another breakthrough occurred in 1995 with the introduction of the Staff RM midsize irons – cavity-backed forged clubs designed by renowned club maker Robert Mendrella. Two years later came Wilson Fat Shaft irons introduced – the most stable iron in golf, producing greater accuracy and remarkable distance.
Padraig Harrington signed for Wilson in 1998, the same year that Fat Shaft Dyna-powered wedges incorporated the most popular shaped wedge on the Tour. In 1999, Fat Shaft oversize cast irons made their debut, featuring a distinctive wider shaft tip diameter.
In 2001, Harrington used the Deep Red BETA-Ti driver and RM Signature Fat Shaft irons to win the Volvo Masters. And in 2004 the Deep Red II Maxx driver became the world's longest conforming driver and the Hb5 hybrid was the brand's first rescue club.
Harrington won his first and Wilson's 59th Major at The Open in 2007, using Wilson Staff Pi5 irons, 5-wood, Dh6 hybrid, Dd6+ driver and Tw7 wedges. The FYbrid club is launched along with the Dx2 Soft golf ball, the softest distance ball on the market. The following year, he won The Open and at Royal Birkdale and the US PGA Championship at Oakland Hills. Tw9 wedges and Fg59 blades arrive.

In 2010, adapting baseball bat technology, D-FY irons were created with an exclusive graphite/steel half & half shaft combination. A new W/S clothing line is introduced, plus Dx3 Soft golf balls and FYbrid HS long distance fairway utility clubs for men and women.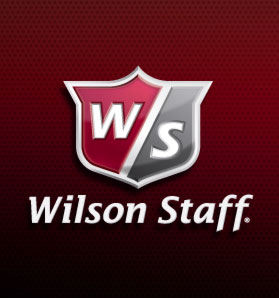 Paul Lawrie won the Andalucian Open with FG Tour irons and a new Tour truck was launched to support the brand's growing number of European Tour players. The Di11 was introduced as well as the new FG Tour wedges, FG62 blades and the DXi range of woods.

The Ci11 and FG Tour V2 irons were launched in 2012, while Lawrie won the Qatar Masters and the Johnnie Walker Championship, and starred in Europe's record-breaking final-day comeback at the Ryder Cup.

Last year saw the launch of the D-100 Superlight easy-to-swing family of clubs, plus an upgraded version of the Dx2 Soft golf bal,l billed as the softest distance model on the market. Kevin Streelman secured his first PGA Tour victory at the Tampa Bay Championship using FG Tour V2 Irons. Harrington, Lawrie, Wall and Andreas Hartö launched Wilson's first-ever adjustable woods as part of the FG Tour M3 range at St Andrews.

And so to this year. To mark it's centenary, Wilson has launched FG Tour 100 blades – reflecting the evolution of bladed clubs with their classic design features – and an 8802 putter moulded on the original milled putter that won multiple Major championships. Tour stars, including new signing Marcel Siem from Germany, celebrated the company's 100-year anniversary by putting commemorative retro bags into play at the start of the year.
For more information on Wilson Staff please visit their website - Click Here
---
Related Articles
Wilson celebrate Centenary with FG Tour 100 blades
---
What do you think? leave your comments below (Comments)
---
Tags: wilson Padraig Harrington
---
PLAY MORE PLAY BETTER - LATEST TUITION TIPS
---
Leave your comments below
comments powered by

Disqus