Wilson Custom Fitting - Feature
---
Post by Sports Writer Derek Clements
---
THERE are times when I just love my job and can't quite believe how lucky I am. This is one of those times...
I have always been a fan of Wilson Staff clubs - the persimmon woods and Staff irons I owned 25-30 years ago remain the best I have ever used.
To celebrate the company's centenary they asked me along to their fitting centre at Frimley to meet Scott Pudney, who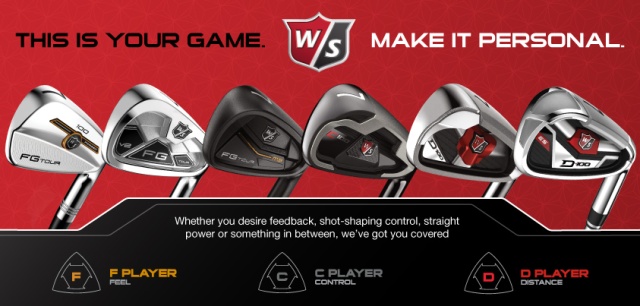 would kit me out with a set of clubs. To say that I was like a kid on Christmas Eve is an understatement. Let's just agree that I was excited.
Like so many people employed within the golf industry, Scott is a real enthusiast and went out of his way to ensure that I was relaxed and ready before I started hitting shots with my own clubs so that he could gauge e my swing speed, ball flight and carry using the latest Trackman technology.
I have been through this process several times, and it remains a revelation to me. Scott showed me the latest Staff blade irons and asked if I wanted to try them - they are stunningly beautiful, but I am a realist and now know that I can't achieve the consistency I would want by hitting a blade, so I politely declined.
We went through the range until we found a clubhead and shaft combination that felt right and produced the results we were looking for - 10 yards extra carry on every iron in the bag. Well, that's what his equipment said at any rate.
The ideal irons for me were the C100, which features an optimal size head design with a sleek mirror black finish and contrasting face, sole and what Wilson call Exoskeleton features to promote visible technology and confidence at address. Exoskeleton weighting accounts for one-third of the total head mass, maximising the MOI and forgiveness while still maintaining a midsize head shape. And a stronger, stainless steel material allows for the thinnest-faced Wilson Staff Control (C) iron yet, creating faster ball speeds and longer distances. Wilson Staff Tour Traction grips and True Temper regular shafts finished everything off.
"You will benefit from irons starting from a four through to a wedge," Scott said. "And we will put in 54-degree and 58-degree Tour Wedges." The stain finish on these clubs is to die for - they look and feel sublime.
"And we are going to finish your set with a D100 driver, three wood and five wood and a 23-degree hybrid, fitted with Matrix OZIK HD5.1 regular shafts."
The woods looked and felt great. The centre of gravity has been moved 11% more toward the heel, making it easier to square the clubface at impact, improving the launch angle and spin rate.
I had undergone a putter fitting session at Direct Golf's Huddersfield HQ, where they informed me that the TaylorMade Daddy Longlegs putter I was using was the wrong club for me. I was asked if I tended to miss most of my putts on the left side of the hole. Yes, I certainly did. The answer, they told me, was a blade putter. And Wilson Staff have just come up with the 8883 Black Putter. The moment I picked up this club it felt right.
So that was the theory. All I had to do was wait for the new kit to arrive and then put it to the test. And boy did Wilson deliver, including a fantastic Tour Bag with my clubs.
And the verdict?
Very often, it takes a few rounds to get used to new clubs, but not these. Right out of the box they looked good, felt good and duly delivered where it matters - on the course. Do you know what? The irons really do fly higher and further than my previous TaylorMade R11 irons. They are more forgiving on shots that are not struck perfectly and the ball flies straighter, more consistently. On my first round with them I nearly had two holes in one. The 54-degree wedge could turn out to be the best sand iron I have ever held in my hands.
I love the woods and the hybrid, which all hit the ball as far as anything else I have used, and they are cheaper than their Callaway, TaylorMade, Titleist or Ping rivals.
Best of all is the putter. It turns out that the guys at Direct Golf know a thing or two about putter custom fitting as I feel that I just can't miss with the 8883. It sits beautifully behind the ball and is a wonderfully balanced club. I am really looking forward to the rest of this season.
For more information, please visit the Wilson Golf website - http://www.wilson.com/en-gb/golf/
---
Related Articles
Wilson Staff celebrate a very special birthday
---
What do you think? leave your comments below (Comments)
---
Tags: wilson
---
PLAY MORE PLAY BETTER - LATEST TUITION TIPS
---
Leave your comments below
comments powered by

Disqus