Interview: McGinley Focusing on His Team
By: Adam Smith | Mon 10 Mar 2014 |
Comments
---
European Ryder Cup Captain Paul McGinley insists he is not bothered what his American counter-part Tom Watson is doing right now, concerning himself only with his team ahead of the showdown at Gleneagles at the end of September.
Speaking at the launch of TaylorMade's new SpeedBlade irons in Canary Wharf, McGinley said of the injury to Tiger Woods that he would only be bothered if it were a European player:
"Honestly, right now I'm not too concerned in what the Americans are doing or how they're going about things. I'm observing it but I'm not really bothered that much. If one of my players started having back spasms, that's when I'll be worried.
"If a guy is carrying an injury and he hasn't made the team automatically then that's going to count against him when it comes to my picks, so I'm watching all of those things but the fitness of the European players going into the Ryder Cup is going to be vital, particularly if you have to play 72 holes over the first two days."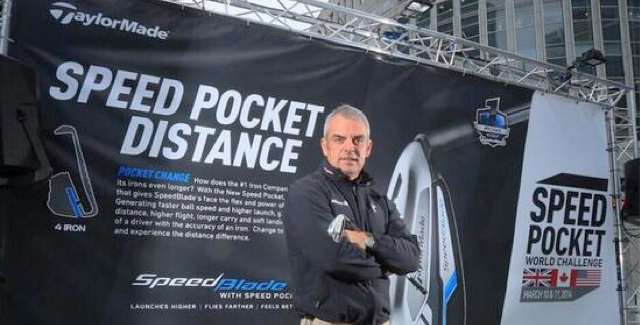 Speaking about his picks, McGinley said that he will base everything on evidence alone:
"I don't have to worry about it until August but a lot of my decisions will be based on evidence. I'm looking for form, I'm looking for experience, I'm looking for rookies and more. I would like to think the three guys I'm going to pick could show a mixture of some those things but mainly I'm looking at form over the summer period and those who have just missed out on an automatic place."
Flying out to compete in Morocco this week, McGinley can take comfort in the new clubs in his bag. The SpeedBlade irons takes TaylorMade's revolutionary Speed Pocket technology to the next level, giving golfers the club that could change their game, hitting more greens and shooting lower scores.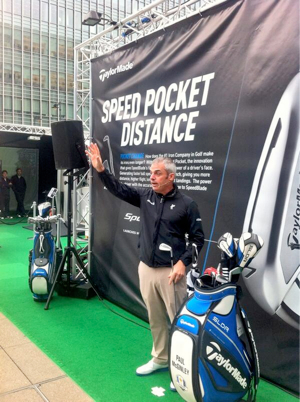 McGinley himself has added the new technology to his Tour Preferred irons knowing the Speed Pocket has been widened and lengthened, giving him a high launch angle, strong ball flight and a steep, quick stopping descent angle.
"I've done two things at the same time," said McGinley.
"Firstly I've gone to what they call a steel fibre shaft, which is a mixture of graphite and steel and when I added that to the Speed Pocket it really gives me that extra dimension. This to me is the future in golf. When you add the Pocket to the head and then mix that with the shaft, it means my ball flight has completely changed. I'm hitting hit further and with more consistency. The miss hits as well don't have too much of an effect. We as professionals do miss hit occasionally, with my old seven-iron, a miss-hit would go 157/158 yards, possibly in the water or short of the green, but now a miss-hit is going 164/165, which is just off my full distance, and with those extra yards, getting the ball pin high can be vital to a pro."
TaylorMade's advanced research shows 72 per cent of shots by five to 25 handicappers are impacted below the centre of the face, which typically results in low-launching shots of inconsistent distance. The Speed Pocket helps those launch low-impact shots on a consistently higher, longer carrying and softer-landing flight.
McGinley added:
"One of the comforts I have with being a touring pro with TaylorMade for 23 years is that I know they're at the forefront of technology. The Speed Pocket sits behind the face and has a sort of trampoline effect making the ball go higher and longer. That's why Sergio, Dustin, Justin, all the TaylorMade guys are using this Speed Pocket technology.
"The RocketBlade irons are what I used last year and those to me were the line in the sand, the bench mark of future technology and TaylorMade's policy is that a huge percentage of turnover is put into retail and development and I constantly know that they are investing more than any other company in the industry. So I have the confidence going out there in tournaments knowing that my gear is the cutting edge of technology."
Five years of research have gone into the SpeedBlades and TaylorMade say they're constantly evolving and looking for further ideas to enhance themselves in the golfing market.
McGinley continued:
"Knowing that so much research and hard work has gone into producing these irons is what gives me so much comfort as a professional and also knowing that TaylorMade are constantly evolving. I know how much money is re-invested into finding all the data. I've been in the studios, I've seen the guys at work and it gives me a little head start if you like, when I'm standing on the first tee."
McGinley will continue to play to his own schedule this year but admits his calendar is very full up until the biennial contest in Scotland:
"I'm very, very busy from now until September. There's definitely been an upping in the players' games from all quarters in the last few weeks. The American's have announced their vice captains, I've announced two of mine last week, the world events are up and running, we've had two at this stage, guys are jockeying for position and the cheques available to the players looking to make the team are huge. Jamie Donaldson only yesterday made a massive cheque, bigger than he would have got winning a tournament in Europe, so he's made a quantum leap in making the team.
"Every week players move into position and into contention and every year it's played, the Ryder Cup gets bigger and bigger and we all know now that it's one of the best sporting events in the world.
"With it getting bigger more and more onus is placed on the Captain, the Vice-Captains and people behind the scenes who are handling the Cup from both sides so the brief has just grown and grown over the last decade."
For more information on the TaylorMade SpeedBlade irons or the Speed Rocket technology visit www.taylormadegolf.co.uk
---
Related Articles
Ryder Cup European Team Predictions
Players support key in McGinley appointment
---

The Ryder Cup is unlike any other tournament in golf and the atmosphere is something that every golf fan should experience. The experts at Golfbreaks.com can help with all aspects of your Ryder Cup experience, from accommodation and ticket packages to hospitality and travel and playing some of the fantastic nearby courses.
---
---
What do you think? leave your comments below (Comments)
---
Tags: taylormade ryder cup paul mcginley interview
---
PLAY MORE PLAY BETTER - LATEST TUITION TIPS
---
Leave your comments below
comments powered by

Disqus