Players support key in McGinley appointment
---
As the dust settled on another busy day in Abu Dhabi it became clear that for many the right man had got the job. Paul McGinley will lead the European Ryder Cup team against Tom Watson's USA at Gleneagles in 2014. McGinley had been tipped for the Captaincy ever since those great scenes unfolded at Medinah and looked set to battle it out for the Captaincy with Darren Clarke.
Following Clarke's withdrawal from the race, it seems that McGinley fell out of favor with the European Tour and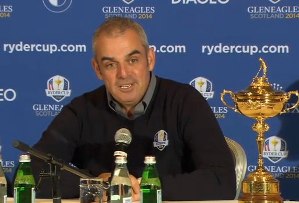 increasingly Colin Montgomeries name was mentioned in the golfing press. Montgomerie himself let it be known that he was keen to take the role on for a second time following his victory at Celtic Manor in 2010. He said:
"It would be a dream if I could be seen to captain in my home country" And when responding to appointment as Watson as USA captain "We should have only one criteria and that's picking the best man for the job. It doesn't matter what America have done." Following the appointment of McGinley, Mongomerie left without comment.
Player power certainly played its part in the decision to appoint McGinley with many coming out in support for the McGinley bid. Most vocal of those was World No.1 Rory McIlroy who said:
"I think it will be a disappointing day for the European Tour if it doesn't go Paul McGinley's way."I feel very strongly about it and I have voiced my opinion, and hopefully they will make the right choice."
Other players also weighed in with their support for McGinley. Luke Donald Tweeted,
"I hope Paul McGinley gets his chance, he's been an amazing Vice Captain and deserves an opportunity #2014RyderCup."
Many players felt that he was the right man for the job following his Captaincy at the Vivendi Trophy and his role as Vice Captain at the Ryder Cup which he has performed twice, he was successful on both occasions. He also was undefeated as a player in three Ryder Cups. McGinley expressed his delight and excitement at being named Captain:
"I read and followed every word that went down the last few weeks, I have to say, and watched with interest. Like a yo-yo, my chances seemed to go up and down and up and down," McGinley said. "It's also a situation I'm relishing and I can't wait to get into the role of being the captain, working with the players, particularly the players that have shown such huge support for me obviously in the last few weeks."
"To lead the cream of the crop in the Ryder Cup is going to be a huge honor," McGinley said at a news conference Tuesday. "To be quite honest, it is a very humbling experience to be sitting in this seat. It is a week I'm looking forward to. It's a whole new experience for me, the chanced to be a captain."
---

The Ryder Cup is unlike any other tournament in golf and the atmosphere is something that every golf fan should experience. The experts at Golfbreaks.com can help with all aspects of your Ryder Cup experience, from accommodation and ticket packages to hospitality and travel and playing some of the fantastic nearby courses.
---
---
---
PLAY MORE PLAY BETTER - LATEST TUITION TIPS
---