Footjoy to include XPS-1 in MyJoy program
---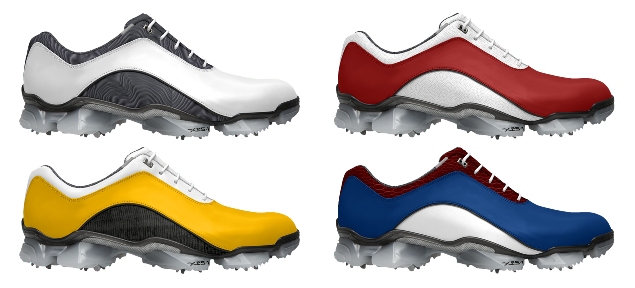 FootJoy has announced the introduction of its performance-enhanced XPS-1 golf shoe to the custom MyJoys programme. Designed to provide the golfer with greater levels of Xtreme platform stability and balance during all phases of the golf swing, XPS-1was born out of extensive player testing that saw it become a market leader in theindustry. Now FJ have taken the XPS-1 shoe one step further, incorporating it into the MyJoys family and delivering over 4 million different colour combinations
A fresh new XPS-1 design, introduced specifically for MyJoys, features three areas of customisable colour: a base colour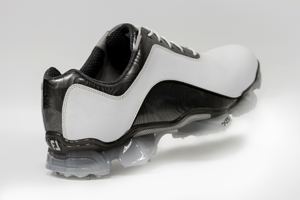 being the predominant colour on the shoe and a half-moon contemporary saddle to deliver a more modern, fashion-forward golf look. An additional accent of colour will cover the tongue and top collar of the shoe. A new ghost white Xtreme Outsole featuring TPU lateral outriggers, that extend beyond the upper to create an ultra-wide platform for maximum ground contact, give the XPS-1 its trademark stability platform and standout appeal.
XPS-1 will also feature all of the original advanced performance elements that impacted the golf footwear industry and made it one of the highest performing shoes in the game. This technology packed shoe offers innovative 3D Viscoelastic GelCollar™ technology provides custom fit and comfort around the collar whilst a LaserPlus Last is contoured to precisely match the shape of the foot. A high-performance Multi-Density Fit-Bed® with EVA support and HeelLoc™ technology further enhances stability, cushioning and shock absorption.
Additionally, with the introduction of XPS-1 to the MyJoys family, six new microfiber materials will also be added to the programme. These materials, will be used in conjunction with the 40 plus leathers previously available through MyJoys, including smooth, patent, metallic and animal print leathers. Furthermore, the advanced BOA® Closure System™ is also offered as an option with XPS-1 MyJoys.
XPS-1 design availability and pricing
Golfers looking to create their own unique XPS-1design will be able to do so at www.MyJoys.co.uk or their nearest authorised FJ retailer from October 1st 2013. XPS-1 MyJoys will retail at £235 for the laced version, or £245 for the BOA option.
FJ's all-encompassing MyJoys website also incorporates such popular styles as FJ ICON, DryJoys Tour and Contour Casual and is a big hit amongst FJ's stable of brand ambassadors, including Luke Donald, BMW PGA Champion, Matteo Manassero and 2012 Masters Champion, Bubba Watson amongst others.
---
Tags: Footjoy
---