Dufner fights off the Demons - Wins the USPGA
---
It was a painful defeat 2 years ago, it may not have seemed that way if you looked at Jason Dufner's face, the dull, slightly vacant look as familiar as the pre –shot waggles, but it definitely hurt, losing a 4 shot lead always does.
It was that defeat to Keegan Bradley in the 2011 USPGA that catapulted both Americans onto the world scene and featured a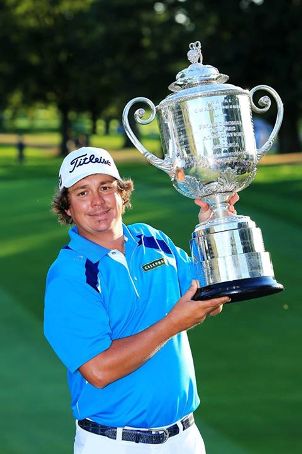 monumental tussle down the stretch which included mistakes from both players. Bradley was eventually crowned champion following a 4 hole playoff.
As Sunday dawned, it was Dufner that had his chance for revenge on a trophy he feels he should have won 2 years ago. It was one he would grasp with both hands, and he did it by playing a round that was almost the polar opposite of the car crash golf that he played at Atlanta Athletic Club in 2011.
Entering the final day Dufner was 1 shot behind the ever steady Jim Furyk, but the odds of catching Furyk were always in Dufner's favour with Furyk having held 54 hole leads in 4 tournaments in 2012 and not having won any of them. While the '5 hour energy' man was never going to fold easily, winning has become difficult for him and the greatest challenge to Dufner was likely to come from behind with the likes of Scott, Westwood, Stenson and McIlroy all in the chasing pack.
One by one the chasing pack misfired, first it was Mcilroy with an ugly triple bogey 7 at the 5th following a visit to the water, then Westwood and his ever misbehaving putter, Scott looked dangerous for a time, but could not quite find the momentum that saw him shoot 65 on Thursday and so Dufner's biggest threat for a much of the back nine looked to be coming from Henrik Stenson.
The likeable Swede has seen a rejuvenation of his game in the past year after
losing his way
both on and off the course, he has rededicated himself and has, behind Scott the most impressive of records in this year's majors finishing T18 at the Masters, T21 at the US Open, 2nd at The Open and 3rd at Oak Hill. He has now climbed to 8th in the World Ranking and his time in majors is surely coming.
What was shaping up to be great final day shootout soon turned into the Dufner show with the idiosyncratic waggles becoming a regular prelude to arrow straight drives and devastatingly precise iron play. It was on Friday that Dufner dropped a rather large hint at what was to come when he shot a 63, a score that equals the lowest ever in major history. Despite that stunning round it was his putt for 62 that underlines Dufners biggest weakness. Facing a 15ft uphill putt to make history he rolled the ball woefully short.
If Dufners putting was as good as some of his peers, we may have seen him win more and it is that facet of his game that he will need to improve if he is to win multiple majors. It is a testament to his ball striking and straight driving that he can win one of golf's big four with the putter not firing on all cylinders.
It was at the 15th that Dufner demonstrated just how far he has come since that painful defeat in 2011, it was a similar situation at ACC's 15th that saw him lose his lead and ultimately the tournament after a wayward tee shot. That day he looked nervous and had a few more waggles than normal, but after only 6 waggles at this year's 15th he fired a 6 iron 25ft left of the pin and more importantly left of the
looming water hazard.
From that point onwards he never looked like relinquishing his lead.
Despite 2 bogeys in the last two holes, Dufner tapped in for a 2 shot lead and the biggest victory of his career, waiting in the wings to greet him on the 18th green was his big mate and winner of the 2011 USPGA, Keegan Bradley. It took two years, but Dufner finally caught him up and now along with Bradley is at the forefront of a new generation of American winners that will, at some point soon take over the mantle of all-American heros from the great Woods and Mickelson.
The
USPGA
often slips a little under the radar, nobody calls it their favourite major, it may lack a bit of identity, but it has a lot going for it. It routinely has the strongest of any Major field including more of the World's top 100 than any other major. It is often enjoyed more by the players. partly due to it's ability to yield a greater amount of birdies and lower winning score. Watching players grind for par is not all that fun after a while. It also produces great champions and who could argue that Jason Dufner is not one of those?
Image - Jason Dufner Facebook
---
Related Articles
---

Be part of the action with a selection of unique golf tournament experiences, from playing in a pro-am with the stars to watching the action at golf's most illustrious events. Whether it's the Masters or The Open, The Ryder Cup or WM Phoenix Open, build your own bespoke package with the experts at Golfbreaks.com.
---
---
PLAY MORE PLAY BETTER - LATEST TUITION TIPS
---