Justin Rose US Open Champion- A story of redemption
---
They were two shots that any young golfer dreams of hitting, the sort of shots that Justin Rose no doubt played over in his head again and again while learning his trade on the fairways of North Hants G.C as a junior.
Those two shots on the 18th at Merion G.C. completed a redemption for Rose that has been 16 years in the making. As a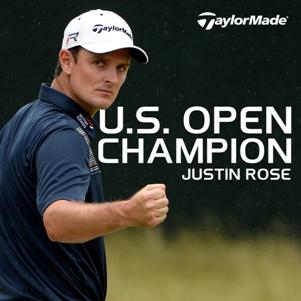 child prodigy Rose must have thought this day was coming and who would of argued following a 4th place finish in the Open as teenage amateur, but a well documented slump which saw him miss 17 cuts in a row at the very start of his professional career soon scuppered those notions of greatness.
Those dark days saw the golfing media turn on him and his father Ken, many suggesting he had turned pro too early and a lot looked to the influence of his father as reason for what they saw as a bad decision. It is precisely that situation that makes Rose's victory so thrilling, so rewarding for him and his family and so tinged with sadness. His father and mentor, Ken passed away following a battle with cancer aged 57 in 2002. He would have loved to have seen his son's victory at Merion.
You have to admire the way Rose has slowly, but surely rebuilt his career, first on the European Tour and then on the PGA Tour. He has focused on his end goal with dogged determination. There is a satisfaction for both him and for his fans in the way has climbed each rung of the professional ladder. Slowly building a swing that could compete at the highest level and that is now recognised by many as the best in the business.
There are undoubted parrallels to be drawn between Rose and a great of the game - Ben Hogan. Ben Hogan's one iron into the 18th at Merion in 1951 produced one of the most iconic images in golf. A master ball stiker who similar to Rose found redemption at Merion, his following a car crash that nearly took his life.
If Hogan's efforts all those years ago were iconic, the Rose's were similarly so. You cant help that think it fitting for Rose to win with a series of brilliantly struck iron shots culminating in the purest of drives and a iron shot of the class that Hogan himself would have been proud.
The weekend began promising the mouth watering prospect of an epic battle between the world's No.1 and No.2 ranked players, it soon turned into the return of a rivalry that bloomed in the Ryder Cup. A rivalry that provided the most thrilling of finishes from two of the games classiest players , It was all about the Mickleson and Rose show on Sunday. Rose once again saw off his opponent with series of brilliant iron shots and putts that rivaled that of his winning display on the green as at Medinah.
You have to feel for Phil, another 2nd place means he has six in the US Open. It seems that fairytale still has to be realised. Phil is an all-American hero. A crowd favorite and above all a true entertainer. His holed wedge shot on the 10th seemed to have given him the momentum to go on and win the tournament he holds most dear, but a faltering 3 wood left him with too much to do over the last 5 holes. He is running out of time to win his national tournament at the age of 43, but no one would begrudge him the victory that would confirm him as one of the greats of the game. Maybe 2014 will be his year.
The story is different for Rose. He now has the swing, the putting stroke, the course management and above all the belief to go on and win multiple majors. At 33 he has over a decade to cement a place in golfing history that he has always promised to claim.
The next challenge will be at Muirfiled in little over months time, Rose will now start as one of the favorites and rightly so. Some first time major winners shrink back into their shell, but the way that Rose has continued on steadily to each of goals makes you think that he is ready, his time has come. More majors will surely follow and who would bet against the first coming at Muirfiled?
---
Related Article
Wrap Up: Resplendent Rose Marvels at Merion
Justin Rose- England's next major champion?
Golfshake Awards 2012 - Shot of the year - Justin Rose
---

Be part of the action with a selection of unique golf tournament experiences, from playing in a pro-am with the stars to watching the action at golf's most illustrious events. Whether it's the Masters or The Open, The Ryder Cup or WM Phoenix Open, build your own bespoke package with the experts at Golfbreaks.com.
---
---
PLAY MORE PLAY BETTER - LATEST TUITION TIPS
---