Justin Rose: next English Major winner?
By: Nick Bonfield | Sun 04 Nov 2012 |
Comments
---
When Justin Rose burst onto the scene as a fresh faced 17-year-old, holing his third to the 72nd hole en route to a fourth-place finish as an amateur at the 1998 Open, many thought we had unearthed England's next golf star. His performance on the biggest stage of all convinced sports fans and journalists alike that we had found someone to fill the English major void. Not since the days of Nick Faldo had we seen such levels of excitement and enthusiasm directed at one British golfer.
Tough start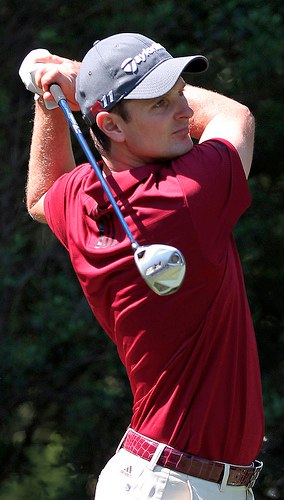 The next stage in Rose's journey, however, was the diametric opposite of what might have been expected. Electing to turn professional the day after Birkdale, he missed 21 cuts in a row, leading many to question his haste and re-evaluate initial thoughts and expectations. Since those lowly days, Rose has progressed serenely up the world rankings, looking a better and more rounded player every year. He has transformed himself into one the world's best and most consistent performers and, as such, the emphasis and media attention has now shifted to his quest for a maiden major championship. Indeed, given all his attributes, and despite his many tournament wins and other successes, a career that doesn't include a major title would have to be considered a disappointment. As we all know, winning one of the big four comes down to a host of factors, ranging from ability and timing to luck and mental strength. There is simply no doubting his talent, but the question remains, does Rose have the constitution, character and mentality to seize the major his ability dictates he must?
Change of opinion
If you'd have asked me that question a year ago, I'd have said no. However, two things have happened this season that, in my mind, are the most significant of his career, both of which have facilitated my change of viewpoint. As it stands, I think Rose is as likely as any English golfer to end the 26-year wait for a major winner, and arguably the favourite to do so.
Mental game
Mental fortitude was never one of Rose's strengths. He often struggled with the pressure of the lead and collapsed when the heat was on. The example that springs most prominently to mind is the 2004 Masters, where he led after 36 holes before shooting a calamitous 81 in the third round. Indeed, in his professional career, Rose has held the lead or a share of the lead after 54 holes nine times, converting only two victories. Some players, such as Keegan Bradley, have that bit between their teeth, a real stomach for the fight and the ability to perform to the highest level with all the pressure in the world on their shoulders. Rose never used to excel in this area, but things may have changed.
Biggest win
Before the 2012 WGC-Cadillac, Rose had won some big tournaments on both sides of the Atlantic, including The Memorial and the Volvo Masters. He also won the European Tour Order of Merit in 2007. At Doral, though, he found himself leading the event and in with a great chance of winning the biggest tournament of his professional career. In truth, no one would have been surprised if he failed to convert. That Sunday afternoon, however, he took a huge step. Entering the final round three behind Bubba Watson, he found himself in a share of the lead after four holes, and after a birdie at the tenth, he was in sole possession.
He didn't falter, though, despite being chased by a leaderboard full of the world's best golfers. He stayed calm, scrambled brilliantly, holed some clutch putts and, most importantly, had the look of a player who believed he was good enough to win. That victory was enormous for Rose, and really gave a sense of justification to his position as one of the best in the game. Most noteworthy, however, was what he said after his victory: "When I do get into contention now, I believe I can go ahead and close it out."
Ryder Cup
Victory in a WGC event was the best moment of his Rose's career, but that would be replaced some seven months later. Winning at Doral was hugely important, but the most significant moment of his career to date came on Ryder Cup Sunday. He started well in his match against Phil Mickelson, but found himself one down after 15, needing to hole an eight- footer to avoid going dormi two. He knocked it in bravely and headed to the par-3 17th.
With Mickelson in for a par, Rose had to hole a 40-footer for the win. He made an aggressive stroke and reacted with an air of utter disbelief after his ball found its way into the bottom of the cup. On the last hole, he hit a fine approach after Mickelson had airmailed the green and holed a 12-footer to secure a victory that looked entirely improbable half an hour previously. No one could quite believe what had transpired. Beating Mickelson in the manner he did will give Rose huge confidence heading forward.
The future
After accomplishing what he did, he will now believe he can achieve anything in his career. His back was firmly against the wall, and with Europe relying on him for a victory, he came through against the odds. Butch Harmon summed the situation up perfectly afterwards: "Tremendous effort from Justin. To be honest, I didn't think he had it in him." Nor did I. Nor did the vast majority of those watching. But he experienced the most intense pressure in golf and came out on top. That, to me, is a sign of change. Every time he feels pressure he will recall that moment and have unabridged faith in his ability. Granted, he may not win a major, but if he doesn't, it will be down to his golf game, not his mental game.
Rose also deserves to win a major for the way he conducts himself on and off the course. The way he curtailed his celebration to thank Mickelson said so much about him, and it can only be good for the game of golf if role models like Rose succeed at the top level. Fortunately, I feel a major is just around the corner. He has the talent, work ethic and all-round game to win one of golf's major events, a dangerous combination when combined with a new found mental strength and ability to perform under the most stringent pressure.
Photo Credit: Keith Allison - http://www.flickr.com/people/keithallison/
---

Be part of the action with a selection of unique golf tournament experiences, from playing in a pro-am with the stars to watching the action at golf's most illustrious events. Whether it's the Masters or The Open, The Ryder Cup or WM Phoenix Open, build your own bespoke package with the experts at Golfbreaks.com.
---
What do you think? leave your comments below (Comments)
---
---
PLAY MORE PLAY BETTER - LATEST TUITION TIPS
---
Leave your comments below
comments powered by

Disqus