Bushnell Launch Golf GPS Watch
---
Bushnell, producers of Electronic Measuring Devices for Golf have introduced the new Neo+ Golf GPS Watch, With sky-rocketing demand for wrist-mounted devices, the Neo+ Golf GPS Rangefinder Watch is designed to be an easy-to-use GPS rangefinder, with instant measurements for golfers in a simple, lightweight form-factor.
"Following the original Neo+ GPS, we wanted to provide consumers with another exceptional GPS option that would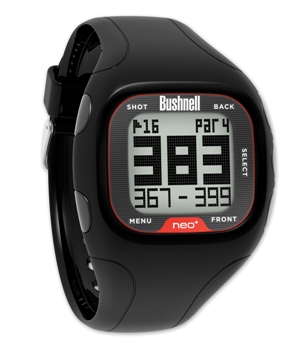 provide extra benefits at an affordable cost," said Terry Mears, Product Director at Bushnell. "While we may be known for our dominant laser rangefinders, at Bushnell we pride ourselves on producing industry-leading products that will give golfers the ability to enhance their game. We know that the new Neo+ watch will be extremely popular."
The Neo+ Golf GPS Watch is the latest product to join the Bushnell family of devices offering Distance measurement. The lightweight watch is simple to operate and comfortable to wear, giving golfers accurate front/back/centre and shot distance measurements on 25,000 preloaded courses worldwide (Denmark, Finland, France, Germany, Ireland, Italy, Netherlands, Norway, Portugal, South Africa, Spain, United Arab Emirates, United States, United Kingdom, Sweden, Australia & New Zealand) with no membership fees; more than has have ever been made available via GPS.
While other GPS watch devices can run out of battery after just one round, the Bushnell Neo+ Golf GPS Watch allows golfers to play three rounds or over 14 hours without needing a recharge. Additionally, when the product is functioning solely in watch mode, the battery can last over 12 months. The Neo+ Golf GPS Watch is capable of instantly recognizing courses and has an auto hole advance feature which automatically changes from one hole to the next. This great feature means that the golfer does not have to push another button for the rest of the round.
Product features include:
· Front/Centre/Back distances with large, easy-read numbers
· Shot distance calculator
· Over 14 hours battery life in GPS mode
· Over 12 months battery life in Watch mode
· 25,000 preloaded courses (worldwide : Denmark, Finland, France, Germany, Ireland, Italy, Netherlands, Norway, Portugal, South Africa, Spain, United Arab Emirates, United States, United Kingdom, Sweden, Australia & New Zealand)
· No membership fees
· Non-golf features, including watch, GPS odometer, timer and alarm
· Waterproof to a depth of 30m
---
---
PLAY MORE PLAY BETTER - LATEST TUITION TIPS
---