The Worst Weather Conditions For Golfers
---
With this magical game that we love being an outdoor sport, golfers have to face (and often embrace) whatever Mother Nature can hurl towards them. It's easy to understand why many are fair-weather minded when it comes to booking tee times, but if you wish to play regularly throughout the year, especially those of us who reside in either the United Kingdom or Republic of Ireland, then you need to display a level of gritty resilience and deal with the conditions!
These scenarios only enhance the challenge of golf, adding to the variables that make it such a fascinating test of both character and execution.
However, sometimes the weather can make even the most determined of golfers feel a little dispirited. Here are situations that can ruin your day!
Rain
When you're playing golf in these parts; it often rains. Now, fortunately due to the advancements in technology, modern umbrellas, gloves and waterproof apparel can get you round a course relatively successfully if you come fully prepared for the deluge, but no one truly 'enjoys' being out there in the rain - even the likes of Padraig Harrington and Paul Lawrie who are famed for their aptitude when there is precipitation in the air!
A bit of rain is just about acceptable, if disappointing, but when fairways and greens become flooded and you continually lose the grip of your clubs - it's not a great day!
The Wind
It's always a relief when the forecast is dry, but the distant cousin of golfing despair (the wind) can prove to be even more damaging to your scorecard.
Now, there is no question that a breeze can heighten the difficulty of a round in an engaging way - should you be playing a links, then it's only right that there are strong enough gusts to make you think over the ball.
BUT - when the wind is at such a level that you can't hold a green or your tee shots are taking extraordinarily bending flights through the air - then even the most passionate masochists find it something of a drag, especially when the power of the breeze is whistling through your ears to make conversations (or even considered thinking) difficult to maintain.
Wind & Rain!
Many golfers say that they can just about deal with either the wind or the rain individually - but when they are partnered together, yikes!
Cold Conditions
Freezing weather is going to be a recurring theme here; but there's little worse than the sting of a thinned iron shot when your hands are cold!
Yes, there are hand-warmers out there available to buy, winter gloves, and you can pack a dozen layers to wear, but it's not particularly great to be clad in a manner that has you resembling Bibendum - otherwise known as the Michelin Man!
For winter golf devotees, cold golf is better than no golf, but the rest of us prefer to wait for summer!
The Heat
Now then, what about those glorious summer days. You might think that we're not grateful and are never happy, but have you walked a hilly course during the afternoon sun in a heatwave? That can be excruciating in a different way, requiring you to hydrate constantly and take sensible measures to protect yourself from the rays.
Playing in the warmth is fabulous, but when it's truly hot, whether it be at home or abroad, some of us would rather sit by the pool.
Lightning
The most dramatic and perlious of weather events that it's common for golfers to be caught out by; lightning storms are dangerous on the course - just ask the great Lee Trevino!
As per standard practice, golfers should take immediate shelter when lightning strikes, often bringing a premature end to your round. From personal experience, I once had to walk off the Old Course at St Andrews on the 17th tee after a truly horrendous storm blanketed the famous links!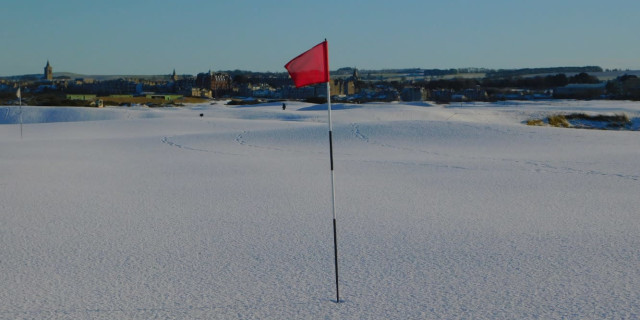 Snow
Snow makes for incredibly pretty pictures - it's a dream for golf course photographers, but it will generally mean that there will be no play that day - or even that week!
Frost
Likewise, frost can be a fierce enemy of golfers throughout winter and into the early weeks of spring, costing many a morning tee time as greenkeeprs (rightly) seek to protect the turf and greens to ensure their best health for the main season.
When it comes to weather conditions, ultimately, frost might just be the most frustrating of them all as even on beautiful sunny days it leads to your round being cancelled!
---
Related Content
14 Things That ALL Golfers HATE
Golf in Bad Weather - How Much Can You Take
---
What do you think? leave your comments below (Comments)
---
Tags: winter golf Weather GOLFERS Golf daily picks Conditions
---
comments powered by

Disqus