10 of the Best Golf Umbrellas For This Year
By: Golfshake Editor | Tue 26 Jul 2022 |
Comments
---
They say Summer doesn't last forever and we must remember Summer doesn't guarantee dry days every day. So what do we do when we still want our golfing fix and it decides to rain? As they say - there's no such thing as bad weather, only unsuitable clothing - or unsuitable equipment/bad preparation.
To keep us dry there is an array of technical clothing now available and that also includes umbrellas and umbrellas designed specifically for golf. Whilst we might still want to play golf regardless of the weather we all want to keep dry and protect ourselves as much as we can from the wind and the rain.
Below we have rounded up 10 of the best golf umbrellas on the market, all designed to keep you dry, protect you from the elements and provide levels of performance needed to get out of the golf course regardless of the weather conditions. The list includes a range of retailers, price points, branded options as well as products to use whilst walking and those to use if you are a golf trolley user.
Rife Tournament Edition Double
The Rife Tournament edition umbrella features a 68" double canopy with 50+ UPF protection. Built with a heavy-duty fibreglass shaft and fitted with auto opening functionality for easy deployment this umbrella provides great value for those looking for a cheaper alternative.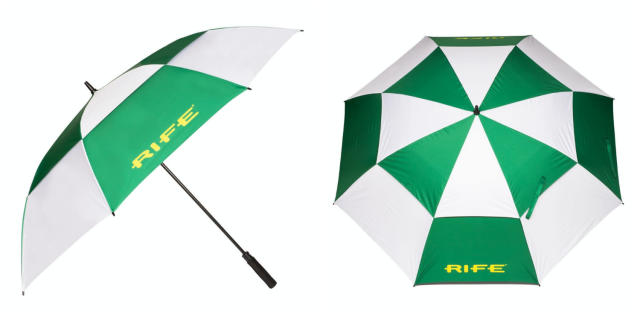 Size: 68"
RRP: £19.99
Link: Available via American Golf - Buy online
Wilson Black and White Umbrella
Wilson fans will love this black and white Wilson Staff branded umbrella which features a double canopy and contoured handle and provides good value for money.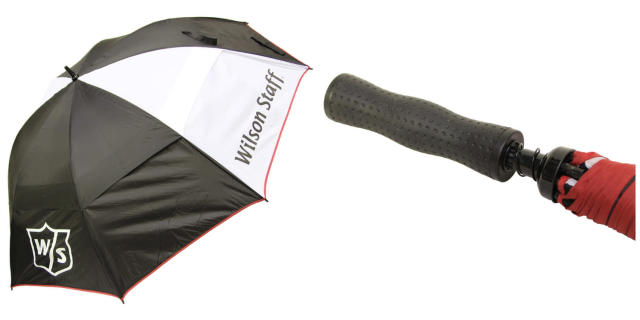 Size: 68"
RRP: £27.99
Link: Available via American Golf - Buy online
Sun Mountain H2NO Umbrella
The Sun Mountain H2NO golf umbrella features a 68" double canopy and comes in an option of 5 color combinations. Additionally, this golf umbrella features a slip-resistant rubber handle and has been built to last and provide extreme durability in the strongest wind and rain conditions. Priced at just £29.99 this product also offers great value for money.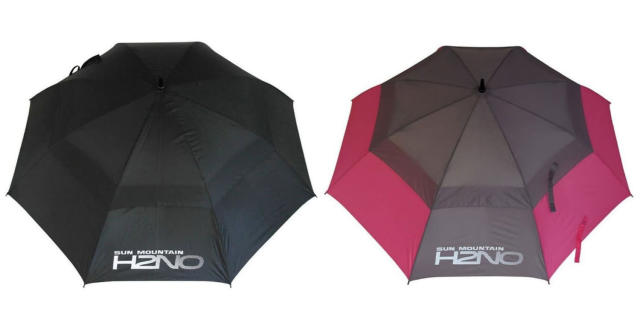 Size: 68"
RRP: £29.99
Link: Available via ScottsDale Golf - Buy online
Callaway Shield Golf Umbrella
Whilst slightly smaller than some products at just 64", the Callaway Shield 64 Golf Umbrella may just appeal to golfers that want something slightly less heavy and slightly smaller in size. The umbrella still features a double canopy for ultimate rain protection and is fitted with a fibreglass shaft for durability and ergonomic, non-slip handle to aid with use in the most testing of conditions.
Size: 64"
RRP: £34.99
Link: Available via ScottsDale Golf - Buy online
Stromberg - The Open Branded Umbrella
Inspired by The Open this officially licensed golf umbrella from Stromberg is available exclusively from American Golf and features a 68" double canopy as well as the iconic Open branding. The Open logo is visible on the umbrella as well as the umbrella sheath when not in use.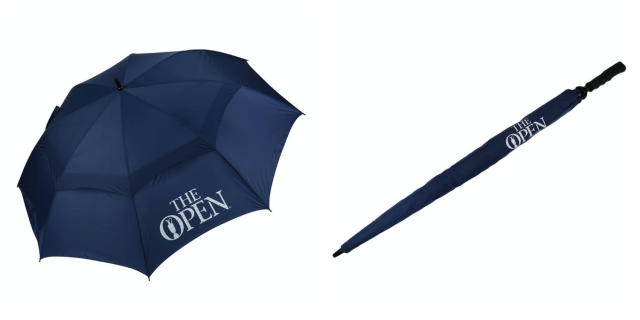 Size: 68"
RRP: £34.99
Link: Buy online
PowaKaddy Clearview Gustbuster Umbrella
The PowaKaddy Clearview Gustbuster golf umbrella features a lightweight frame, moulded handle and automatic opening mechanism to get this umbrella in use as quickly as possible when the heavens open and you are presented with a deluge of rain on the course. For those that may use a PowaKaddy golf trolley, this branded golf umbrella may just be the perfect accessory and PowaKaddy provide an array of options to attach and support the umbrella to their range of trolleys.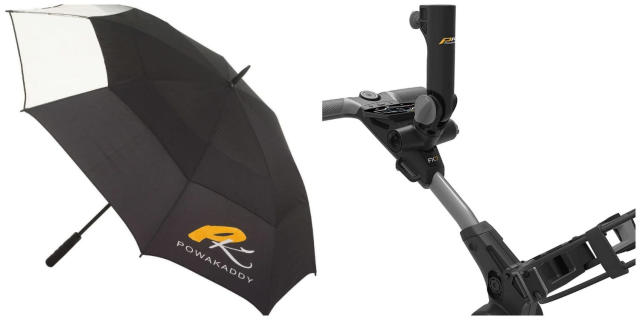 RRP: £38.59
Link: Available via Amazon - Buy online
TaylorMade Double Canopy Umbrella
This just may be the standout bargain on the list with a current discount offer from American Golf which will save you £15 off the RRP. The TaylorMade golf umbrella is a premium offering featuring the larger 68" double canopy and uniquely designed elastic venting system and spring-loaded tips to provide maximum usability in the most testing conditions. This umbrella is lightweight and features a strong aluminium shaft and durable moulded ergonomic handle to maximise grip and enhance performance in high wind and wet conditions.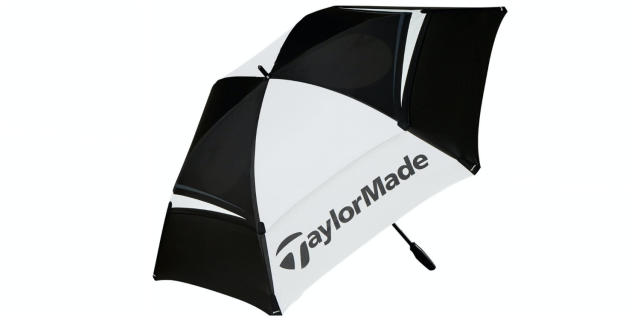 Size: 68"
RRP: £49.00 was £64.99
Link: Available via American Golf - Buy online
Motocaddy Clearview Umbrella
If you are looking for something different then Motocaddy may just have the answer with their Clearview golf umbrella. This uniquely designed golf umbrella from Motocaddy features a slightly longer handle, aiding the compatibility with their own Motocaddy trolley umbrella holder, and also features two unique clear panels to improve visibility when in use. For existing Motocaddy owners this umbrella provides the perfect fit alongside the additional accessories to ensure a product aimed at usage in testing wet and windy conditions with the focus on keeping you dry and away from the rain. For golfers that prefer to walk, then the clear viewing panels may just be what sets this apart from other umbrellas available at this time.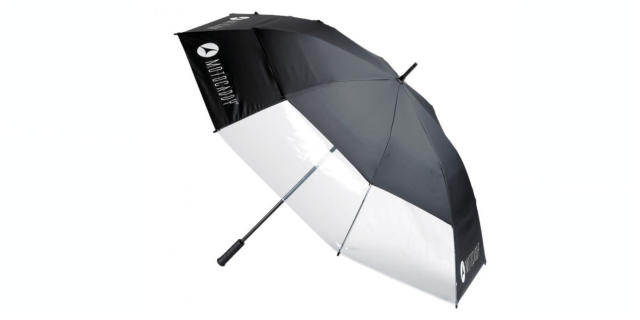 Size: 68"
RRP: £49.99
Link: Available via Motocaddy - Buy online
J Lindeberg Tour Golf Umbrella
J Lindeberg provides something slightly different with their golf umbrella design and shape. Still featuring the 68" double canopy the J Lindeberg Tour umbrella is designed for performance and features a quick action open feature and ergonomic handle to provide a product for use in the most testing of weather conditions that you may face on the golf course.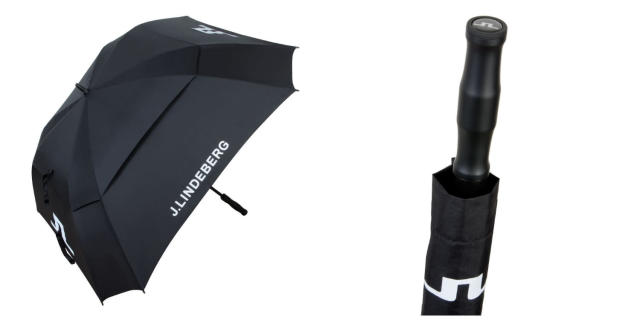 Size: 68"
RRP: £49.99
Link: Available from Scottsdale Golf - Buy online
Galvin Green Tod Umbrella
At the top end of the price range, the Galvin Green Tod golf umbrella features a 60" storm-proof double canopy and an extra strong frame designed to withstand the strongest of winds.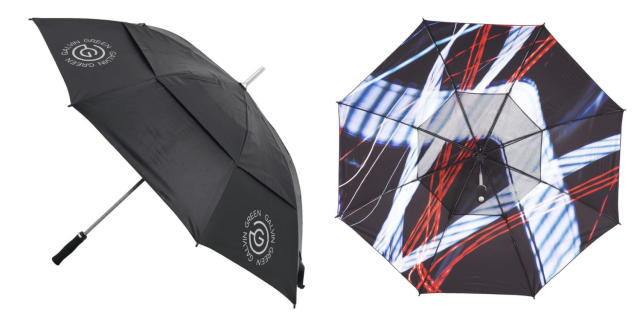 Size: 68"
RRP: £55.00
Link: Available via ScottsDale Golf - Buy online
Woodworm 60" Golf Umbrella
Did anyone spot we have already listed 10? Then this is a bonus listing featuring a brand from the past.
For the smart ones among us, who can remember Ernie Els wearing Woodworm clothing back in the mid 00s?
The Woodworm Premium Vented 60" double canopy is available from Amazon and is priced at just £27.99 - but the real bonus is you get 3 for that price! All carry the iconic Woodworm logo and come in 3 distinct colors meaning you may never need to buy a golf umbrella again.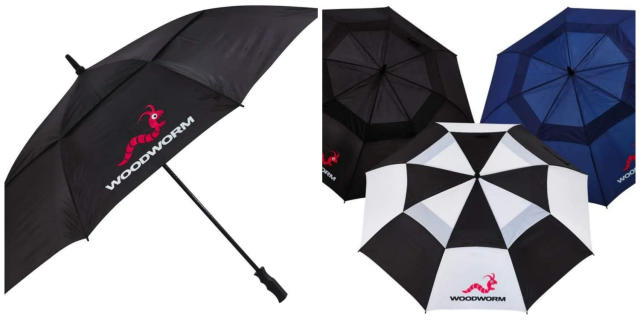 Size: 60"
RRP: £27.99
Link: Available via Amazon - Buy online
So there you go, 11 golf umbrellas providing a range of options and price points to ensure you can keep golfing whatever the weather and hopefully keep dry whilst doing so!
---
Related Articles
Golf in Bad Weather - How Much Can You Take
Majority of Golfers Continue to Play Through Bad Weather
Don't Let Winter Weather Defeat You
---
What do you think? leave your comments below (Comments)
---
Tags: daily picks
---
comments powered by

Disqus